Thorn to Secrecy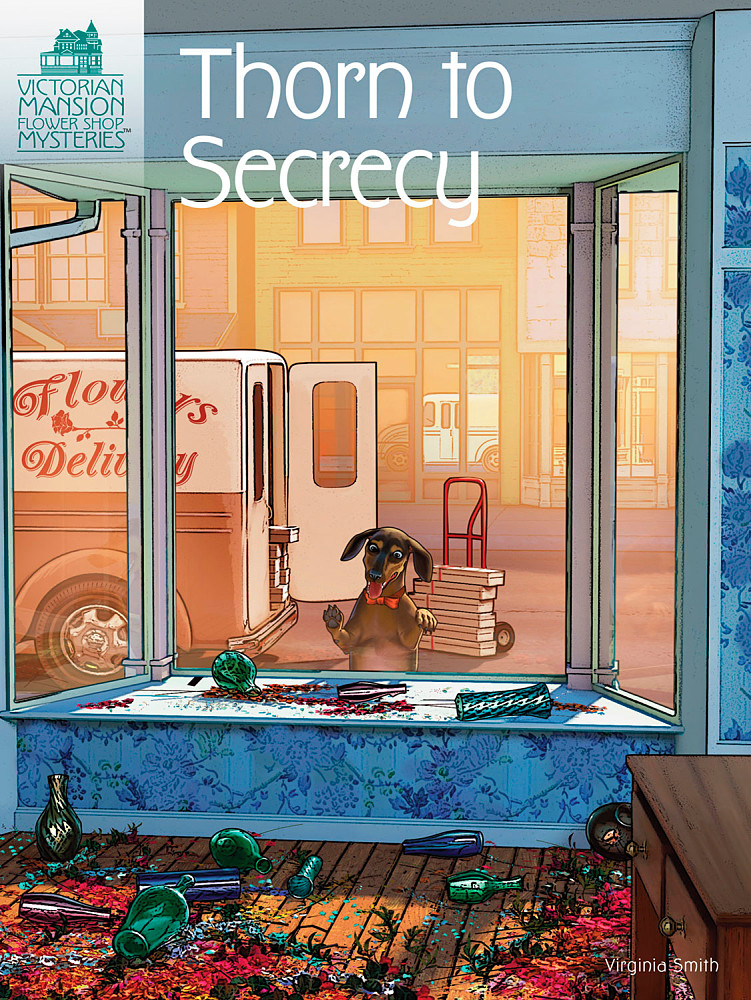 Congratulations are in order for Turtle Cove, Washington's favorite florist, Kaylee Bleu. She just beat out her prickly rival, Lorna Singer, for a major contract and will be decorating for the town's Autumn Jubilee, a weekend event celebrating the start of fall on picturesque Orcas Island. Unfortunately, Kaylee's rosy outlook is nipped in the bud when an important wholesale floral delivery she's expecting is delayed without warning and she has to put the petal to the metal to finish a big job on time.

That minor annoyance is quickly pruned from Kaylee's worry list, however, when both her home and her shop are ruthlessly victimized by a vandal; but the real thorn in Kaylee's side is that she has no idea why. Despite her confusion and growing fear, she is determined to focus on the festival decorations and not wilt in the face of adversity.


The situation goes from a downer to downright deadly when a well-known Orcas Island resident is discovered murdered, and Kaylee finds herself a suspect in the sheriff's investigation. Not only does Kaylee have to prove that she had nothing to do with the ghastly crime, but she must also uncover who tried to shift the blame onto to her. Who is framing her, why was her shop ransacked, and what other lies about her and The Flower Patch might be growing on the Orcas Island gossip grapevine?


Nothing is as it seems, and soon Kaylee is in a race against time; not only to complete the Autumn Jubilee decor, but also to weed out a murderer hiding in plain sight. If she lets the grass grow under her feet for too long, it won't just be her life in jeopardy . . . Kaylee's closest friends could be pushing up daisies right alongside her.
The Characters
Kaylee Bleu
At 40, Kaylee's life is about to change in a really big way.

When her job at the university is suddenly eliminated, Kaylee is left feeling lost. Yet it couldn't have happened at a better time.

A fortuitous phone call sets an exciting new course for Kaylee. She packs up her life and moves to take ownership of her grandparents' grand Victorian mansion flower shop and charming Wildflower Cottage, both in Turtle Cove, Wash., on gorgeous Orcas Island.

Of course, Grandpa Ed has been gone for years and while Kaylee feels the pang of missing him, she eagerly accepts her beautiful new surroundings to begin a brand-new chapter in her life.

Then Kaylee discovers that not everything in Turtle Cove is coming up roses. Will the cryptic clues in her grandfather's journal lead her to the truth about what really happened to him years ago -- and straight into the path of a killer?
Mary Bishop
Mary works part-time at The Flower Patch and welcomes Kaylee to Turtle Cove with open arms. As a retired police dispatcher, she has contacts with the local authorities -- connections that come in handy when she's helping Kaylee solve mysteries!
Jessica Roberts
Jessica is the spunky owner of the Death by Chocolate bakery and coffee shop and Kaylee's best friend. She's energetic, funny and can't resist a good mystery. A petite woman with a big smile, she always has a handle on the local scoop, as well as a good conspiracy theory to share.
Bear
When Kaylee adopted Bear from a local shelter, it was love at first sight. Cute, curious and well-mannered, this lovable dachshund is Kaylee's constant companion, escorting her to the flower shop every day. His inquisitive nature might just land him in the middle of a mystery or two.