Bloomed to Die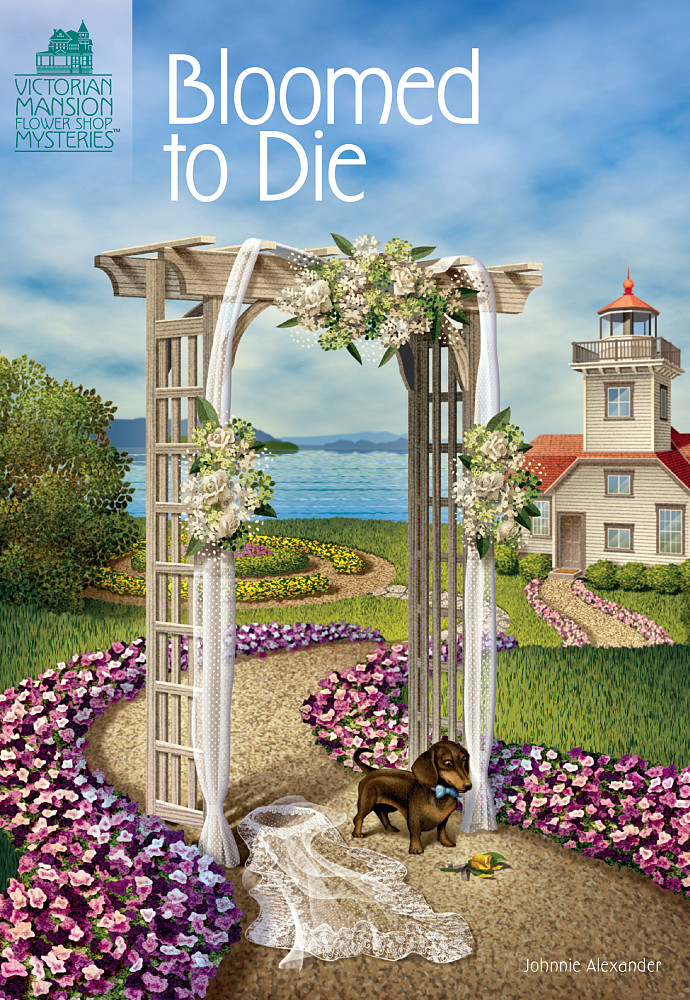 Wedding bells are set to ring in picture-perfect Turtle Cove, where Kaylee Bleu and the Petal Pushers are readying the grounds of Orcas Island's historic lighthouse for the event of the year. Prodigal daughter Brooke Edgars has returned to the island to marry local millionaire James Stratford, but the couple's trip to the altar is altered when Kaylee makes a horrifying discovery: the groom's dead body.


Kaylee becomes even more engaged in the case when her trusty dachshund, Bear's, life is put in danger. She proposes to do local law enforcement a favor and help solve the crime -- even if it means putting herself in harm's way to protect her loved ones.


Thanks to her past life as a plant taxonomist, Kaylee determines that James has been poisoned with oleander, a native flower that's as beautiful as it is deadly. But that answer only leads to more questions: Did one of James's many enemies conspire to murder him? Could he have fallen victim to a fatal fiancee? And was he even the killer's true target?


Unconvinced by the sheriff's assertion that James was the intended victim and that Brooke was more black widow than blushing bride, Kaylee and her garden club friends vow to untie the knots surrounding this whodunit. As they dig up more dirt, they discover that not everything is what it seems. Childhood grievances, bad business deals, hidden pasts -- the motives keep piling up while the murderer remains on the loose.


Can Kaylee lift the veil on the mystery before the killer says "I do" to another murder?
The Characters
Kaylee Bleu
At 40, Kaylee's life is about to change in a really big way.

When her job at the university is suddenly eliminated, Kaylee is left feeling lost. Yet it couldn't have happened at a better time.

A fortuitous phone call sets an exciting new course for Kaylee. She packs up her life and moves to take ownership of her grandparents' grand Victorian mansion flower shop and charming Wildflower Cottage, both in Turtle Cove, Wash., on gorgeous Orcas Island.

Of course, Grandpa Ed has been gone for years and while Kaylee feels the pang of missing him, she eagerly accepts her beautiful new surroundings to begin a brand-new chapter in her life.

Then Kaylee discovers that not everything in Turtle Cove is coming up roses. Will the cryptic clues in her grandfather's journal lead her to the truth about what really happened to him years ago -- and straight into the path of a killer?
Mary Bishop
Mary works part-time at The Flower Patch and welcomes Kaylee to Turtle Cove with open arms. As a retired police dispatcher, she has contacts with the local authorities -- connections that come in handy when she's helping Kaylee solve mysteries!
Jessica Roberts
Jessica is the spunky owner of the Death by Chocolate bakery and coffee shop and Kaylee's best friend. She's energetic, funny and can't resist a good mystery. A petite woman with a big smile, she always has a handle on the local scoop, as well as a good conspiracy theory to share.
Bear
When Kaylee adopted Bear from a local shelter, it was love at first sight. Cute, curious and well-mannered, this lovable dachshund is Kaylee's constant companion, escorting her to the flower shop every day. His inquisitive nature might just land him in the middle of a mystery or two.