The Lily Vanishes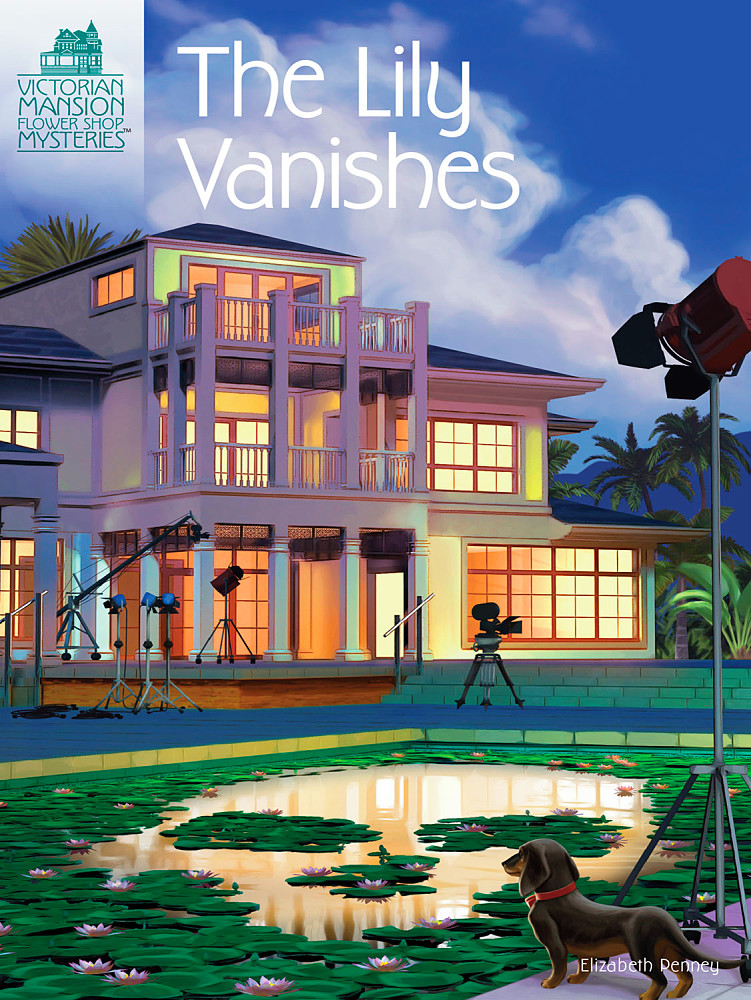 Florist and forensic botanist Kaylee Bleu has seen her share of drama since she's been living on Orcas Island. Still, when legendary movie producer Bernard Martin offers her the chance to provide flowers for the set of his new venture, a moody thriller being filmed at his secluded estate, Kaylee can't sign the contract fast enough. Her friend and fellow Petal Pusher, Jessica Roberts, and Turtle Cove's favorite handyman Reese Holt have also been invited to get in on the act. The gig seems scripted for fun, and Kaylee can't wait to perform her role.


Kaylee and Reese are on the scene when Bernard's private plane lands, but they're not prepared when Blair Holt, Reese's cousin, alights from the craft. Seems she's not only headlining the movie, she's Bernard's leading lady in real life too. But Bernard has been married twice before, and both unions ended in tragedy. Audrey fell off a cliff, and Lily - for whom Blair is practically a double - drowned in the pool. Bernard's backstory is shot through with plot holes, but Blair lights up when she's around him. Kaylee and Reese are determined to find out what Bernard's angle is before Blair's dreams are cut short.

Meanwhile, the cast and crew are sent reeling when the film's director is found belly up on the beach, and neither method nor motive are clear. Who would want the cinematic superstar dead? Filtered through any lens, the murder doesn't make sense; until one of the cast members goes on the lam. As if that tension weren't enough, another actor reaches a final conclusion inside a chamber of the creepy mansion, gripping a handful of water lily seeds. Suddenly everyone's a suspect and, with a big storm about to hit the island, no one knows where the boom will be lowered next.


Kaylee is ready for her closeup examination of the evidence. But can she clip a killer before the set goes dark on someone else?
The Characters
Kaylee Bleu
At 40, Kaylee's life is about to change in a really big way.

When her job at the university is suddenly eliminated, Kaylee is left feeling lost. Yet it couldn't have happened at a better time.

A fortuitous phone call sets an exciting new course for Kaylee. She packs up her life and moves to take ownership of her grandparents' grand Victorian mansion flower shop and charming Wildflower Cottage, both in Turtle Cove, Wash., on gorgeous Orcas Island.

Of course, Grandpa Ed has been gone for years and while Kaylee feels the pang of missing him, she eagerly accepts her beautiful new surroundings to begin a brand-new chapter in her life.

Then Kaylee discovers that not everything in Turtle Cove is coming up roses. Will the cryptic clues in her grandfather's journal lead her to the truth about what really happened to him years ago -- and straight into the path of a killer?
Mary Bishop
Mary works part-time at The Flower Patch and welcomes Kaylee to Turtle Cove with open arms. As a retired police dispatcher, she has contacts with the local authorities -- connections that come in handy when she's helping Kaylee solve mysteries!
Jessica Roberts
Jessica is the spunky owner of the Death by Chocolate bakery and coffee shop and Kaylee's best friend. She's energetic, funny and can't resist a good mystery. A petite woman with a big smile, she always has a handle on the local scoop, as well as a good conspiracy theory to share.
Bear
When Kaylee adopted Bear from a local shelter, it was love at first sight. Cute, curious and well-mannered, this lovable dachshund is Kaylee's constant companion, escorting her to the flower shop every day. His inquisitive nature might just land him in the middle of a mystery or two.