My Dearly Depotted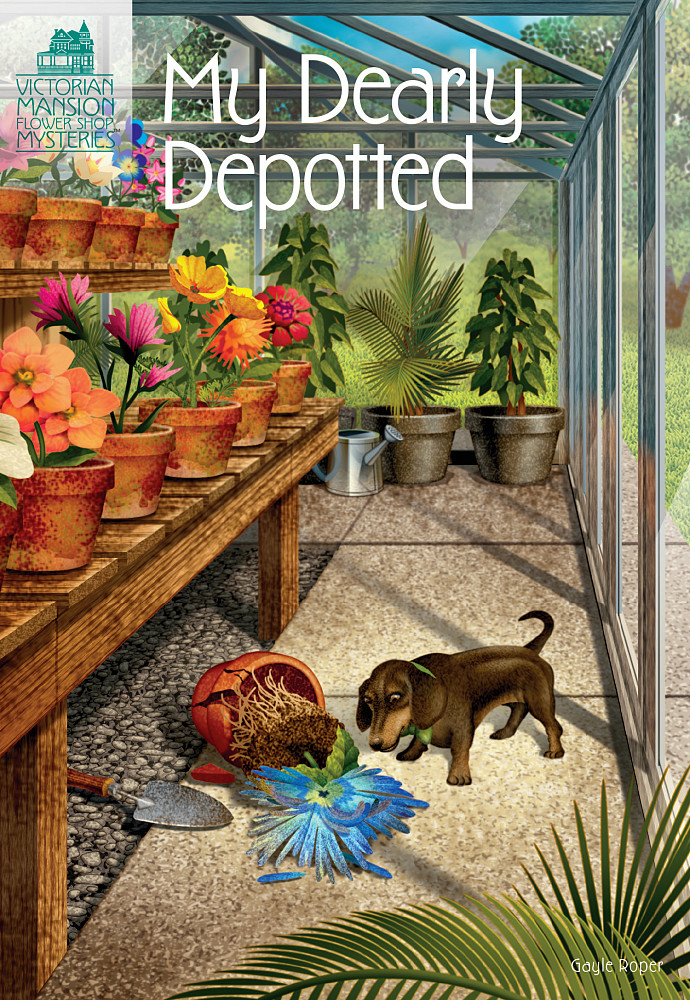 Kaylee Bleu has traded in her previous life in academia for the fresh air and peace of Turtle Cove, Washington. Her florist shop, The Flower Patch, has grown on her, as have the new friends she's made in the Petal Pushers Garden Club. But when a colleague from the university where she once worked bugs her to join a camping trip at a nearby state park, Kaylee decides that sleeping under the stars for a few nights might be fun. Unfortunately, those plans may come back to bite her.


It turns out someone else has been roughing it upstairs in the Victorian mansion that houses "The Flower Patch!" Kaylee's ire is further sparked when she realizes that her dreams for her secret horticultural project, which she's been sticking to for a decade, have been doused. Her special plants are now squelched, and Kaylee's determined to dig in and smoke out the squatter.


But there's more trouble when Kaylee's uninvited guest ends up dead. The troop of professors who've trekked in from the mainland for the campout realize she's one of their own, and that more than one of them was toting a grudge against her. Even Kaylee herself isn't out of the woods. The deceased dragged Kaylee's name through the mud and got her chopped from her teaching position. Kaylee knows she didn't kill anyone, but what about those mysterious men who've staked out another site and seem to be watching her every move?


Kaylee will need all her skills, not to mention the assistance of her loyal friends the Petal Pushers and her intrepid canine scout Bear, to shine a light on this murderer before someone else is pitched headlong into the darkness.
The Characters
Kaylee Bleu
At 40, Kaylee's life is about to change in a really big way.

When her job at the university is suddenly eliminated, Kaylee is left feeling lost. Yet it couldn't have happened at a better time.

A fortuitous phone call sets an exciting new course for Kaylee. She packs up her life and moves to take ownership of her grandparents' grand Victorian mansion flower shop and charming Wildflower Cottage, both in Turtle Cove, Wash., on gorgeous Orcas Island.

Of course, Grandpa Ed has been gone for years and while Kaylee feels the pang of missing him, she eagerly accepts her beautiful new surroundings to begin a brand-new chapter in her life.

Then Kaylee discovers that not everything in Turtle Cove is coming up roses. Will the cryptic clues in her grandfather's journal lead her to the truth about what really happened to him years ago -- and straight into the path of a killer?
Mary Bishop
Mary works part-time at The Flower Patch and welcomes Kaylee to Turtle Cove with open arms. As a retired police dispatcher, she has contacts with the local authorities -- connections that come in handy when she's helping Kaylee solve mysteries!
Jessica Roberts
Jessica is the spunky owner of the Death by Chocolate bakery and coffee shop and Kaylee's best friend. She's energetic, funny and can't resist a good mystery. A petite woman with a big smile, she always has a handle on the local scoop, as well as a good conspiracy theory to share.
Bear
When Kaylee adopted Bear from a local shelter, it was love at first sight. Cute, curious and well-mannered, this lovable dachshund is Kaylee's constant companion, escorting her to the flower shop every day. His inquisitive nature might just land him in the middle of a mystery or two.