Deadhead and Buried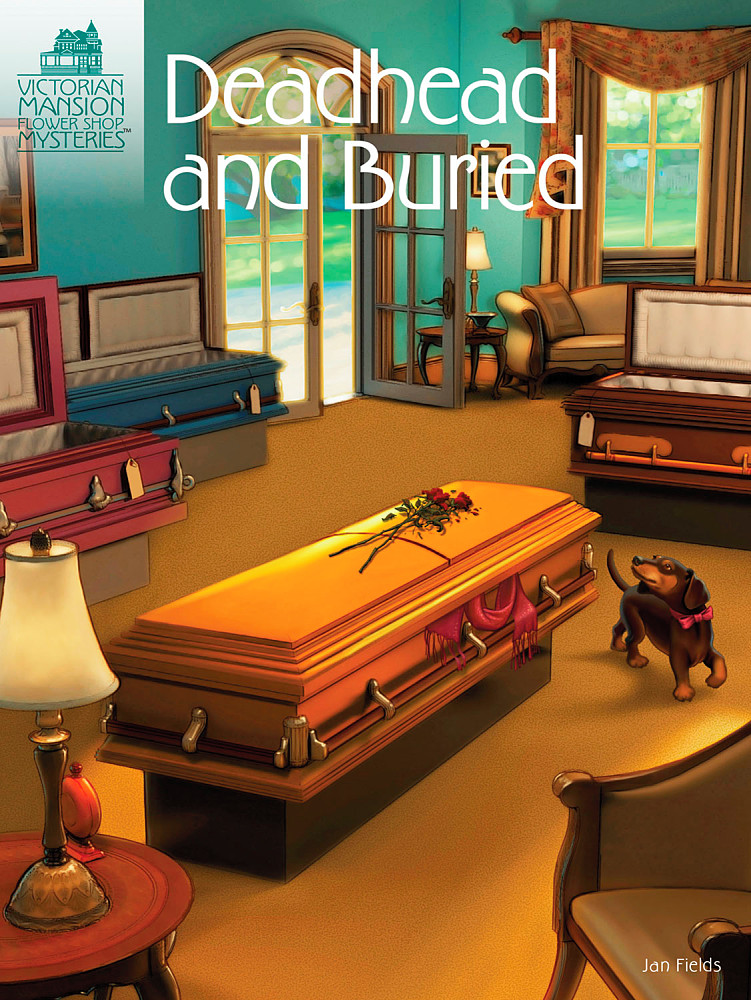 If there's one thing flower shop owner Kaylee Bleu knows for dead certain, it's that where her flirtatious friend Nick Durham goes, romantic intrigue will follow. However, the notorious sheriff's deputy indicates he might be ready to settle down when he introduces his fellow Orcas Island residents to his lovely new girlfriend, Felicia Lewis; a woman who happens to look a lot like Kaylee. Unfortunately, Nick's budding romance goes from his-and-hers to his-and-hearse when Kaylee discovers Felicia's body inside a casket at the local funeral home.


As if his girlfriend's murder weren't bad enough, Nick is dismissed from the case by the sheriff along with a warning that he's a potential suspect. Dying to find out who killed Felicia, Nick asks Kaylee for her help in an off-books investigation. Certain her friend is innocent of the crime, Kaylee agrees; but is she knocking on death's door by doing Nick a favor?


As Kaylee digs deeper into the grave mystery, events that had seemed merely odd before Felicia's murder take on a deadly serious cast: the suspicious sedan that ran Kaylee off the road, a public display of aggression from the victim's ex, Felicia's strangely fearful reaction to a crowded ferry. Was Felicia trying to bury something from her past? If so, what was she dead-set on hiding?


The situation takes an even darker turn when the participants of a summer teen program get pulled into the chaos surrounding the murder. Determined to protect the innocent visitors, Kaylee redoubles her efforts to unearth Felicia's killer; but will her investigation be the final nail in her coffin?


If Kaylee isn't careful, the next funeral in Turtle Cove could be her own.
The Characters
Kaylee Bleu
At 40, Kaylee's life is about to change in a really big way.

When her job at the university is suddenly eliminated, Kaylee is left feeling lost. Yet it couldn't have happened at a better time.

A fortuitous phone call sets an exciting new course for Kaylee. She packs up her life and moves to take ownership of her grandparents' grand Victorian mansion flower shop and charming Wildflower Cottage, both in Turtle Cove, Wash., on gorgeous Orcas Island.

Of course, Grandpa Ed has been gone for years and while Kaylee feels the pang of missing him, she eagerly accepts her beautiful new surroundings to begin a brand-new chapter in her life.

Then Kaylee discovers that not everything in Turtle Cove is coming up roses. Will the cryptic clues in her grandfather's journal lead her to the truth about what really happened to him years ago -- and straight into the path of a killer?
Mary Bishop
Mary works part-time at The Flower Patch and welcomes Kaylee to Turtle Cove with open arms. As a retired police dispatcher, she has contacts with the local authorities -- connections that come in handy when she's helping Kaylee solve mysteries!
Jessica Roberts
Jessica is the spunky owner of the Death by Chocolate bakery and coffee shop and Kaylee's best friend. She's energetic, funny and can't resist a good mystery. A petite woman with a big smile, she always has a handle on the local scoop, as well as a good conspiracy theory to share.
Bear
When Kaylee adopted Bear from a local shelter, it was love at first sight. Cute, curious and well-mannered, this lovable dachshund is Kaylee's constant companion, escorting her to the flower shop every day. His inquisitive nature might just land him in the middle of a mystery or two.