A Fatal Arrangement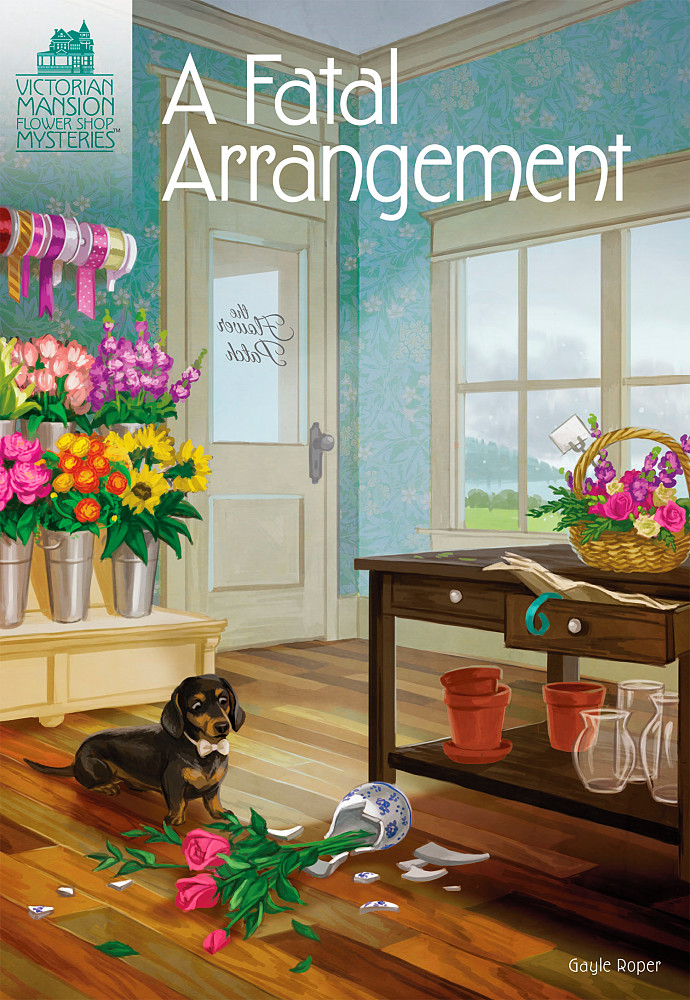 For Kaylee Bleu, flowers have always been her life. A professor of botany and a PhD in plant taxonomy, Kaylee was endowed with a love of nature early in life by her maternal grandmother, Bea Lyons. But now Kaylee is caught in the middle of a tumultuous personal storm, one that has blown her back to her grandmother's door in the charming village of Turtle Cove, Washington.


Kaylee's position at a prestigious Washington state university has been lost to budget cutbacks, and no new jobs are forthcoming unless she is willing to relocate from her beloved Pacific Northwest. Her grandmother has a solution: She is considering retirement and offers to sell The Flower Patch, her floral shop, and Wildflower Cottage, her home, to her granddaughter. Kaylee, though reluctant to make such a life-altering change at the age of 40, has to admit it is a match made in heaven.


But when Kaylee and her canine companion, a dachshund named Bear, arrive on beautiful Orcas Island they are confronted almost immediately with evidence that her grandfather's mysterious disappearance five years ago wasn't just a boating accident. It was murder.


Kaylee and Bear quickly join forces with the Petal Pushers, Turtle Cove's garden club, investigating Edmond Lyons's presumed death. She also meets Reese Holt, the ruggedly handsome master carpenter who serves as Turtle Cove's handyman. When Reese discovers Ed's final journal and its final, ominous entry, Kaylee believes they are on the trail of a cold-blooded killer.


Meanwhile, the annual Writers Coterie, an assembly of famous and not-so-famous authors from across the nation, is meeting on Orcas Island. The daughter of Lorelei Lewis, a well-known romance writer, is using the occasion for her wedding, and The Flower Patch is recruited to provide the venue and the blooms. But then the preparations are plagued by problems that cannot be laid at the feet of coincidence.


Will Kaylee be able to unearth the solution to her grandfather's death? Will the wedding plans go off without a hitch? Join Kaylee and her newfound friends as they work to root out a very bad seed before someone else is pushing up daisies.
The Characters
Kaylee Bleu
At 40, Kaylee's life is about to change in a really big way.

When her job at the university is suddenly eliminated, Kaylee is left feeling lost. Yet it couldn't have happened at a better time.

A fortuitous phone call sets an exciting new course for Kaylee. She packs up her life and moves to take ownership of her grandparents' grand Victorian mansion flower shop and charming Wildflower Cottage, both in Turtle Cove, Wash., on gorgeous Orcas Island.

Of course, Grandpa Ed has been gone for years and while Kaylee feels the pang of missing him, she eagerly accepts her beautiful new surroundings to begin a brand-new chapter in her life.

Then Kaylee discovers that not everything in Turtle Cove is coming up roses. Will the cryptic clues in her grandfather's journal lead her to the truth about what really happened to him years ago -- and straight into the path of a killer?
Mary Bishop
Mary works part-time at The Flower Patch and welcomes Kaylee to Turtle Cove with open arms. As a retired police dispatcher, she has contacts with the local authorities -- connections that come in handy when she's helping Kaylee solve mysteries!
Jessica Roberts
Jessica is the spunky owner of the Death by Chocolate bakery and coffee shop and Kaylee's best friend. She's energetic, funny and can't resist a good mystery. A petite woman with a big smile, she always has a handle on the local scoop, as well as a good conspiracy theory to share.
Bear
When Kaylee adopted Bear from a local shelter, it was love at first sight. Cute, curious and well-mannered, this lovable dachshund is Kaylee's constant companion, escorting her to the flower shop every day. His inquisitive nature might just land him in the middle of a mystery or two.