Antique Shop Mysteries Club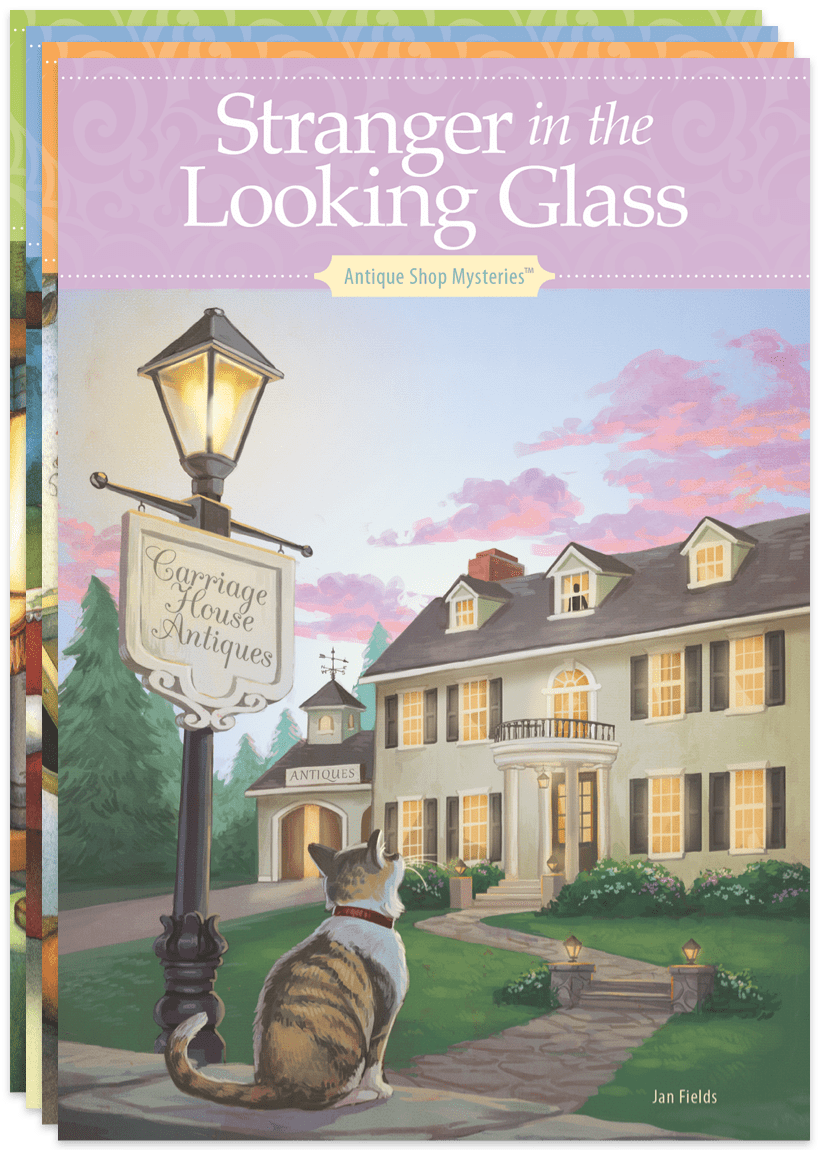 24 books in this Club
Come with us to a charming seaside village where life moves at a gentler pace... and old mysteries are just waiting to be revealed.
Welcome to Somerset Harbor, a charming little fishing village nestled in the rocky coast of Maine. Hearken back to a place in time where life moves more slowly ... traditional values matter ... and warmhearted people make you feel right at home. You will be enthralled and intrigued as you explore Sedgwick Manor, the Carriage House Antiques shop, and the curious mysteries that surround them.

You'll love Stranger in the Looking Glass because it's your kind of mystery. Spine-tingling suspense, sudden twists and turns, salt-of-the-earth characters, and heartwarming romance are all woven into a captivating story that celebrates a wholesome way of life and the old-fashioned, traditional values we all believe in.

Join now to receive your copy of Stranger in the Looking Glass today and step back in time to a kinder, simpler way of life. You'll be comforted by the warm embrace of the people of Somerset Harbor while enjoying a good old-fashioned mystery filled with good-hearted people.
The Characters
Maggie Watson
Maggie Watson is 44 years old. She has lived in the beautiful town of Bennington, Vermont, most of her life with her husband, Richard, who was a successful professor of archeology at a nearby university. Together, they built a loving home and raised their daughter, Emily. And then, three years ago, Richard suddenly died. Maggie had thought they'd spend the rest of their lives growing old together in their cozy New England cottage. But with Richard's passing, Maggie's life changed in ways she never anticipated. And now with Emily off at college, Maggie still isn't sure quite how she fits into this new, lonely phase of her life.

Then, when she unexpectedly inherits Sedgwick Manor -- her aunt's 19th-century colonial mansion -- and the adjacent Carriage House Antiques shop, she wonders if this is the change she needs to move forward with her life. So, on a chilly day in mid-September, Maggie and her equally curious cat, Snickers, head to the small seaside village of Somerset Harbor, Maine, and begin an adventure that will change their lives.
June McGillis
June has run the Carriage House Antiques shop for over 10 years and was a close friend and confidant of Maggie's late aunt. She's outgoing and witty, and she has a natural talent for decorating with antique furnishings. Maggie loves June's enthusiastic spirit and caring nature, warming up to her immediately. It's no surprise that June soon becomes Maggie's best friend and "partner in crime" as they dig into the mysteries of Sedgwick Manor.
Emily Watson
Maggie's daughter is warm and friendly with a big, bright smile. She's always been close to her mother -- even more so since her father died three years ago. But now she has left Maggie in order to study nursing at St. Joseph's College in Maine. Maggie understands that Emily needs space to spread her wings and become the independent, responsible young woman she raised her to be, but she still misses her daughter.
Ruth Harper
An avid quilter, Ruth is the president of the Somerset Harbor Historical Society. She extends a warm welcome to Maggie and invites her into this small group of friendly women. Maggie takes an immediate liking to her. Ruth offers to help Maggie solve the mysteries of the antique pieces found in Sedgwick Manor. She has lived in Somerset Harbor her entire life and always seems to know the buzz around town. Ruth knew Maggie's aunt Evelyn very well, and Maggie can't help but wonder if Ruth might also know Evelyn's secrets.