Loot of All Evil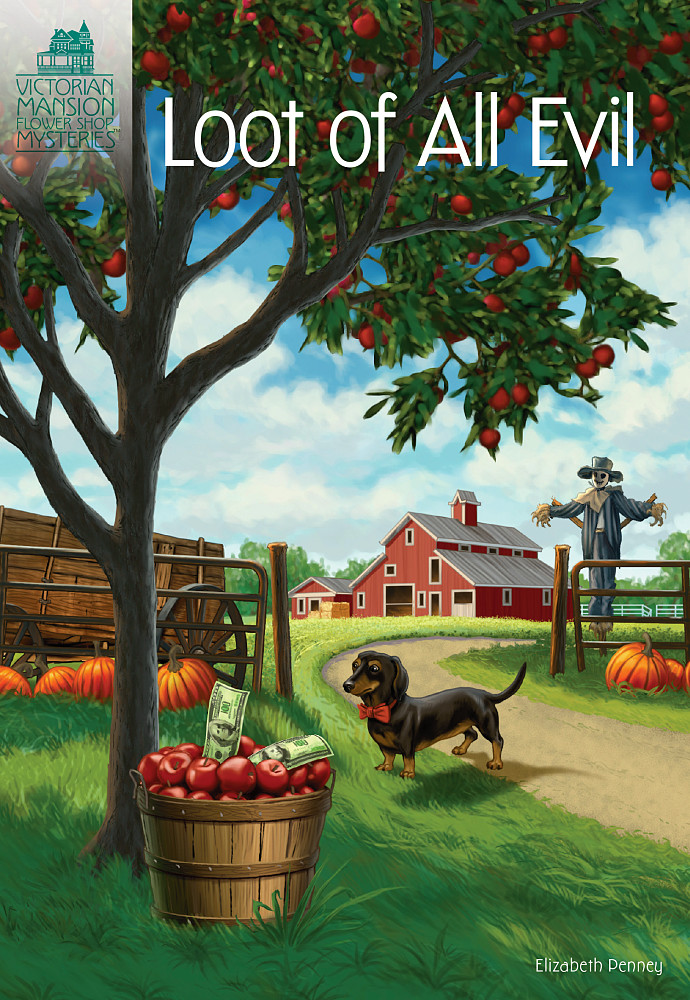 Excitement about Thanksgiving is taking root in Turtle Cove, Washington, where Kaylee Bleu has much to be thankful for: thoughtful friends on Orcas Island, a successful flower shop, and the companionship of her cutie-pie dachshund, Bear. Plus, Kaylee's part-time florist, Mary Bishop, just planted the seeds of a revenue-revving venture at The Flower Patch, and customers are gobbling up her gourd-eous decorative pumpkins.


While restocking their supply of pumpkins at Madrona Grove Farm and Orchard, Kaylee runs into librarian Kathy Fitz, and Kathy's untrustworthy ex-husband, true crime writer Boyd Parsons. For better or worse, Kathy appears to be falling once again for Boyd, who has returned to Orcas Island to harvest information about loot that went missing from a 1930s bank robbery. Kaylee soon finds herself swept up in the mystery as well, helping the former couple track down the lost plunder.

However, it quickly becomes clear that they aren't the island's only treasure-hunting inhabitants. Suspicious events begin to plague Kaylee and the people around her, and things go from troubling to nearly tragic when Boyd winds up in the hospital. The situation worsens exponentially when Kathy is arrested for assaulting her ex, and Kaylee is partly to blame.


Kaylee knows Kathy is innocent, and she refuses to let her wither on the vine. She and handsome handyman Reese Holt join forces with Boyd to figure out who attacked him and where the money was squirreled away decades ago. Who is to blame for the increasingly dangerous hijinks afoot on the island? Is it another one of Boyd's jilted exes? Someone he wronged with one of his tell-all books? An unknown assailant trying to spoil their search?


If Kaylee doesn't leave things alone, she might be the next person on Orcas Island to have her hopes squashed, permanently.
The Characters
Kaylee Bleu
At 40, Kaylee's life is about to change in a really big way.

When her job at the university is suddenly eliminated, Kaylee is left feeling lost. Yet it couldn't have happened at a better time.

A fortuitous phone call sets an exciting new course for Kaylee. She packs up her life and moves to take ownership of her grandparents' grand Victorian mansion flower shop and charming Wildflower Cottage, both in Turtle Cove, Wash., on gorgeous Orcas Island.

Of course, Grandpa Ed has been gone for years and while Kaylee feels the pang of missing him, she eagerly accepts her beautiful new surroundings to begin a brand-new chapter in her life.

Then Kaylee discovers that not everything in Turtle Cove is coming up roses. Will the cryptic clues in her grandfather's journal lead her to the truth about what really happened to him years ago -- and straight into the path of a killer?
Mary Bishop
Mary works part-time at The Flower Patch and welcomes Kaylee to Turtle Cove with open arms. As a retired police dispatcher, she has contacts with the local authorities -- connections that come in handy when she's helping Kaylee solve mysteries!
Jessica Roberts
Jessica is the spunky owner of the Death by Chocolate bakery and coffee shop and Kaylee's best friend. She's energetic, funny and can't resist a good mystery. A petite woman with a big smile, she always has a handle on the local scoop, as well as a good conspiracy theory to share.
Bear
When Kaylee adopted Bear from a local shelter, it was love at first sight. Cute, curious and well-mannered, this lovable dachshund is Kaylee's constant companion, escorting her to the flower shop every day. His inquisitive nature might just land him in the middle of a mystery or two.