Pocket Full of Deadly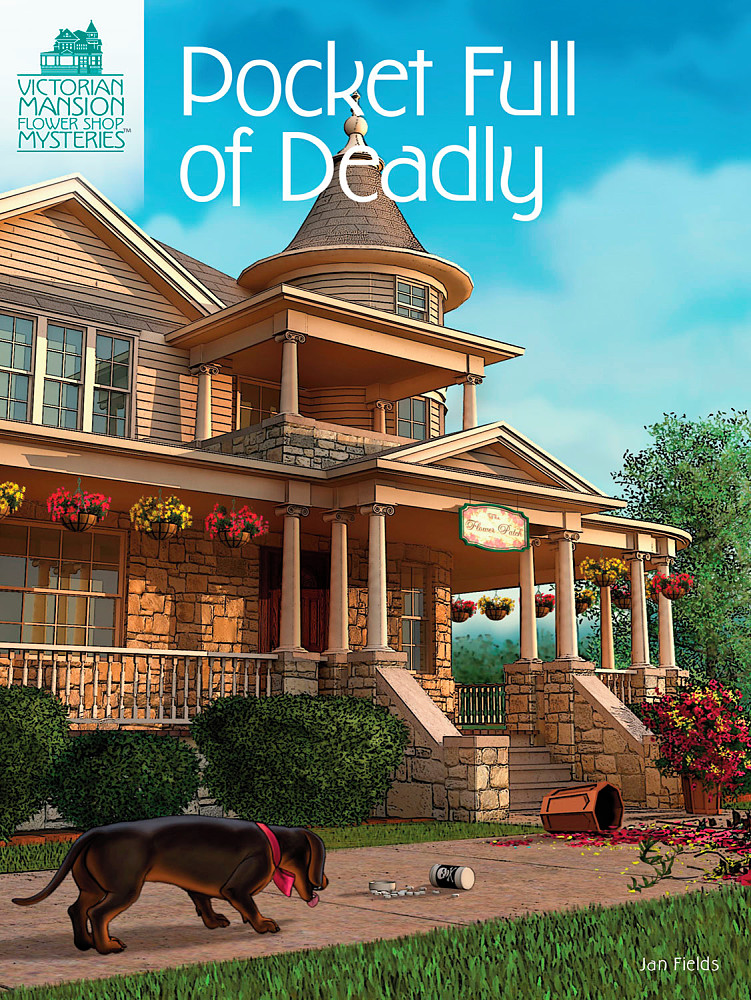 Puffy clouds in a bright, blue sky have cultivated a summertime vibe in Turtle Cove, Washington, but the dispositions of some Orcas Island residents are anything but sunny. Not only is florist and forensic botanist Kaylee Bleu having a hard time sowing seeds of inspiration for a science journal article she's writing, but she keeps getting interrupted by the sound of men arguing outside her shop, The Flower Patch.

With his dementia worsening, confused widower Fred Dorman has begun obsessively over-weeding gardens all around town. The mess he's made in some new planters on Main Street is a thorn in the side of many business owners—especially High Tide Outfitters owner Vince Mack, who angrily insists that the ruined display in front of his store is scaring away customers. Although Kaylee and her boyfriend, Reese Holt, quickly nip the latest altercation in the bud, tension in Turtle Cove remains high even after Fred is escorted home.

The situation goes from tense to tragic when Kaylee and Reese return to Fred's house to check on him and find the poor man frightfully ill. At first, it appears that Fred's near-death experience was an accident . . . but if so, then how does that explain the suspicious bruising Kaylee notices on his face? Realizing how concerned Reese is about his elderly friend, Kaylee determines to root out what really happened to Fred.

Relying on trowel and error to further her investigation, Kaylee quickly unearths a bone-chilling discovery that could be the key to Fred's mishap. Unfortunately, she can't help but second-guess her own detective skills as the complicated case becomes increasingly perplexing. Despite her hesitation, however, there's no time to beat around the bush—will she prune back the lies before it's too late, or will Kaylee dig herself a hole she can't get out of?
The Characters
Kaylee Bleu
At 40, Kaylee's life is about to change in a really big way.

When her job at the university is suddenly eliminated, Kaylee is left feeling lost. Yet it couldn't have happened at a better time.

A fortuitous phone call sets an exciting new course for Kaylee. She packs up her life and moves to take ownership of her grandparents' grand Victorian mansion flower shop and charming Wildflower Cottage, both in Turtle Cove, Wash., on gorgeous Orcas Island.

Of course, Grandpa Ed has been gone for years and while Kaylee feels the pang of missing him, she eagerly accepts her beautiful new surroundings to begin a brand-new chapter in her life.

Then Kaylee discovers that not everything in Turtle Cove is coming up roses. Will the cryptic clues in her grandfather's journal lead her to the truth about what really happened to him years ago -- and straight into the path of a killer?
Mary Bishop
Mary works part-time at The Flower Patch and welcomes Kaylee to Turtle Cove with open arms. As a retired police dispatcher, she has contacts with the local authorities -- connections that come in handy when she's helping Kaylee solve mysteries!
Jessica Roberts
Jessica is the spunky owner of the Death by Chocolate bakery and coffee shop and Kaylee's best friend. She's energetic, funny and can't resist a good mystery. A petite woman with a big smile, she always has a handle on the local scoop, as well as a good conspiracy theory to share.
Bear
When Kaylee adopted Bear from a local shelter, it was love at first sight. Cute, curious and well-mannered, this lovable dachshund is Kaylee's constant companion, escorting her to the flower shop every day. His inquisitive nature might just land him in the middle of a mystery or two.