Absent Without Leaf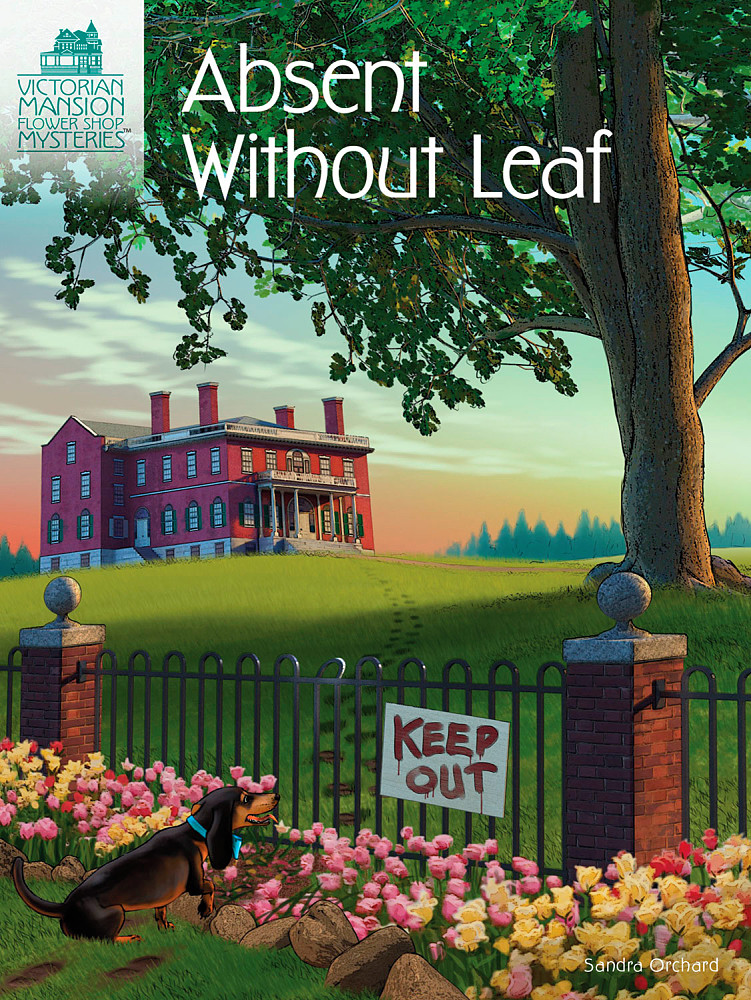 Florist Kaylee Bleu and her friends in the Petal Pushers garden club are branching out from their usual activities to host a spring break camp for schoolchildren on Washington's Orcas Island. They've got an entire week of fun events planned -- but the camp won't get off the ground if they can't get permission for their first field trip, a visit to the oldest tree on the island.

Kaylee eventually tracks down the estate's new owner, U.S. Navy Admiral Robert Newton, but the admiral isn't all she finds in that neck of the woods -- an old friend of hers, NSA agent Phil Haynes, has been called in to handle the fallout from a prowler at the Newtons' mansion the previous evening. Although the trespasser's identity is at the root of Phil's concerns, Kaylee is more worried about why the Newtons' neighbor, Tabitha, has vanished without a trace.

Despite warnings from Phil to bow out of the investigation, Kaylee won't rest until she determines what happened to Tabitha. Did the woman leave town of her own accord, or was she forced? And was her departure innocent, or was it connected to rotting limbs in her family tree?

As if the situation wasn't already confusing enough, Kaylee also finds herself entwined by matters of the heart. She admits that she had a crush on Phil twenty years ago ... but will his reappearance in her life reignite those feelings or prompt her to go out on a more uncertain limb with handsome handyman Reese Holt?

Without clear answers to any of her questions, Kaylee gets the sense that she's barking up the wrong tree. She's intent on finding Tabitha once and for all, but if she sticks to her pursuit of the truth, a villain hidden in plain sight might just chop her down to size -- permanently.
The Characters
Kaylee Bleu
At 40, Kaylee's life is about to change in a really big way.

When her job at the university is suddenly eliminated, Kaylee is left feeling lost. Yet it couldn't have happened at a better time.

A fortuitous phone call sets an exciting new course for Kaylee. She packs up her life and moves to take ownership of her grandparents' grand Victorian mansion flower shop and charming Wildflower Cottage, both in Turtle Cove, Wash., on gorgeous Orcas Island.

Of course, Grandpa Ed has been gone for years and while Kaylee feels the pang of missing him, she eagerly accepts her beautiful new surroundings to begin a brand-new chapter in her life.

Then Kaylee discovers that not everything in Turtle Cove is coming up roses. Will the cryptic clues in her grandfather's journal lead her to the truth about what really happened to him years ago -- and straight into the path of a killer?
Mary Bishop
Mary works part-time at The Flower Patch and welcomes Kaylee to Turtle Cove with open arms. As a retired police dispatcher, she has contacts with the local authorities -- connections that come in handy when she's helping Kaylee solve mysteries!
Jessica Roberts
Jessica is the spunky owner of the Death by Chocolate bakery and coffee shop and Kaylee's best friend. She's energetic, funny and can't resist a good mystery. A petite woman with a big smile, she always has a handle on the local scoop, as well as a good conspiracy theory to share.
Bear
When Kaylee adopted Bear from a local shelter, it was love at first sight. Cute, curious and well-mannered, this lovable dachshund is Kaylee's constant companion, escorting her to the flower shop every day. His inquisitive nature might just land him in the middle of a mystery or two.