Pine and Punishment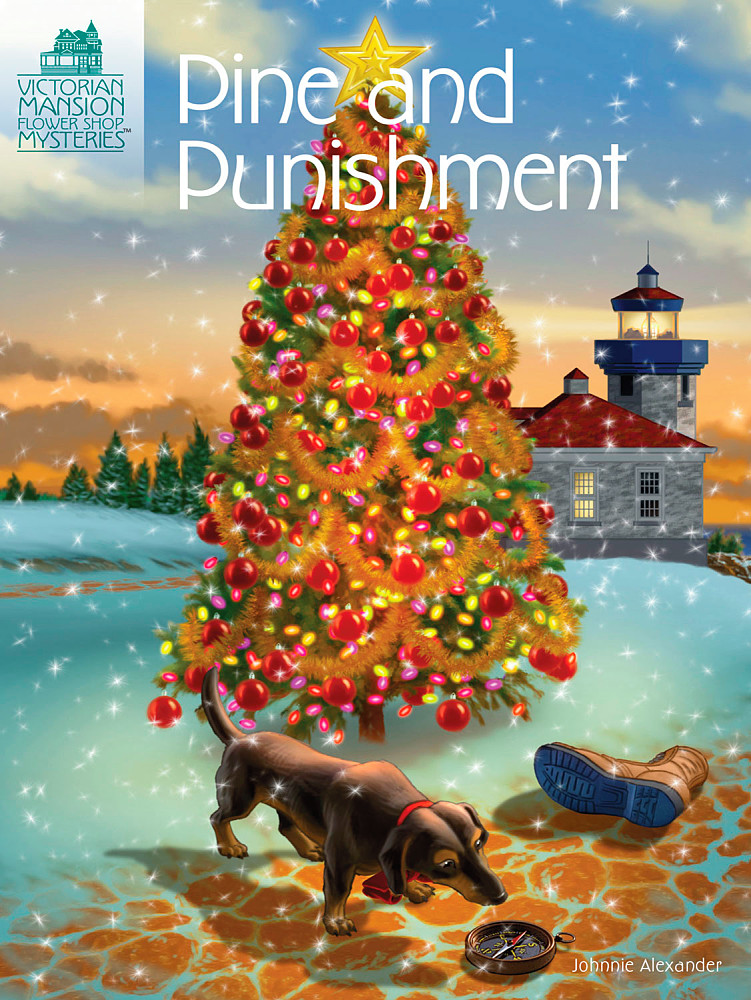 Florist Kaylee Bleu is celebrating Christmas in Turtle Cove, her home on Orcas Island in the Pacific Northwest. She and her trusted employee and friend, Mary Bishop, are adorning The Flower Patch with poinsettias and pine boughs in anticipation of a merry holiday season. It isn't long, though, before Kaylee's roped into joining the town's Festivities Committee. Packing one more task into her tremendous to-do list isn't exactly the direction she wants to go, but Kaylee can hardly refuse. Besides, as a member of the committee, she can try to revive Turtle Cove's tree-lighting ceremony, which was discontinued years ago for mysterious reasons.


When a young woman arrives at Kaylee's door, begging for help, Kaylee isn't sure she has the stamina to take on yet another challenge. But the weeping widow's words of woe tug at Kaylee's resolve. It seems Jake Beckett died of a heart attack, leaving behind a cryptic message before he met his maker. Kaylee quickly recognizes the jumbled numbers on the crumpled scrap of paper: they're GPS coordinates. Will they blaze a tantalizing trail leading to treasure? Or will Jake's final message turn out to be something better left buried?


Kaylee's pulled down another path when a former resident, now a tourism consultant, arrives on the island. She wants to use The Flower Patch as the starting point for her promotional campaign. The extra publicity will be welcome, but Kaylee can't help but wonder if the marketing maven has a hidden reason for returning to Turtle Cove. She seems overly interested in the dead man's cache of clues. Signs point to her having a connection to Jake before his death. and to the tragic death of another young man years before.


When it's revealed that Jake was actually murdered, Kaylee finds herself hot on the trail of a killer. More than one person with hidden motives might have been seeking Jake's demise. But can Kaylee complete her trek to the truth in time to prevent another victim from being bushwhacked?
The Characters
Kaylee Bleu
At 40, Kaylee's life is about to change in a really big way.

When her job at the university is suddenly eliminated, Kaylee is left feeling lost. Yet it couldn't have happened at a better time.

A fortuitous phone call sets an exciting new course for Kaylee. She packs up her life and moves to take ownership of her grandparents' grand Victorian mansion flower shop and charming Wildflower Cottage, both in Turtle Cove, Wash., on gorgeous Orcas Island.

Of course, Grandpa Ed has been gone for years and while Kaylee feels the pang of missing him, she eagerly accepts her beautiful new surroundings to begin a brand-new chapter in her life.

Then Kaylee discovers that not everything in Turtle Cove is coming up roses. Will the cryptic clues in her grandfather's journal lead her to the truth about what really happened to him years ago -- and straight into the path of a killer?
Mary Bishop
Mary works part-time at The Flower Patch and welcomes Kaylee to Turtle Cove with open arms. As a retired police dispatcher, she has contacts with the local authorities -- connections that come in handy when she's helping Kaylee solve mysteries!
Jessica Roberts
Jessica is the spunky owner of the Death by Chocolate bakery and coffee shop and Kaylee's best friend. She's energetic, funny and can't resist a good mystery. A petite woman with a big smile, she always has a handle on the local scoop, as well as a good conspiracy theory to share.
Bear
When Kaylee adopted Bear from a local shelter, it was love at first sight. Cute, curious and well-mannered, this lovable dachshund is Kaylee's constant companion, escorting her to the flower shop every day. His inquisitive nature might just land him in the middle of a mystery or two.