A Seedy Development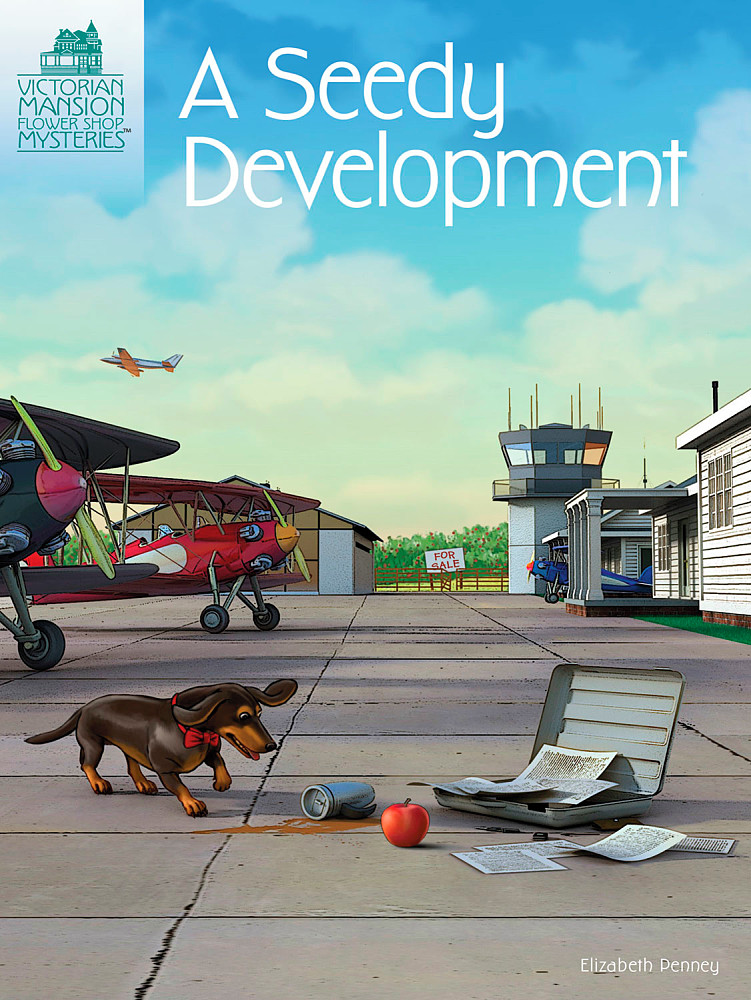 Autumn has arrived in Turtle Cove, Washington, and Orcas Island's Apple Fest Fly-In is ready for liftoff at the local airport. Florist Kaylee Bleu is excited to host a vendor booth at the event, not only to fuel sales for The Flower Patch but also to stay close to the action as pilots showcase their flying skills. She's also enjoying the chance to get to know her friend DeeDee Wilcox's godfather, Wilfred Bates, an aviator and organic fruit farmer with an orchard adjacent to the airfield.

Kaylee's enthusiasm takes a nosedive, however, when she overhears an argument between Wilfred and David Smythe, a real estate developer trying to get a fly-in community off the ground; and swindle Wilfred out of his land in the process. However, just when Kaylee thinks tension at the airport can't get any higher, she unwittingly discovers David's dead body . . . and her heart does a loop the loop when she realizes he was murdered.

The situation becomes especially tricky to navigate when evidence found at Bates Fruit Farm leads to Wilfred's arrest for homicide. Kaylee and DeeDee know that Wilfred is innocent . . . but who is guilty? More than one of David's fellow pilots may have a motive to kill, and Kaylee begins to feel like she's flying blind as she struggles to untangle several years' worth of aeronautical intrigue surrounding the Turtle Cove Airport.

On a wing and a prayer, Kaylee works to exonerate Wilfred before the court of public opinion can convict him of David's murder. But will the truth take flight before it's too late? If Kaylee isn't careful, she could be the next Orcas Island resident to crash and burn.
The Characters
Kaylee Bleu
At 40, Kaylee's life is about to change in a really big way.

When her job at the university is suddenly eliminated, Kaylee is left feeling lost. Yet it couldn't have happened at a better time.

A fortuitous phone call sets an exciting new course for Kaylee. She packs up her life and moves to take ownership of her grandparents' grand Victorian mansion flower shop and charming Wildflower Cottage, both in Turtle Cove, Wash., on gorgeous Orcas Island.

Of course, Grandpa Ed has been gone for years and while Kaylee feels the pang of missing him, she eagerly accepts her beautiful new surroundings to begin a brand-new chapter in her life.

Then Kaylee discovers that not everything in Turtle Cove is coming up roses. Will the cryptic clues in her grandfather's journal lead her to the truth about what really happened to him years ago -- and straight into the path of a killer?
Mary Bishop
Mary works part-time at The Flower Patch and welcomes Kaylee to Turtle Cove with open arms. As a retired police dispatcher, she has contacts with the local authorities -- connections that come in handy when she's helping Kaylee solve mysteries!
Jessica Roberts
Jessica is the spunky owner of the Death by Chocolate bakery and coffee shop and Kaylee's best friend. She's energetic, funny and can't resist a good mystery. A petite woman with a big smile, she always has a handle on the local scoop, as well as a good conspiracy theory to share.
Bear
When Kaylee adopted Bear from a local shelter, it was love at first sight. Cute, curious and well-mannered, this lovable dachshund is Kaylee's constant companion, escorting her to the flower shop every day. His inquisitive nature might just land him in the middle of a mystery or two.