Best Laid Plants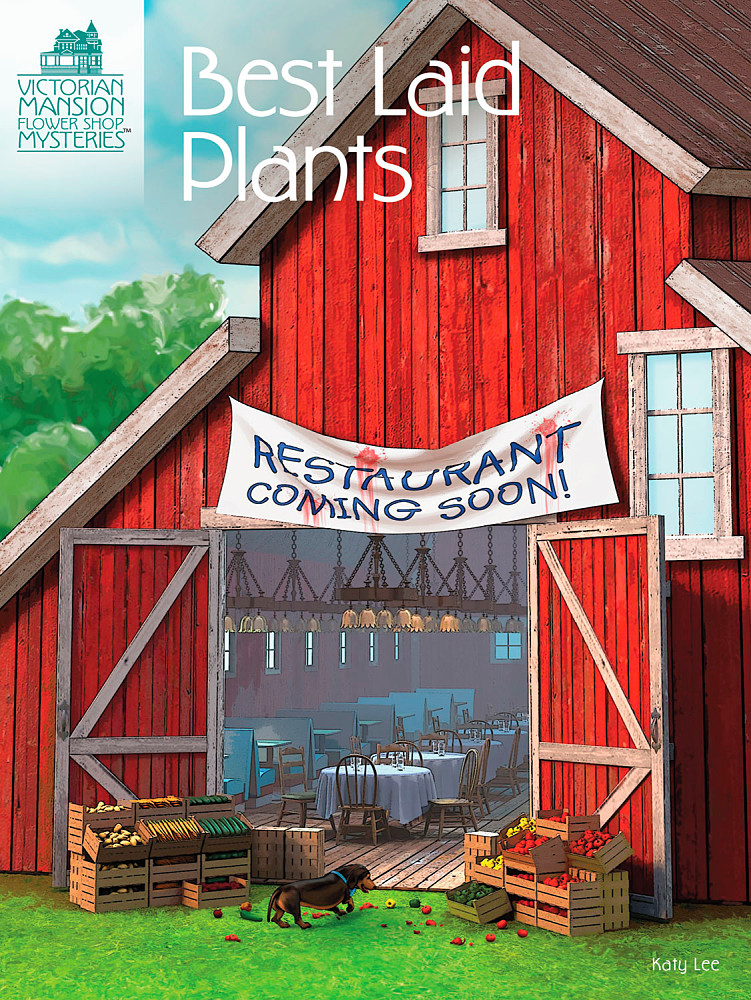 Cameras are rolling on Orcas Island as a TV crew arrives to shoot 'Restaurant Restarts,' a makeover show turning the rundown Madrona Grove Farm and Orchard into an upscale farm-to-table restaurant. Many folks from Turtle Cove are contributing to the renovation, including florist Kaylee Bleu and her boyfriend, Reese Holt, who's serving up impressive transformations as the job's general contractor.

The activity at the farm is leaving a bad taste in at least one local's mouth, however. Native American herbalist Georgine Snowbird, who lives next door to Madrona Grove, has some serious reservations -- in fact, the Lummi herbalist insists the land is cursed. The showrunners ridicule Georgine's warnings at first, but they're forced to eat crow when the show's host, Gabe Forester, is discovered dead of mysterious causes. Did the curse factor into his death? Was his demise just rotten luck? Or was murder the main ingredient?

Unfortunately, Gabe's death is merely an appetizer for other frightful events to come, and Kaylee finds it hard to sugarcoat the situation when even Reese falls victim. The dangerous incidents could be the producer's half-baked schemes to boost ratings -- but they could just as easily be the work of an unseen villain with a more nefarious reason to whip up chaos.

Tensions at Madrona Grove soon reach a boiling point, and Kaylee struggles to make sense of the peculiar goings-on. Try as she might, though, she can't get anyone on set to spill the beans about the mysterious mayhem afoot on the farm. Can Kaylee figure out who's behind the foul pranks and could-be murder at Madrona Grove before her goose is cooked, or has she bitten off more than she can chew?
The Characters
Kaylee Bleu
At 40, Kaylee's life is about to change in a really big way.

When her job at the university is suddenly eliminated, Kaylee is left feeling lost. Yet it couldn't have happened at a better time.

A fortuitous phone call sets an exciting new course for Kaylee. She packs up her life and moves to take ownership of her grandparents' grand Victorian mansion flower shop and charming Wildflower Cottage, both in Turtle Cove, Wash., on gorgeous Orcas Island.

Of course, Grandpa Ed has been gone for years and while Kaylee feels the pang of missing him, she eagerly accepts her beautiful new surroundings to begin a brand-new chapter in her life.

Then Kaylee discovers that not everything in Turtle Cove is coming up roses. Will the cryptic clues in her grandfather's journal lead her to the truth about what really happened to him years ago -- and straight into the path of a killer?
Mary Bishop
Mary works part-time at The Flower Patch and welcomes Kaylee to Turtle Cove with open arms. As a retired police dispatcher, she has contacts with the local authorities -- connections that come in handy when she's helping Kaylee solve mysteries!
Jessica Roberts
Jessica is the spunky owner of the Death by Chocolate bakery and coffee shop and Kaylee's best friend. She's energetic, funny and can't resist a good mystery. A petite woman with a big smile, she always has a handle on the local scoop, as well as a good conspiracy theory to share.
Bear
When Kaylee adopted Bear from a local shelter, it was love at first sight. Cute, curious and well-mannered, this lovable dachshund is Kaylee's constant companion, escorting her to the flower shop every day. His inquisitive nature might just land him in the middle of a mystery or two.