Museum of Mysteries Club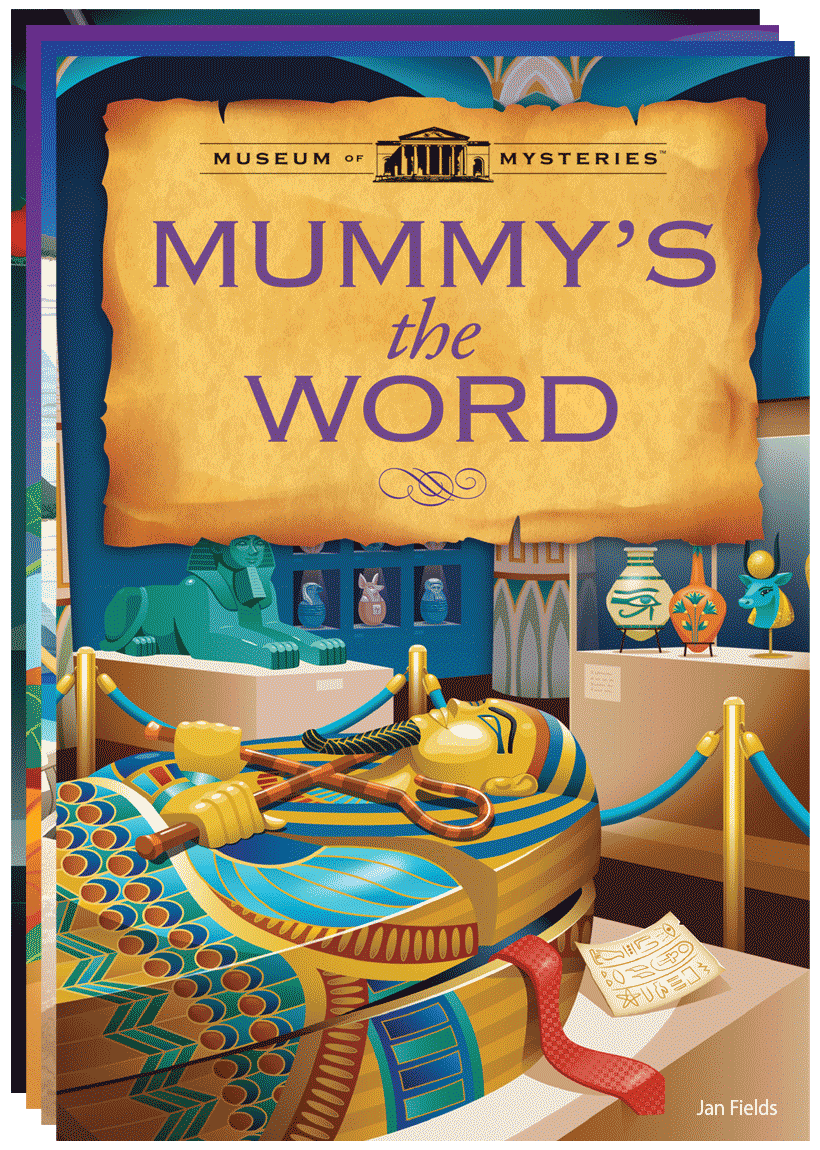 12 books in this Club
Scarlett must dig deep to uncover the truth or face grave consequences.
Located on the beautiful Monterey Peninsula in California, the seaside village of Crescent Harbor is known for its gorgeous scenery, storybook cottages, and charming downtown bustling with unique shops and restaurants. It's also home to the world-renowned Reed Museum of Art and Archaeology, founded by reclusive billionaire Devon Reed.

As the museum's new head curator, archaeologist Scarlett McCormick is used to digging into history to solve mysteries about the past. But nothing in her training prepared her for the mystery she encounters during her third week on the job—the untimely death of her employer.

When the body of Devon Reed is discovered in an ancient Egyptian coffin sent in for a new exhibit, and the mummified body that belongs in the coffin is nowhere to be found, Scarlett is left searching for clues. A cryptic note written in hieroglyphics and found in the coffin provides her with her first lead, but she must work fast to recover a mummy and uncover a killer—before someone else is history.
The Characters
Allie Preston
Allie Preston grew up in Petaluma, California, but moved to San Francisco to attend college, thinking she'd never go back to small-town living. She has a degree in business and worked as a manager at a major coffee chain—until five years ago, when her parents' old high school friend, tech billionaire Devon Reed, offered her the opportunity to run Burial Grounds, the coffee shop inside his world-renowned museum. She was unsure about giving up city living at first, but the fantastic surfing at Luna Beach convinced her to give it a try, and she soon found that she adored Crescent Harbor. She spends her mornings selling coffee at the museum and her late afternoons surfing or taking pictures to share with the Open and Shutter Photography Club. She and Scarlett hit it off immediately, quickly becoming friends and partners in solving crime.
Devon Reed

69-year-old Devon Reed is a tech billionaire who spent the first half of his career making money and the second half of it giving money away to charitable causes worldwide. While traveling the globe, he amassed an unparalleled collection of art and artifacts from ancient Greece, Rome, Egypt, the Far East, and more, and he opened the Reed Museum of Art and Archaeology to house them. In the last few years, however, sightings of Devon have become rarer and rarer . . . until Scarlett discovers his body inside a sarcophagus destined for a new exhibit at the museum. Who wanted the brilliant philanthropist dead? Scarlett must follow the cryptic clues and solve the mystery of his untimely demise before someone else is history.
Hal and Greta Baron
Former theatre professor Hal and retired history professor Greta are senior docents at the Reed Museum of Art and Archaeology. They met thirty years ago at a new faculty mixer when they both took jobs at Santa Catalina College. She admired his ability to make her laugh, and he appreciated the fact that she took him somewhat seriously. Greta volunteers at the library and occasionally gives presentations about local history. Hal frequently acts in or directs productions for the Greek to Me theatre troupe, though he often complains that they never perform authentic Greek tragedies.

Greta's impressive knowledge and Hal's creative thinking often come in handy in helping Scarlett solve mysteries.
Luke Anderson
FBI agent Luke Anderson believes there is far more to Devon Reed's death than meets the eye. As a resident of Crescent Harbor, the crime hits close to home. Luke tends to be focused and serious about his work, but he also has a great sense of humor. To unwind from his stressful job, he enjoys hiking and spending time outdoors. Building things also helps him to unwind, so he often volunteers to construct sets for the local Greek to Me theatre troupe. Luke has been in relationships, but with his demanding job, he hasn't had the time or inclination to settle down—until he meets Scarlett.
Scarlett McCormick
Scarlett McCormick is an experienced archaeologist and curator who enjoys traveling the world. She's spent the last 10 years working in the field and in various museums in New York City. When she's offered the position of head curator at the world-renowned Reed Museum of Art and Archaeology in the quaint seaside town of Crescent Harbor, California, she jumps at the chance. Joined by her adorable feline companion, Cleo, Scarlett eagerly embarks on this new chapter in her life, unaware that she will soon be entangled in a string of intriguing mysteries—including the suspicious death of her employer.
Winnie Varma
A bit of a genius, 30-year-old Winnie always dreamed of becoming a police detective, but her parents encouraged her to study computer science instead. She found she had a knack for designing and operating security systems, so she combined her interests in fighting crime with her programming talents to become a private security expert. Devon Reed hired her to run security at the Reed Museum of Art and Archaeology, where it's her job to ensure his precious artifacts are safe and sound. While her expertise and experience are a welcome addition to the case, Scarlett wonders if perhaps Winnie knows more about Devon's death than she's telling.