Annie's Attic Mysteries Club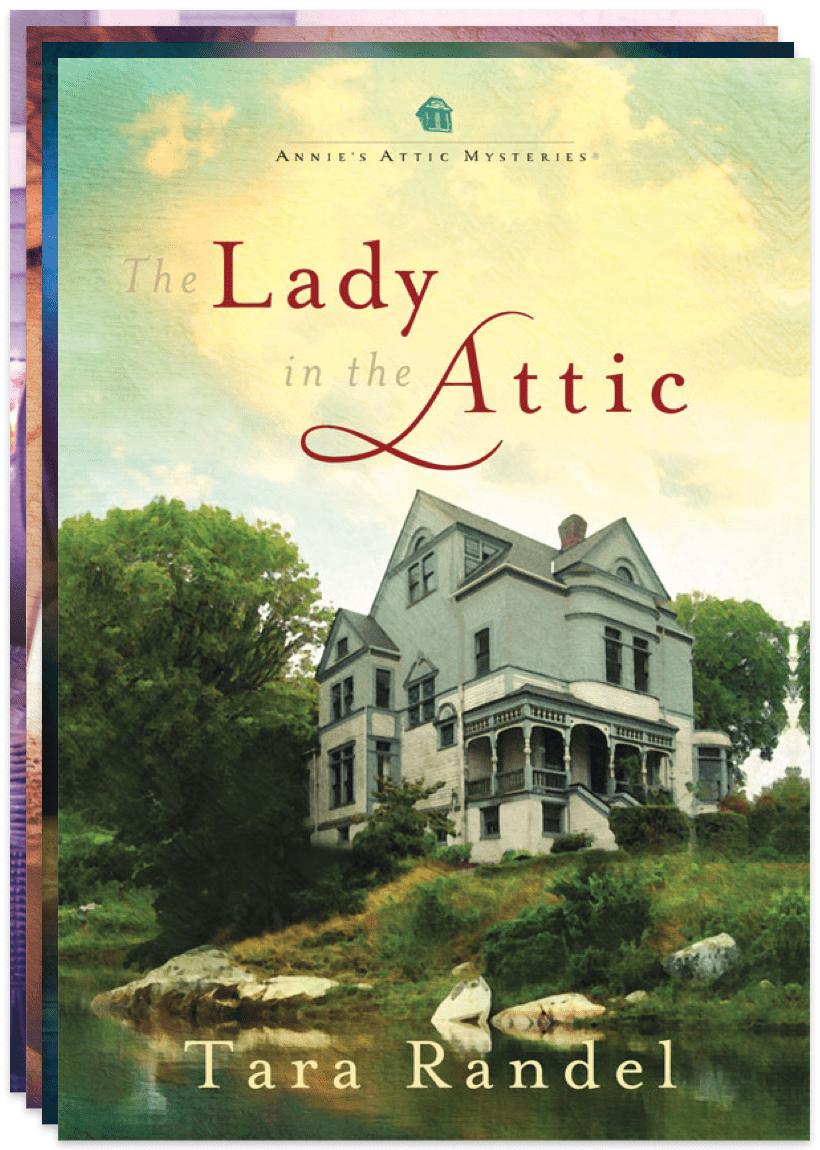 30 books in this Club
Let Annie and her close-knit group of stitching friends warm your heart while the mysteries they find in Grey Gables attic keep you guessing till the very end!
These books will make you want to sit down in your favorite chair and escape from your hectic life. Each book in the club is one you'll read over and over again.

Annie's Attic Mysteries is an exciting book club written with you in mind. Available exclusively from Annie's, this club combines interesting characters, entertaining stories and the love of crafting into mystery books you'll never want to put down.

You'll enjoy Annie's adventures as she discovers mysteries from her past and the Stony Point heritage that is uniquely hers. You'll fall in love with the down-to-earth residents of Stony Point, Maine — especially the women in the Needlecraft Club who love stitching, relish friendship and are delighted to help Annie Dawson unravel the mysteries hiding in Grandma Betsy's attic!

The Lady in the Attic gets the club off to a great start as you learn more about Annie and the friends she makes as she solves her first mystery.

Grey Gables is a romantic, stately old house that holds as many secrets as it does memories for Annie Dawson. After her grandmother's passing, Annie's plan is to lovingly sort through her grandmother's possessions. But after wandering through every room in the house, it's no wonder that Annie has so many mixed emotions when she steps into the large and dusty attic.

Suddenly, the purpose of her trip to Grey Gables weighs heavily on her heart. Annie is still trying to sort through her new life without Wayne, and now she is overwhelmed with the task of sorting through years of memories and a mountain of Gram's treasures. Then she remembers her grandmother's mantra: "One stitch at a time," and knows she is up to the challenges of this new adventure!
The Characters
Annie Dawson
Annie has lived in Brookfield, Texas, for the last 28 years but grew up in Stony Point, Maine. At 49, she is still attractive with her gray-blond hair, but since her husband, Wayne, died of a heart attack last year, her green eyes have lost their sparkle. She doesn't know quite how she fits into this new, but lonely, phase of her life. So she contents herself with her crochet projects and her garden. Still, however, her life lacks focus and meaning.
Alice MacFarlane
A childhood friend of Annie's, Alice has lived in Stony Point all her life. She is divorced and lives next door to Grey Gables in the small but cozy carriage house that used to be the gatekeeper's house for the mansion on the hill. Annie is delighted to reconnect with her long-lost friend.
Mary Beth Brock
Mary Beth is the owner of the local yarn shop, A Stitch in Time, in the center of town. She has lived in Stony Point her whole life, has never been married and seems to be the self-appointed town mother. It's nearly impossible to keep a secret around her since she knows absolutely everything going on in town.
LeeAnn Sorensen
Annie's daughter LeeAnn lives in Dallas, Texas and has an independent nature. She and her husband, Herb, have 5-year-old twins, John and Joanna. LeeAnn is worried about her mother's well-being but keeps in touch on a regular basis.