Emeralds in the Attic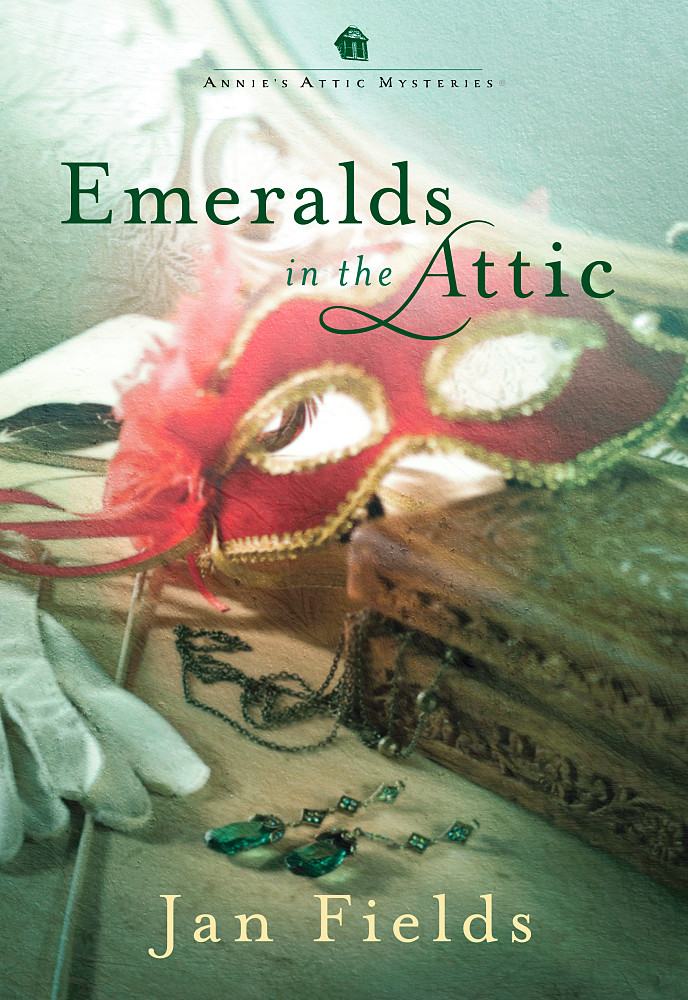 When Annie Dawson finds a necklace, earrings and a matching hair comb in the attic of Grey Gables, her Victorian-style home in Stony Point, Maine, she doesn't realize the chain of events waiting to be unleashed.

Why are so many people—from the ocean scientists studying Stony Point's fishing industry to a rich, young philanthropist to Annie's best friend's ex-husband—so fascinated by the jewelry?

Annie and her friends in the Hook and Needle Club are preparing for the social event of the year, a masquerade ball hosted by the Stony Point Historical Society. "Annie and her friends Alice MacFarlane and Peggy Carson search in the expansive attic of Grey Gables to find gowns and accessories for the ball, and there they discover an antique set of faux-emerald jewelry. The set is the perfect complement to Annie's own gown, but little does she know where the discovery will lead her and her friends.

It all seems innocent at first. Then, someone snatches the decorative comb from Annie's hair during a brief blackout at the ball. Is someone masquerading as a thief—or worse? The mystery deepens when Annie returns home after the ball and discovers Grey Gables has been ransacked.

Annie, Alice, and Ian Butler, the mayor of Stony Point and Annie's date for the ball, set a trap sure to lure the thief out of the shadows. But who will they catch? Join Annie, Ian, and the crafty members of the Hook and Needle Club as they search for the answers to this latest mystery straight from Annie's Attic!
The Characters
Annie Dawson
Annie has lived in Brookfield, Texas, for the last 28 years but grew up in Stony Point, Maine. At 49, she is still attractive with her gray-blond hair, but since her husband, Wayne, died of a heart attack last year, her green eyes have lost their sparkle. She doesn't know quite how she fits into this new, but lonely, phase of her life. So she contents herself with her crochet projects and her garden. Still, however, her life lacks focus and meaning.
Alice MacFarlane
A childhood friend of Annie's, Alice has lived in Stony Point all her life. She is divorced and lives next door to Grey Gables in the small but cozy carriage house that used to be the gatekeeper's house for the mansion on the hill. Annie is delighted to reconnect with her long-lost friend.
Mary Beth Brock
Mary Beth is the owner of the local yarn shop, A Stitch in Time, in the center of town. She has lived in Stony Point her whole life, has never been married and seems to be the self-appointed town mother. It's nearly impossible to keep a secret around her since she knows absolutely everything going on in town.
LeeAnn Sorensen
Annie's daughter LeeAnn lives in Dallas, Texas and has an independent nature. She and her husband, Herb, have 5-year-old twins, John and Joanna. LeeAnn is worried about her mother's well-being but keeps in touch on a regular basis.