Jazzed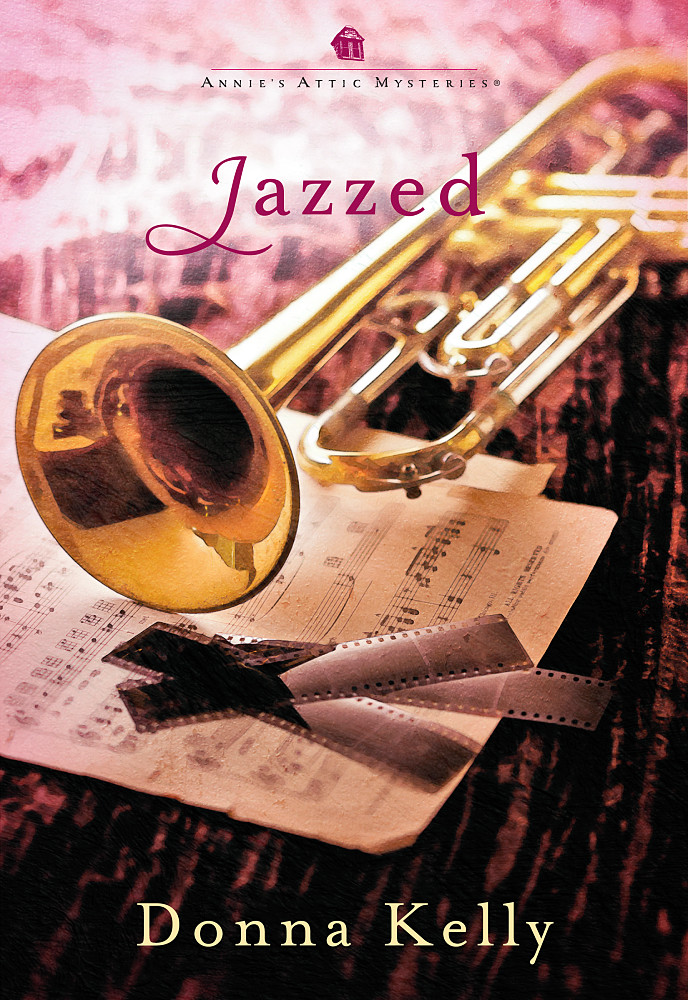 The discovery of a set of black-and-white photograph negatives has sent Annie Dawson searching for answers to why they were secreted away behind the portrait of her grandparents. The portrait has hung for generations now on a wall in Grey Gables, the home in Stony Point, Maine, that was bequeathed to Annie by her grandmother, Elizabeth Holden.

The negatives hearken back to the heyday of the jazz scene in New York City in the late 1940s. Obviously of professional quality, the negatives lead Annie down a mysterious pathway as she and her friends from the Hook and Needle Club track down how Annie's grandparents are connected.

The biggest question Annie wants answered is, who is the beautiful vocalist pictured amongst some of the great names of jazz? Annie is drawn to the images of Asta, a sultry blonde who seems to have dropped completely from sight before her career had a chance to blossom.

Coincidentally, Mary Beth Brock, the owner of A Stitch in Time (the local needlecraft shop where weekly Hook and Needle Club meetings are held) asks Annie, Alice MacFarlane, and Kate Stevens to attend a needlecraft conference in the Big Apple. The trio tackle the conference hall by day while tracking down clues by night.

The pursuit leads them to a jazz club where Kate is attracted to the handsome trumpeter, Cole Cutchins. Then the mystery takes a sinister turn when Annie is accosted while stepping off a subway.

Follow this latest adventure of Annie and the other amateur sleuths from the Hook and Needle Club as they attempt to stay positive about a bunch of negatives in Jazzed.
The Characters
Annie Dawson
Annie has lived in Brookfield, Texas, for the last 28 years but grew up in Stony Point, Maine. At 49, she is still attractive with her gray-blond hair, but since her husband, Wayne, died of a heart attack last year, her green eyes have lost their sparkle. She doesn't know quite how she fits into this new, but lonely, phase of her life. So she contents herself with her crochet projects and her garden. Still, however, her life lacks focus and meaning.
Alice MacFarlane
A childhood friend of Annie's, Alice has lived in Stony Point all her life. She is divorced and lives next door to Grey Gables in the small but cozy carriage house that used to be the gatekeeper's house for the mansion on the hill. Annie is delighted to reconnect with her long-lost friend.
Mary Beth Brock
Mary Beth is the owner of the local yarn shop, A Stitch in Time, in the center of town. She has lived in Stony Point her whole life, has never been married and seems to be the self-appointed town mother. It's nearly impossible to keep a secret around her since she knows absolutely everything going on in town.
LeeAnn Sorensen
Annie's daughter LeeAnn lives in Dallas, Texas and has an independent nature. She and her husband, Herb, have 5-year-old twins, John and Joanna. LeeAnn is worried about her mother's well-being but keeps in touch on a regular basis.