A Spicy Secret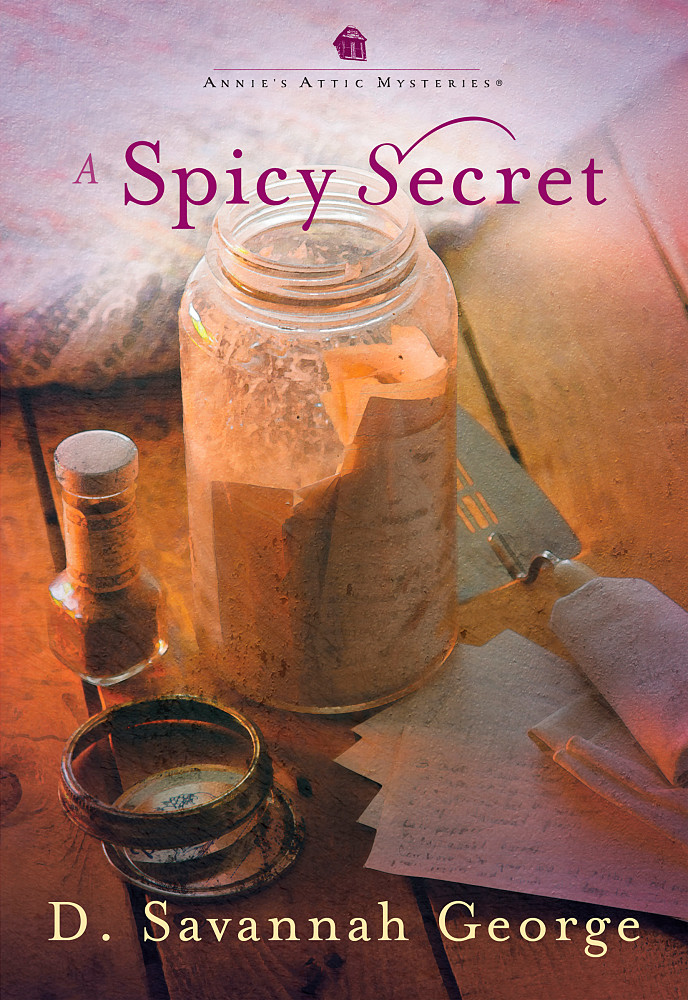 Alice MacFarlane is known far and wide for her baking skills, but her mojo has suddenly gone missing. It all started with the discovery of a jarful of recipes beneath the floor of the carriage house that she calls home. Alice, ever the adventurer, decides to give the recipes a try.

The results have been mixed at best. The first dish was downright repulsive, and now Gwendolyn Palmer, one of Alice's friends from the Hook and Needle Club, is in the ICU—and Alice can't help but believe that her latest dish from the mysterious recipes may be to blame.

Alice's home shares a scenic hillside vista with Grey Gables, the stately Victorian home owned by Annie Dawson, Alice's best friend. Annie—a transplant from Texas to Stony Point, Maine—inherited Grey Gables from her late grandmother, Elizabeth Holden.

Now Annie must help Alice find out where the recipes came from, and if there is some kind of dark secret associated with them.

At the same time, the Hook and Needle Club has taken on a gargantuan task—to provide handmade blankets for each resident of an orphanage in Haiti. The work must be completed in time for a mission trip led by Reverend Roy Wallace, pastor of the Stony Point Community Church. "Blanket Haiti" is one of the most ambitious projects undertaken by the club, known for its charitable works.

But the project is complicated by the illness of Gwen—and Alice's fear that she is somehow to blame. With the help of their Hook and Needle Club comrades, Alice and Annie set out to discover the truth behind the mysterious spicy secret.
The Characters
Annie Dawson
Annie has lived in Brookfield, Texas, for the last 28 years but grew up in Stony Point, Maine. At 49, she is still attractive with her gray-blond hair, but since her husband, Wayne, died of a heart attack last year, her green eyes have lost their sparkle. She doesn't know quite how she fits into this new, but lonely, phase of her life. So she contents herself with her crochet projects and her garden. Still, however, her life lacks focus and meaning.
Alice MacFarlane
A childhood friend of Annie's, Alice has lived in Stony Point all her life. She is divorced and lives next door to Grey Gables in the small but cozy carriage house that used to be the gatekeeper's house for the mansion on the hill. Annie is delighted to reconnect with her long-lost friend.
Mary Beth Brock
Mary Beth is the owner of the local yarn shop, A Stitch in Time, in the center of town. She has lived in Stony Point her whole life, has never been married and seems to be the self-appointed town mother. It's nearly impossible to keep a secret around her since she knows absolutely everything going on in town.
LeeAnn Sorensen
Annie's daughter LeeAnn lives in Dallas, Texas and has an independent nature. She and her husband, Herb, have 5-year-old twins, John and Joanna. LeeAnn is worried about her mother's well-being but keeps in touch on a regular basis.