Noel Way Out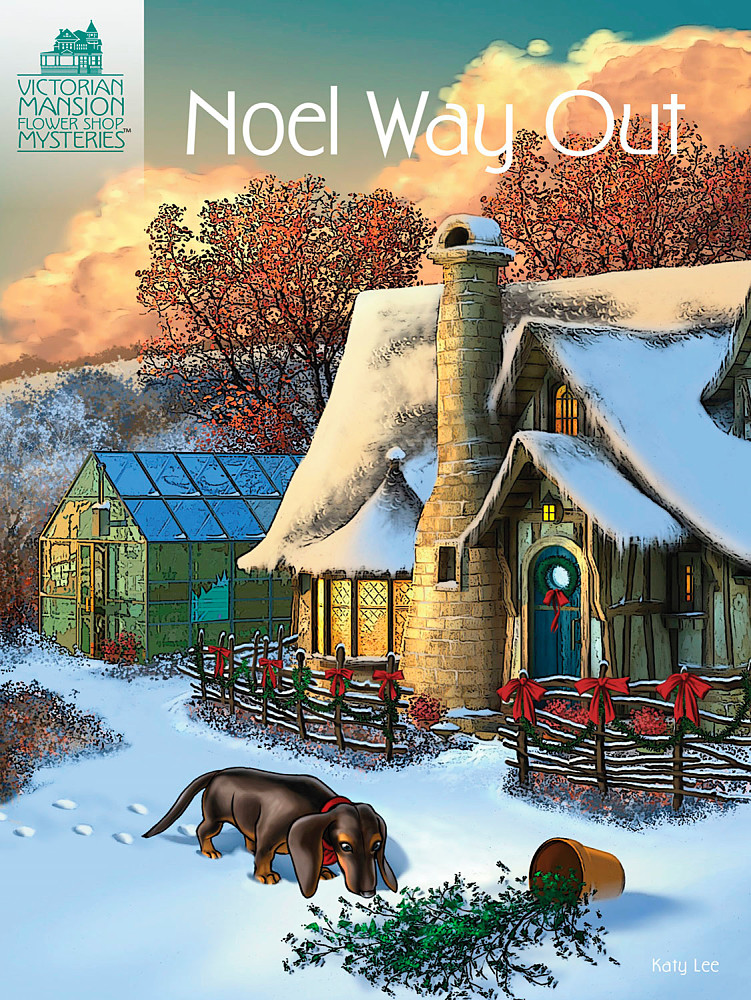 Christmas bells are ringing in Turtle Cove, Washington, where florist Kaylee Bleu and her friends in the Petal Pushers garden club are preparing for their annual Christmas Bazaar. As they deck the halls of the Old Cape Lighthouse keeper's quarters, they discuss local organic gardener Holly Shultz, a newcomer who's making Orcas Island her home for the holidays.

Intrigued by news of mulberry trees growing in Holly's greenhouse, Kaylee visits the gardener and finds her fretfully cleaning up after a break-in on her property. When Holly refuses to involve law enforcement in the situation, Kaylee begins to wonder if it's only the prowler that has disturbed Holly's peace on earth; or if it's dangerous secrets in the woman's past that are jingling her nerves.

All isn't calm for the rest of Orcas Island either. A fierce winter thunderstorm knocks the ferry port out of commission, downs power lines, and batters local homes and businesses. The storm also blows in the dreadful tidings that Holly's reclusive elderly neighbor, Warren Foster, is dead; and he's found covered in mulberry juice, which quickly pushes Holly to the top of the sheriff's naughty list.

Despite the harsh accusations of a cantankerous islander, Kaylee isn't convinced that Holly is to blame for Warren's suspicious demise. All Kaylee wants for Christmas is to understand her new friend's past and help her build a future in Turtle Cove that's full of good cheer; but with the ferry out of service, Warren Foster's unexplained death, and repeated break-ins at Holly's greenhouse, it's beginning to look a lot like Christmas on Orcas Island will be dark and dismal instead of merry and bright.

Will Kaylee and her friends find comfort and joy this holiday season, or will they have themselves a scary little Christmas?
The Characters
Kaylee Bleu
At 40, Kaylee's life is about to change in a really big way.

When her job at the university is suddenly eliminated, Kaylee is left feeling lost. Yet it couldn't have happened at a better time.

A fortuitous phone call sets an exciting new course for Kaylee. She packs up her life and moves to take ownership of her grandparents' grand Victorian mansion flower shop and charming Wildflower Cottage, both in Turtle Cove, Wash., on gorgeous Orcas Island.

Of course, Grandpa Ed has been gone for years and while Kaylee feels the pang of missing him, she eagerly accepts her beautiful new surroundings to begin a brand-new chapter in her life.

Then Kaylee discovers that not everything in Turtle Cove is coming up roses. Will the cryptic clues in her grandfather's journal lead her to the truth about what really happened to him years ago -- and straight into the path of a killer?
Mary Bishop
Mary works part-time at The Flower Patch and welcomes Kaylee to Turtle Cove with open arms. As a retired police dispatcher, she has contacts with the local authorities -- connections that come in handy when she's helping Kaylee solve mysteries!
Jessica Roberts
Jessica is the spunky owner of the Death by Chocolate bakery and coffee shop and Kaylee's best friend. She's energetic, funny and can't resist a good mystery. A petite woman with a big smile, she always has a handle on the local scoop, as well as a good conspiracy theory to share.
Bear
When Kaylee adopted Bear from a local shelter, it was love at first sight. Cute, curious and well-mannered, this lovable dachshund is Kaylee's constant companion, escorting her to the flower shop every day. His inquisitive nature might just land him in the middle of a mystery or two.