Dormant Lies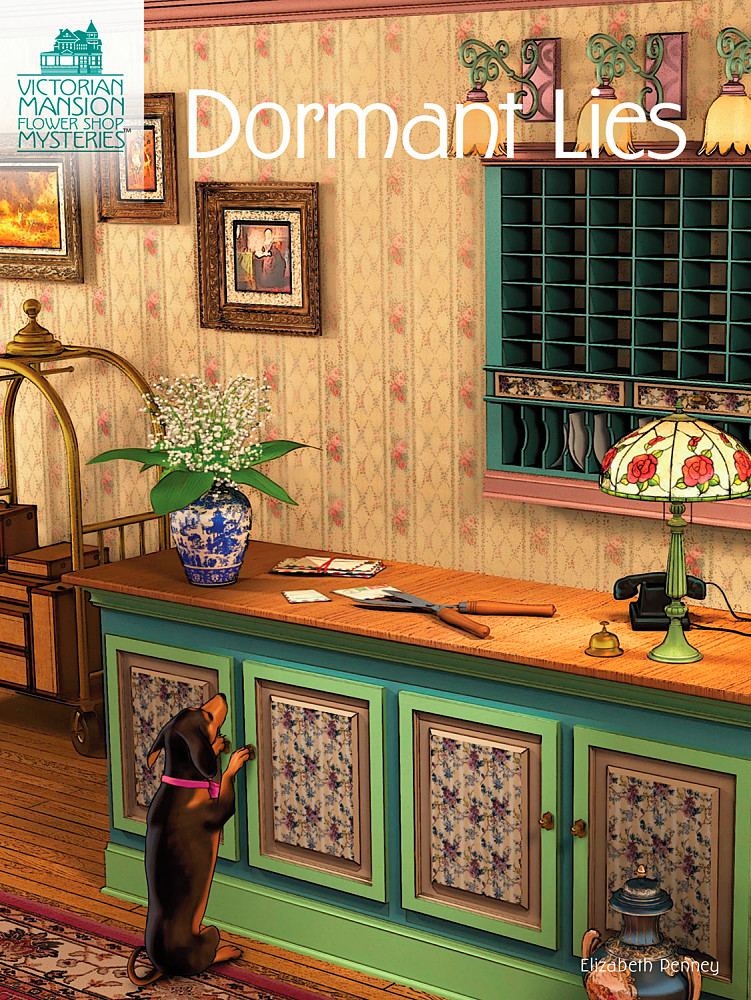 It's a sunny spring day in Turtle Cove, Washington, and florist Kaylee Bleu is making a special delivery to the recently renovated Lily of the Valley Inn. It's not only beautiful bouquets she's dropping off, though. She and her new boyfriend, handsome handyman Reese Holt, are also checking in his family, who traveled from California to visit Orcas Island -- and meet Kaylee -- for the first time. However, Kaylee's nerves about making a good impression quickly take a backseat when they arrive at the converted Victorian house and discover that proprietor Natalie Parker has been enduring a host of suspicious mishaps.

Although cheery and hospitable herself, the young innkeeper has some personal baggage -- namely her aunts and uncle, none of whom share her mother, Ellen's, composed demeanor. Ellen's squabbling siblings seem to only agree on one thing: that Natalie should never have been allowed to buy their childhood home. But has one of them been wreaking havoc on her business venture?

Natalie's Aunt Marlene seems to harbor the most resentment about the inn, insisting that the estate's finances were handled without care. But in a shocking turn of events, the cantankerous woman is found dead, killed with Ellen's garden shears. Ellen skyrockets to the top of the sheriff's suspect list, but neither Natalie nor Kaylee is convinced that she had a hand in Marlene's murder. But if she didn't, then who did?

Despite being booked solid with Reese and his family's vacation activities, Kaylee makes time to unpack the case's confusing details. As she follows dubious clues off the beaten path, her investigation guides her on a frightening expedition to some of Orcas Island's most desolate areas. Can she trip up the murderer before it's too late -- or will Kaylee's journey end in her own downfall?
The Characters
Kaylee Bleu
At 40, Kaylee's life is about to change in a really big way.

When her job at the university is suddenly eliminated, Kaylee is left feeling lost. Yet it couldn't have happened at a better time.

A fortuitous phone call sets an exciting new course for Kaylee. She packs up her life and moves to take ownership of her grandparents' grand Victorian mansion flower shop and charming Wildflower Cottage, both in Turtle Cove, Wash., on gorgeous Orcas Island.

Of course, Grandpa Ed has been gone for years and while Kaylee feels the pang of missing him, she eagerly accepts her beautiful new surroundings to begin a brand-new chapter in her life.

Then Kaylee discovers that not everything in Turtle Cove is coming up roses. Will the cryptic clues in her grandfather's journal lead her to the truth about what really happened to him years ago -- and straight into the path of a killer?
Mary Bishop
Mary works part-time at The Flower Patch and welcomes Kaylee to Turtle Cove with open arms. As a retired police dispatcher, she has contacts with the local authorities -- connections that come in handy when she's helping Kaylee solve mysteries!
Jessica Roberts
Jessica is the spunky owner of the Death by Chocolate bakery and coffee shop and Kaylee's best friend. She's energetic, funny and can't resist a good mystery. A petite woman with a big smile, she always has a handle on the local scoop, as well as a good conspiracy theory to share.
Bear
When Kaylee adopted Bear from a local shelter, it was love at first sight. Cute, curious and well-mannered, this lovable dachshund is Kaylee's constant companion, escorting her to the flower shop every day. His inquisitive nature might just land him in the middle of a mystery or two.