Just Desserts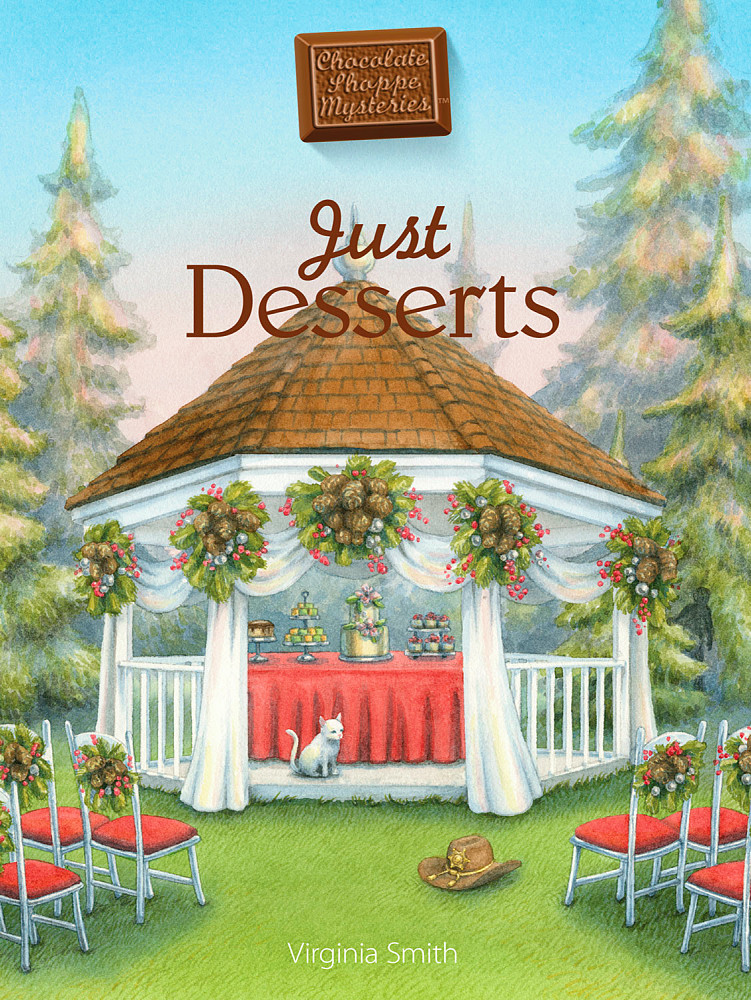 December is off to an unseasonably warm start in Moss Hollow, Georgia, and the hot topic of conversation at The Chocolate Shoppe Bakery is the upcoming wedding of Jillian Green's best friend, Savannah Cantrell. Preparation for the desserts-only affair being held at Belle Haven mansion is going full-steam ahead, and Savannah is showing no signs of getting cold feet.


Talk of sweets turns sour, however, when the latest planning meeting is interrupted by the bone-chilling news that Sheriff Henderson has been shot. Deputy Goodman "Gooder" Jones is fired up over the incident and determined to turn up the heat on a long list of suspects. Jillian raises the possibility that Gooder was the shooter's original target, not the sheriff, but the deputy dismisses her advice to broaden his search. Will Gooder's willful ignorance get him into hot water?


Although Jillian fears that Gooder's budding crush on Moss Hollow newcomer Lacy Dixon is clouding his judgment, she also finds herself warming up to the soft-spoken woman. The more time Jillian spends with her, the more she wonders: are Lacy's true feelings about Gooder simmering beneath her frosty demeanor? Or is she concealing chilling secrets that Jillian can't even imagine?


More shootings have tension in town at a fever pitch, and plans for Christmas and Savannah's wedding are put on the back burner. After one incident turns deadly, Jillian struggles to keep a cool head. Can she help Gooder uncover the coldblooded killer before he strikes again, or will somebody else she cares about get burned by the madman terrorizing Moss Hollow?
The Characters
Jillian Green
At 39, Jillian is living the life she always dreamed. Using her creative talents, she's built a successful career as one of the top executives at a prestigious advertising agency in California, and she's engaged to an amazing man who showers her with love and the finer things in life. Life couldn't be more perfect.

But as quickly as a chocolate souffle can flop, Jillian's "perfect" fiance is arrested for embezzlement, putting a quick end to the engagement, and the advertising agency coincidentally "downsizes" Jillian after the scandal, leaving her without a job. But Jillian is a strong Southern woman who has learned how to endure from her feisty and iron-willed grandmother. She decides to leave California and make a fresh start where her life began, in the quaint town of Moss Hollow, Ga.

Under Grandma Bertie's roof at Belle Haven mansion and under her wing, Jillian prepares to take over the family business: The Chocolate Shoppe Bakery. But she doesn't expect to find murder on the menu! Will returning home to reconnect with her Southern roots ultimately prove to be a blessing or a fatal mistake?
Lenora
Longtime member of the Sweetie Pies baking club and grandmother extraordinaire, Lenora has managed the bakery for decades and is considered a part of the family. Since fixing a salad is Jillian's greatest culinary accomplishment on most days, she encounters a few hurdles while learning how to create the decadent treats the bakery is known for. She's grateful for Lenora's wise counsel and encouragement!
Possum
The curious and cuddly house cat keeps a close eye on the happenings at Belle Haven mansion and lends a hand -- or paw -- in helping Jillian solve the intriguing mysteries of the small town.
Savannah Cantrell
Savannah is one of Jillian's oldest and best friends. She's delighted Jillian moved back to town and looks forward to reconnecting with her childhood companion. But she's also keeping a secret that may be the key to unlocking the mystery of Nadine's untimely demise.
Bertie Harper
Jillian's down-to-earth and lovable grandmother is ready to retire from the hectic demands of running The Chocolate Shoppe Bakery, but she refuses to sell to a complete stranger. Jillian is her last hope for keeping the business in the family, even if Jillian can barely boil water. Bertie is determined to help Jillian succeed in the business and to see her marry a good Southern man before the bloom falls completely off the rose.
Cornelia Montgomery
Cornelia may be Bertie's twin, but she is different from her sister in every way, from her flair for the dramatic to her eccentric nature. She moved back to Belle Haven mansion to live with Bertie five years ago after the death of her husband. She claims to possess a joie de vivre that simply cannot be tamed. Bertie prefers to call it "flighty." Despite her theatrics, Cornelia has a generous heart and wants nothing but the best for her grandniece. She will do anything to see Jillian happy and settled in Moss Hollow ... even if it means bending a few rules.