A Novel Murder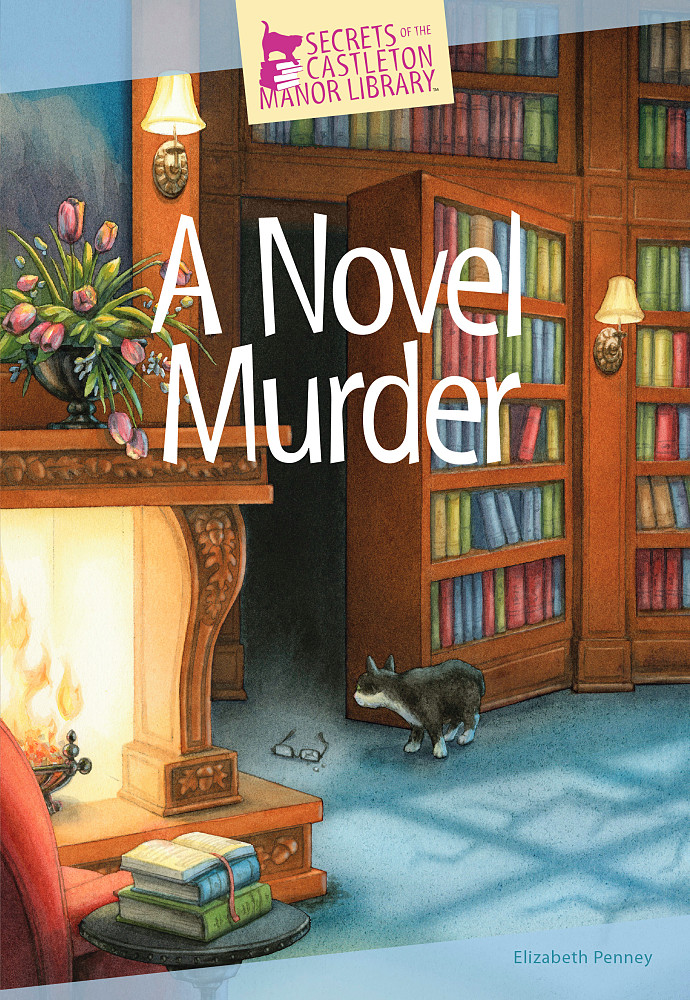 Faith Newberry's dream job may be morphing into a nightmare. Newly hired as the librarian at the upscale and pet-friendly Castleton Manor literary retreat, Faith sees her move from Boston to the quaint Cape Code village of Lighthouse Bay, Massachusetts, as a boon.

But things turn ugly when she discovers that the first edition book by Sir Arthur Conan Doyle proudly displayed in the library - also his first in the Sherlock Holmes series - is a counterfeit, and not a very good one at that. Who could have absconded with the real volume? Could it have been the former librarian when she mysteriously disappeared, leaving only a cryptic note of resignation? Or has someone else duped the handsome heir to the Castleton Manor estate, Wolfe Jaxon?

Whichever is the case, it soon becomes clear that someone will stop at nothing to keep her from learning the truth.

Just as Sherlock Holmes had his Watson to help solve mysteries, so does Faith. Only hers is a lovable stub-tailed cat bearing the same name. Faith rescued Watson as a kitten from behind a dumpster on a freezing New England night, and he - like the fictional doctor - has become her loyal sidekick. He is Faith's friend, confidant, and sometimes her rescuer in times of peril. Together they set out to uncover the truth.

The members of the Candle House Book Club, a lively group of women headed by her aunt Eileen Piper, also join Faith in her quest for answers. Will they be able to find the missing librarian and the missing Sherlock Holmes volume before this chapter of Faith's life comes to a fatal close?
The Characters
Faith Newberry
Undoubtedly Faith inherited her family's passion for books—her adoring grandmother and Aunt Eileen began sharing the enchanting world of literature with her at a very young age. Even today, as a smart, independent, 39-year-old woman, Faith finds that printed words on paper are her passport to another place and time. In her opinion, a perfectly written novel has the ability to make a reader laugh, cry, love and live. But with recent events unfolding around Faith in her new role as the Castleton Manor librarian and archivist, she learns that some stories are literally to die for!

The luxurious resort for booklovers and their pets draws its fair share of readers, writers, heroes and villains. Much to Faith's unwelcome surprise, she is quickly being penned as the main suspect in a mysterious tale involving the murder of Castleton Manor's previous librarian! This is not what Faith expected when she agreed to move to the dreamy seaside town of Lighthouse Bay and away from the hectic demands of Boston.

With the help of her clever cat, Watson, bright and beloved Aunt Eileen and her supportive new friends in The Candle House Book Club, Faith is determined to clear her name, keep her job and catch a killer.
Watson
Sometimes Faith wonders if she rescued Watson or if he rescued her when they met in a snowy alley 14 years ago. Saucy with a distinct air of mystery about him and the uncanny ability to tell if someone is of bad character, Watson adores Faith. He always keeps his protective emerald eyes on the lookout for her well- being, even if it lands him in odd -- and dangerous -- places around their fascinating new home in Lighthouse Bay.
Eileen Piper
Faith is thrilled to be living closer to her favorite aunt. A spry, witty widow in her 60s, Eileen is the head librarian at The Candle House Library nestled in the historic downtown area. She has lived in Lighthouse Bay all of her life, which makes her the go-to source for the latest local scoop. When she isn't chatting with residents and visitors or volunteering at her church or garden club, Eileen is quick to speak her mind about what's going on around town with the ladies of The Candle House Book Club. Although she suffers from arthritis, she doesn't let it stop her from being a vibrant, active woman. She shocked everyone recently when she traded in her old car for a new red convertible, claiming she still has a few surprises up her sleeve.
Officer Jan Rooney
Seaside life keeps wife, mother of two, and Lighthouse Bay police officer Jan Rooney busy. Her sharp eye and no-nonsense attitude come in handy when helping to solve the mysteries of the town, and she has come to Faith's aid on more than one occasion. Off the clock, she enjoys reading classic works of fiction and creating beautiful pieces of art with clay. Although petite in stature, Officer Rooney is a force to be reckoned with when it comes to catching the bad guy.
Wilfred "Wolfe" Jaxon
Armed with an MBA from Harvard and an irresistibly charismatic smile, Wolfe is a savvy businessman -- and true gentleman -- who oversees the dealings of his family's century-old shipping business and other family-owned endeavors, including Castleton Manor. Having finally made peace after a tragic boating accident resulted in the death of his fiancée, Wolfe surprisingly finds that his guarded heart is slowly opening up to the manor's new librarian, her inquisitive stumpy-tailed cat, and the mysteries they continually find themselves mixed up in. But Wolfe is hiding a secret -- will trusting him put Faith in danger?