Gunns & Roses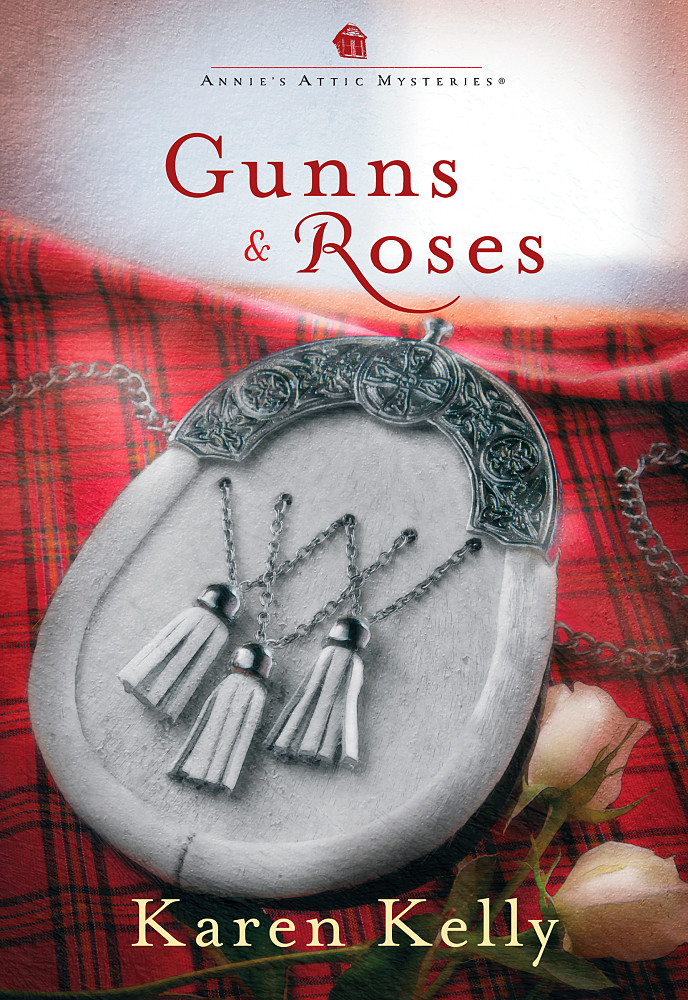 Annie Dawson is hard to intimidate. She has stood up to thieves, con men and murderers in the three years since she came to live in Stony Point, Maine. But even she has to shudder when an eagle attacks her and her friends. It seems someone is intent on scaring her away from the answer to her latest mystery.

While looking for a basket in the attic of Grey Gables, the Victorian home she inherited from her maternal grandmother, Betsy Holden, Annie discovers a Celtic sporran containing several ferrules, the silver fittings of a set of bagpipes. Annie knows her lineage hailed from Scotland, but neither of her grandparents had told her about the sporran or the ferrules. Annie takes her latest mystery to the Hook and Needle Club, the needlework group that has helped her many times in the past. The thread of the mystery leads Annie and several of her friends to the Highland Games, an annual celebration of Scottish heritage. That's when the going gets tough. The close-knit clans the group finds at the games appear friendly at first blush, but then close ranks when Annie and Ian Butler, the mayor of Stony Point, ask too many questions.

What is the mysterious link that puts everyone on edge? The answer is as mournful as the drone of bagpipes. Join Annie and her Hook and Needle Club friends as they take the high road while someone else is taking the low road in this latest mystery from Annie's attic.
The Characters
Annie Dawson
Annie has lived in Brookfield, Texas, for the last 28 years but grew up in Stony Point, Maine. At 49, she is still attractive with her gray-blond hair, but since her husband, Wayne, died of a heart attack last year, her green eyes have lost their sparkle. She doesn't know quite how she fits into this new, but lonely, phase of her life. So she contents herself with her crochet projects and her garden. Still, however, her life lacks focus and meaning.
Alice MacFarlane
A childhood friend of Annie's, Alice has lived in Stony Point all her life. She is divorced and lives next door to Grey Gables in the small but cozy carriage house that used to be the gatekeeper's house for the mansion on the hill. Annie is delighted to reconnect with her long-lost friend.
Mary Beth Brock
Mary Beth is the owner of the local yarn shop, A Stitch in Time, in the center of town. She has lived in Stony Point her whole life, has never been married and seems to be the self-appointed town mother. It's nearly impossible to keep a secret around her since she knows absolutely everything going on in town.
LeeAnn Sorensen
Annie's daughter LeeAnn lives in Dallas, Texas and has an independent nature. She and her husband, Herb, have 5-year-old twins, John and Joanna. LeeAnn is worried about her mother's well-being but keeps in touch on a regular basis.