Treble and Strife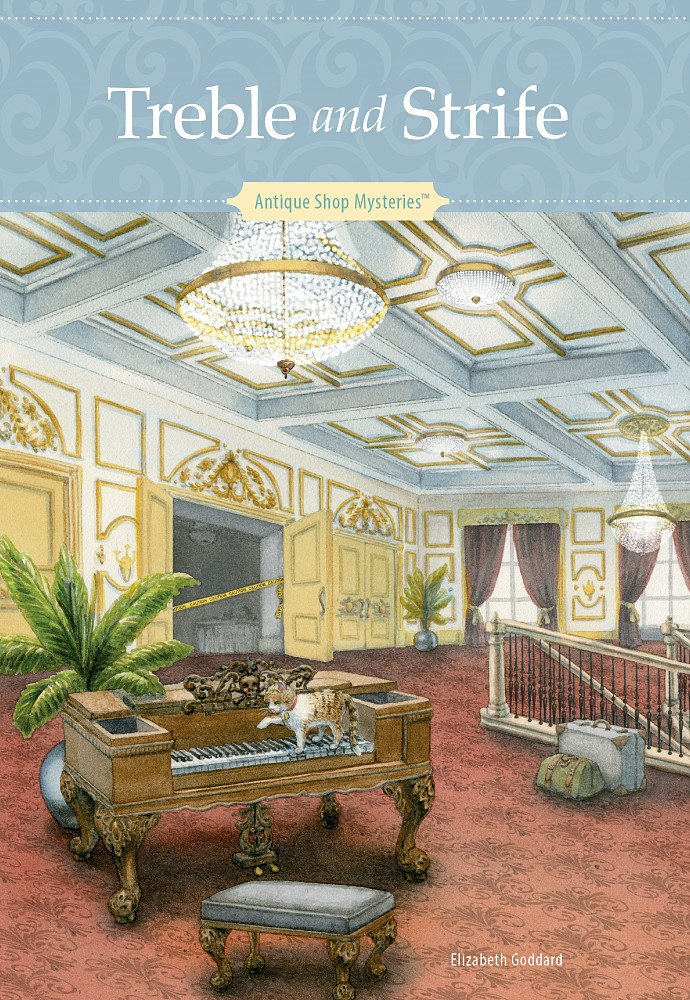 Joining the scents and sounds of fall, there's a thrill in the air in Somerset Harbor, Maine. The harmonious seaside town is getting in tune for Harvest Quest, their annual economy-boosting scavenger hunt. Tourists and townsfolk alike are hoping for a pitch-perfect experience, which Maggie Watson and her friends at the local historical society are orchestrating to benefit music education.


The weekend starts on a sour note, however, when a fire breaks out at the elegant Oceanview Hotel and the authorities suspect arson. Despite the disastrous prelude, Harvest Quest goes on as arranged. But the event soon hits another harsh chord: There's dissonance among the historical society ladies about the purported winner, who claims that an ornate table is actually the antique piano on his scavenger hunt checklist. Little do they know, this puzzling piano plays a key part in one local resident's tragic history, a past that some want to uncover and others want to keep hidden.


Things go from mysterious to murderous when Maggie stumbles upon a dead body at the Oceanview Hotel. Shaken by her discovery, she feels compelled to conduct an investigation and find the killer before he can strike again. Maggie is soon caught up in a symphony of suspicion, full of falsetto claims and operatic family drama. When someone starts fiddling with her safety, it becomes clear that she's getting too close to the truth.


As Maggie's search for clues crescendos closer and closer to danger, she's got to stay sharp or else she could be the next victim singing a swan song. Can she compose her thoughts in time to stop a killer, or will she suffer a fatal grand finale?
The Characters
Maggie Watson
Maggie Watson is 44 years old. She has lived in the beautiful town of Bennington, Vermont, most of her life with her husband, Richard, who was a successful professor of archeology at a nearby university. Together, they built a loving home and raised their daughter, Emily. And then, three years ago, Richard suddenly died. Maggie had thought they'd spend the rest of their lives growing old together in their cozy New England cottage. But with Richard's passing, Maggie's life changed in ways she never anticipated. And now with Emily off at college, Maggie still isn't sure quite how she fits into this new, lonely phase of her life.

Then, when she unexpectedly inherits Sedgwick Manor -- her aunt's 19th-century colonial mansion -- and the adjacent Carriage House Antiques shop, she wonders if this is the change she needs to move forward with her life. So, on a chilly day in mid-September, Maggie and her equally curious cat, Snickers, head to the small seaside village of Somerset Harbor, Maine, and begin an adventure that will change their lives.
June McGillis
June has run the Carriage House Antiques shop for over 10 years and was a close friend and confidant of Maggie's late aunt. She's outgoing and witty, and she has a natural talent for decorating with antique furnishings. Maggie loves June's enthusiastic spirit and caring nature, warming up to her immediately. It's no surprise that June soon becomes Maggie's best friend and "partner in crime" as they dig into the mysteries of Sedgwick Manor.
Emily Watson
Maggie's daughter is warm and friendly with a big, bright smile. She's always been close to her mother -- even more so since her father died three years ago. But now she has left Maggie in order to study nursing at St. Joseph's College in Maine. Maggie understands that Emily needs space to spread her wings and become the independent, responsible young woman she raised her to be, but she still misses her daughter.
Ruth Harper
An avid quilter, Ruth is the president of the Somerset Harbor Historical Society. She extends a warm welcome to Maggie and invites her into this small group of friendly women. Maggie takes an immediate liking to her. Ruth offers to help Maggie solve the mysteries of the antique pieces found in Sedgwick Manor. She has lived in Somerset Harbor her entire life and always seems to know the buzz around town. Ruth knew Maggie's aunt Evelyn very well, and Maggie can't help but wonder if Ruth might also know Evelyn's secrets.