The Crate Beyond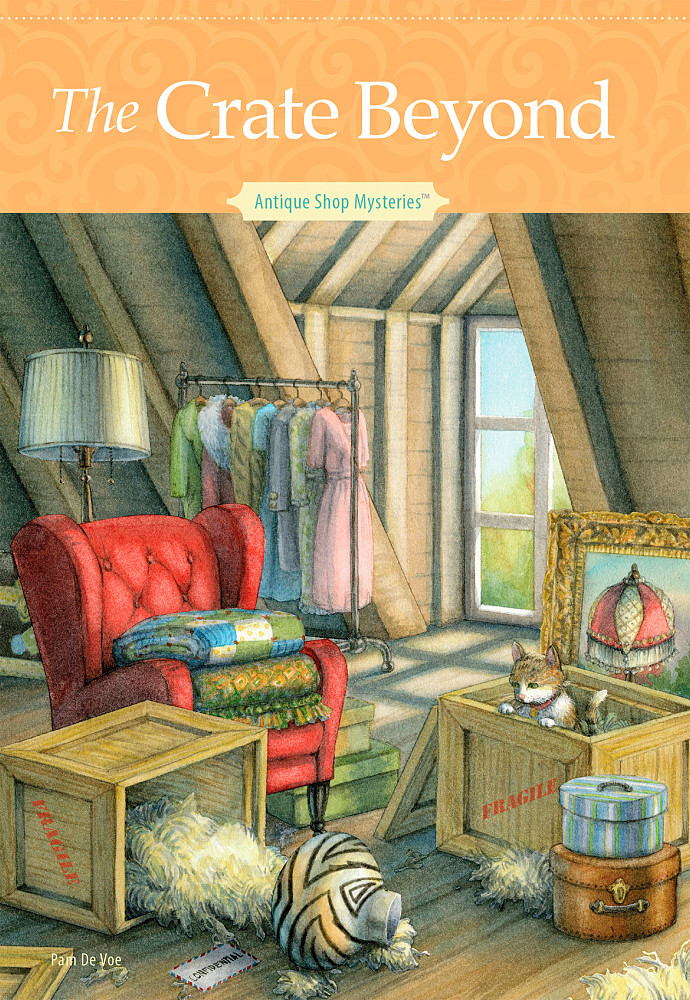 Spring has sprung in Somerset Harbor, Maine, and the picturesque tourist town is bustling with fresh faces, start-up social events, and businesses making their debut. In the midst of all the new excitement, however, there are old secrets lurking in the attic of Sedgwick Manor, and Maggie Watson is forced to confront emotional baggage from her past even though all she wants to do is enjoy her present.


When an unexpected message requires Maggie to finally go through long-ignored boxes from her late husband's archaeology lab, she discovers more than just priceless Native American artifacts in her storage room. Instead, she pries open a years-old mystery that casts doubt on her beloved Richard's intentions -- and even his integrity.


Hesitant to open the proverbial Pandora's box, Maggie distracts herself with preparations for the town's History by Candlelight Tour and tries to delay her investigation of the crates' contents until after the event. Unfortunately, someone else is in a much bigger hurry to unpack the past, and Maggie becomes a target for increasingly frightful encounters. As the alarming incidents pile up, Maggie starts questioning the motives of even those closest to her.


Not knowing where else to turn, Maggie enlists her friends at the historical society to get to the bottom of the confusing cargo. Can she bear it if the results of their research cast Richard in a poor light? Will knowing the truth about these puzzling packages help her get the closure she seeks -- or will it upend her fragile life in unimaginable, and potentially disastrous, ways?


This is one mystery Maggie must handle with care . . . or else.
The Characters
Maggie Watson
Maggie Watson is 44 years old. She has lived in the beautiful town of Bennington, Vermont, most of her life with her husband, Richard, who was a successful professor of archeology at a nearby university. Together, they built a loving home and raised their daughter, Emily. And then, three years ago, Richard suddenly died. Maggie had thought they'd spend the rest of their lives growing old together in their cozy New England cottage. But with Richard's passing, Maggie's life changed in ways she never anticipated. And now with Emily off at college, Maggie still isn't sure quite how she fits into this new, lonely phase of her life.

Then, when she unexpectedly inherits Sedgwick Manor -- her aunt's 19th-century colonial mansion -- and the adjacent Carriage House Antiques shop, she wonders if this is the change she needs to move forward with her life. So, on a chilly day in mid-September, Maggie and her equally curious cat, Snickers, head to the small seaside village of Somerset Harbor, Maine, and begin an adventure that will change their lives.
June McGillis
June has run the Carriage House Antiques shop for over 10 years and was a close friend and confidant of Maggie's late aunt. She's outgoing and witty, and she has a natural talent for decorating with antique furnishings. Maggie loves June's enthusiastic spirit and caring nature, warming up to her immediately. It's no surprise that June soon becomes Maggie's best friend and "partner in crime" as they dig into the mysteries of Sedgwick Manor.
Emily Watson
Maggie's daughter is warm and friendly with a big, bright smile. She's always been close to her mother -- even more so since her father died three years ago. But now she has left Maggie in order to study nursing at St. Joseph's College in Maine. Maggie understands that Emily needs space to spread her wings and become the independent, responsible young woman she raised her to be, but she still misses her daughter.
Ruth Harper
An avid quilter, Ruth is the president of the Somerset Harbor Historical Society. She extends a warm welcome to Maggie and invites her into this small group of friendly women. Maggie takes an immediate liking to her. Ruth offers to help Maggie solve the mysteries of the antique pieces found in Sedgwick Manor. She has lived in Somerset Harbor her entire life and always seems to know the buzz around town. Ruth knew Maggie's aunt Evelyn very well, and Maggie can't help but wonder if Ruth might also know Evelyn's secrets.