Pieces From the Past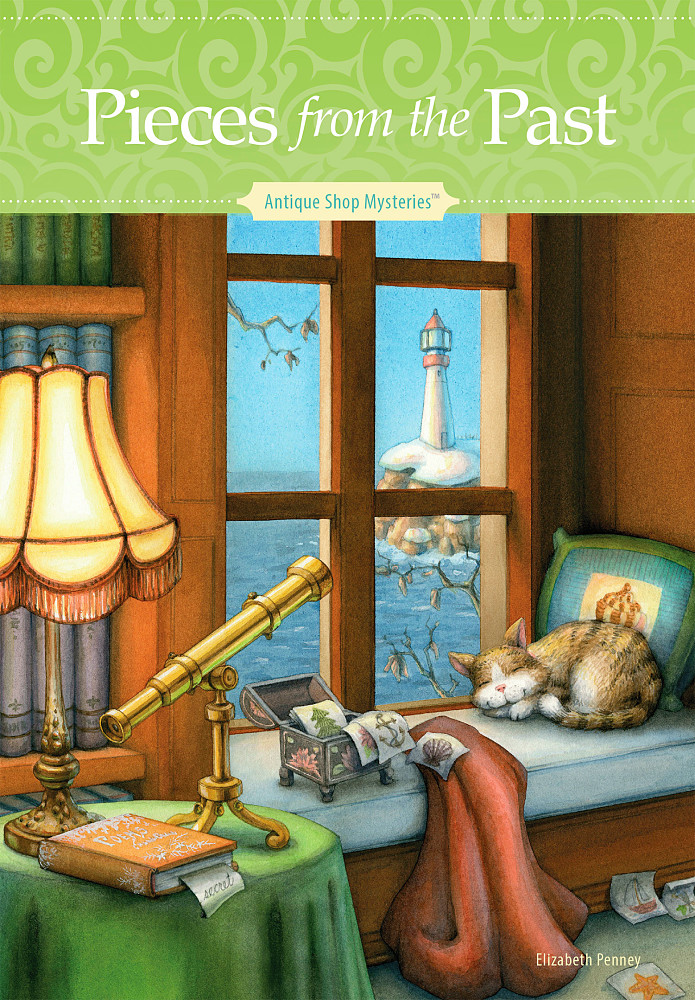 As February brings the frigid temperatures of a New England winter to Somerset Harbor, Maggie Watson keeps out the winter chill with the company of good friends, hot coffee at the Busy Bean, and anticipation of the annual Valentine's Day charity dinner at the Oceanside Hotel. She especially loves to pass the wintry days exploring the magnificent Sedgwick Manor for historical treasures.


On one of these excursions, Maggie discovers an ornate black box hidden away in a storage room. Inside it, she finds pieces of an unfinished antique friendship quilt, the interrupted work of a quilting guild from 1898. She's delighted to piece together the story behind yet another of the mansion's beautiful antiques, but she is led down a twisted path of deception and intrigue beginning with a cryptic note written in her late aunt's diary about keeping a secret -- one that might be connected to one of the town's most puzzling mysteries.


At the heart of this connection is the captivating story of Sarah Monroe, a young woman born to privilege near the end of the nineteenth century. The heiress was destined to marry against her will, but she disappeared without a trace before her wedding day. No one knows what became of the young lady, but it soon becomes clear that someone, over a century later, will stop at nothing to keep Maggie from finding out. Meanwhile, a town landmark is in danger of being sold to greedy outsiders, and Maggie begins to worry that some of the new arrivals in the picturesque seaside town aren't who they claim to be. As she delves deeper into the mystery of the quilt blocks, despite receiving threats from an anonymous source, Maggie enlists the help of her historical society friends -- and the support of handsome alderman James Bennett -- to help her sew up the mystery and bring the truth to light.
The Characters
Maggie Watson
Maggie Watson is 44 years old. She has lived in the beautiful town of Bennington, Vermont, most of her life with her husband, Richard, who was a successful professor of archeology at a nearby university. Together, they built a loving home and raised their daughter, Emily. And then, three years ago, Richard suddenly died. Maggie had thought they'd spend the rest of their lives growing old together in their cozy New England cottage. But with Richard's passing, Maggie's life changed in ways she never anticipated. And now with Emily off at college, Maggie still isn't sure quite how she fits into this new, lonely phase of her life.

Then, when she unexpectedly inherits Sedgwick Manor -- her aunt's 19th-century colonial mansion -- and the adjacent Carriage House Antiques shop, she wonders if this is the change she needs to move forward with her life. So, on a chilly day in mid-September, Maggie and her equally curious cat, Snickers, head to the small seaside village of Somerset Harbor, Maine, and begin an adventure that will change their lives.
June McGillis
June has run the Carriage House Antiques shop for over 10 years and was a close friend and confidant of Maggie's late aunt. She's outgoing and witty, and she has a natural talent for decorating with antique furnishings. Maggie loves June's enthusiastic spirit and caring nature, warming up to her immediately. It's no surprise that June soon becomes Maggie's best friend and "partner in crime" as they dig into the mysteries of Sedgwick Manor.
Emily Watson
Maggie's daughter is warm and friendly with a big, bright smile. She's always been close to her mother -- even more so since her father died three years ago. But now she has left Maggie in order to study nursing at St. Joseph's College in Maine. Maggie understands that Emily needs space to spread her wings and become the independent, responsible young woman she raised her to be, but she still misses her daughter.
Ruth Harper
An avid quilter, Ruth is the president of the Somerset Harbor Historical Society. She extends a warm welcome to Maggie and invites her into this small group of friendly women. Maggie takes an immediate liking to her. Ruth offers to help Maggie solve the mysteries of the antique pieces found in Sedgwick Manor. She has lived in Somerset Harbor her entire life and always seems to know the buzz around town. Ruth knew Maggie's aunt Evelyn very well, and Maggie can't help but wonder if Ruth might also know Evelyn's secrets.