Death Takes a Holiday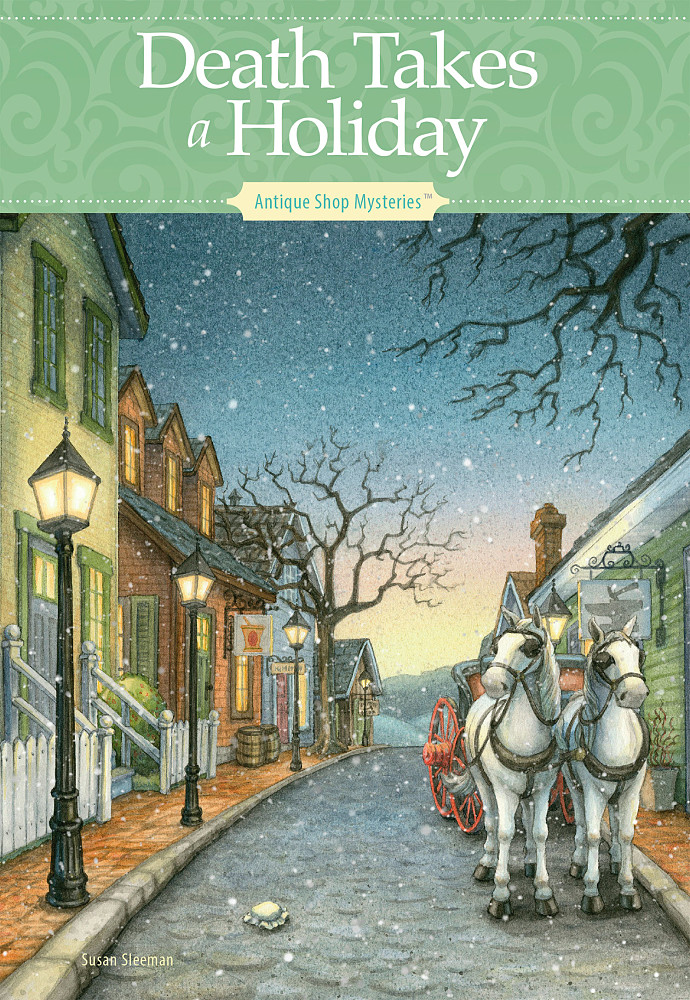 Maggie Watson and the members of the Somerset Harbor Historical Society are setting out on a long-awaited trip to Weatherly Village, a living history museum in rural Maine. There they will spend the weekend admiring nineteenth-century antiques, attending craft demonstrations, and dressing in authentic Victorian era costumes. Maggie is looking forward to an exciting adventure, experiencing life as the early colonists lived. But upon her arrival, she learns of a modern-day mystery: One of the village employees, a dear friend of Daisy's niece, has gone missing.


Maggie and her friends agree to help find Amanda, but the further their inquiries take them, the longer the list of suspects grows. Maybe Amanda's ex-boyfriend, who has an ax to grind following their recent breakup, allowed his jealousy to drive him over the edge. Or perhaps the manager, who seems more concerned about making money than about the strange disappearance of one of his employees, found a reason to give Amanda a permanent vacation...


Meanwhile, Maggie is juggling complicated relationships of her own. She has been assigned the role of the lady of the estate for the weekend, and James, her good friend and Somerset Harbor's most eligible bachelor, is playing the part of her husband. As Maggie tries to get into the spirit of the weekend, she stumbles upon a secret door; one through which she overhears a conversation about a stolen inheritance, the plot to reclaim it . . . and Amanda.


Has Maggie located the source of the trouble in Weatherly Village? Or is this just one more stitch in the complicated tapestry of her latest mystery? Maggie and her Somerset Harbor friends are on the case, but when a different Weatherly Village employee is found dead in the manor house kitchen, Maggie knows she must find the culprit before anyone else becomes history.
The Characters
Maggie Watson
Maggie Watson is 44 years old. She has lived in the beautiful town of Bennington, Vermont, most of her life with her husband, Richard, who was a successful professor of archeology at a nearby university. Together, they built a loving home and raised their daughter, Emily. And then, three years ago, Richard suddenly died. Maggie had thought they'd spend the rest of their lives growing old together in their cozy New England cottage. But with Richard's passing, Maggie's life changed in ways she never anticipated. And now with Emily off at college, Maggie still isn't sure quite how she fits into this new, lonely phase of her life.

Then, when she unexpectedly inherits Sedgwick Manor -- her aunt's 19th-century colonial mansion -- and the adjacent Carriage House Antiques shop, she wonders if this is the change she needs to move forward with her life. So, on a chilly day in mid-September, Maggie and her equally curious cat, Snickers, head to the small seaside village of Somerset Harbor, Maine, and begin an adventure that will change their lives.
June McGillis
June has run the Carriage House Antiques shop for over 10 years and was a close friend and confidant of Maggie's late aunt. She's outgoing and witty, and she has a natural talent for decorating with antique furnishings. Maggie loves June's enthusiastic spirit and caring nature, warming up to her immediately. It's no surprise that June soon becomes Maggie's best friend and "partner in crime" as they dig into the mysteries of Sedgwick Manor.
Emily Watson
Maggie's daughter is warm and friendly with a big, bright smile. She's always been close to her mother -- even more so since her father died three years ago. But now she has left Maggie in order to study nursing at St. Joseph's College in Maine. Maggie understands that Emily needs space to spread her wings and become the independent, responsible young woman she raised her to be, but she still misses her daughter.
Ruth Harper
An avid quilter, Ruth is the president of the Somerset Harbor Historical Society. She extends a warm welcome to Maggie and invites her into this small group of friendly women. Maggie takes an immediate liking to her. Ruth offers to help Maggie solve the mysteries of the antique pieces found in Sedgwick Manor. She has lived in Somerset Harbor her entire life and always seems to know the buzz around town. Ruth knew Maggie's aunt Evelyn very well, and Maggie can't help but wonder if Ruth might also know Evelyn's secrets.