Three Ring Threat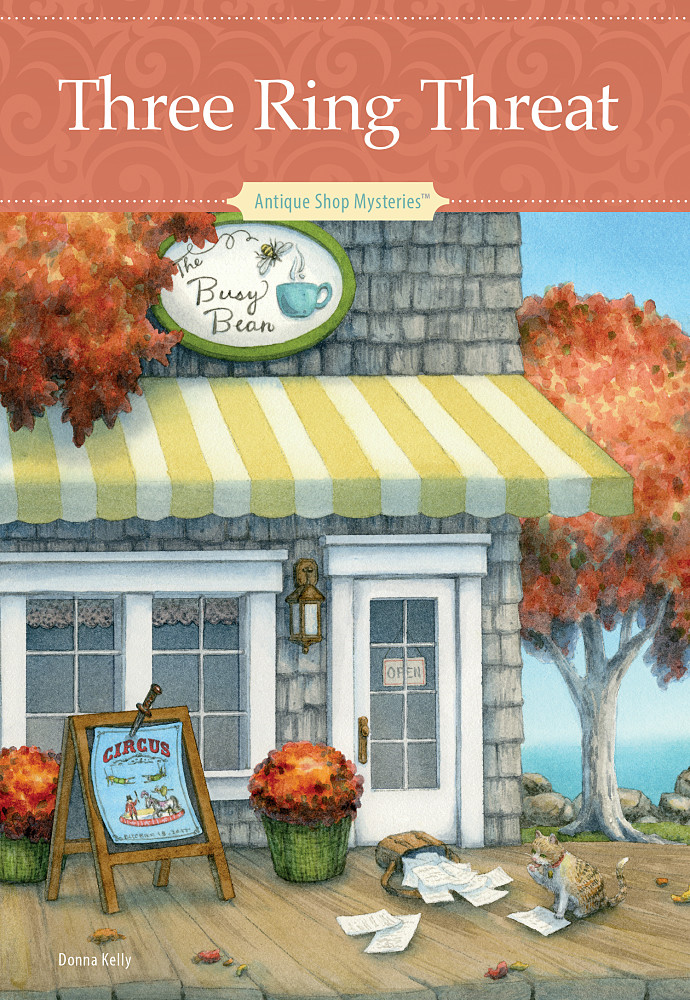 The citizens of Somerset Harbor, Maine, are ready to step right up and enjoy the Circus de Vita, which is high-flying into the seaside village along with crisp fall weather. Considering the excitement radiating through town, Maggie Watson is surprised that her friend Ina Linton seems less than amused by the promise of three-ring thrills. In fact, when Ina receives a box full of 1950s-era circus memorabilia, her reaction is oddly stilted, and her unusual behavior mystifies Maggie.


The two women have no time to clown around, however, after they discover the body of Francesco Valli, a New York City reporter with a secretive mission. As the last two people to see him alive, Maggie and Ina feel compelled to investigate Francesco's death, but they must walk a dangerous tightrope as they daringly dig for clues. Does his murder have more to do with them than they could ever imagine?


Meanwhile, handsome James Bennett is juggling his alderman duties and his latest restoration project, as well as a new business partner, a sophisticated decorator who makes it clear she doesn't work for peanuts. When James starts acting strangely, Maggie wonders if Juliet's glamorous façade has him fooled. Is the suspicion troubling Maggie simply jealousy, or does the haughty designer have something to hide?


Maggie encounters mayhem and misdirection at every turn, and there's a mysterious ringleader seemingly calling the shots from the shadows. Maggie's fear goes from sideshow to main attraction when one of her closest friends pulls a disappearing act, and she'll jump through any hoops necessary to avoid a fatal grand finale. Can she keep up her death-defying performance long enough to prevent the big top from toppling down?


If Maggie isn't careful, the Circus de Vita could end up being the deadliest show on earth.
The Characters
Maggie Watson
Maggie Watson is 44 years old. She has lived in the beautiful town of Bennington, Vermont, most of her life with her husband, Richard, who was a successful professor of archeology at a nearby university. Together, they built a loving home and raised their daughter, Emily. And then, three years ago, Richard suddenly died. Maggie had thought they'd spend the rest of their lives growing old together in their cozy New England cottage. But with Richard's passing, Maggie's life changed in ways she never anticipated. And now with Emily off at college, Maggie still isn't sure quite how she fits into this new, lonely phase of her life.

Then, when she unexpectedly inherits Sedgwick Manor -- her aunt's 19th-century colonial mansion -- and the adjacent Carriage House Antiques shop, she wonders if this is the change she needs to move forward with her life. So, on a chilly day in mid-September, Maggie and her equally curious cat, Snickers, head to the small seaside village of Somerset Harbor, Maine, and begin an adventure that will change their lives.
June McGillis
June has run the Carriage House Antiques shop for over 10 years and was a close friend and confidant of Maggie's late aunt. She's outgoing and witty, and she has a natural talent for decorating with antique furnishings. Maggie loves June's enthusiastic spirit and caring nature, warming up to her immediately. It's no surprise that June soon becomes Maggie's best friend and "partner in crime" as they dig into the mysteries of Sedgwick Manor.
Emily Watson
Maggie's daughter is warm and friendly with a big, bright smile. She's always been close to her mother -- even more so since her father died three years ago. But now she has left Maggie in order to study nursing at St. Joseph's College in Maine. Maggie understands that Emily needs space to spread her wings and become the independent, responsible young woman she raised her to be, but she still misses her daughter.
Ruth Harper
An avid quilter, Ruth is the president of the Somerset Harbor Historical Society. She extends a warm welcome to Maggie and invites her into this small group of friendly women. Maggie takes an immediate liking to her. Ruth offers to help Maggie solve the mysteries of the antique pieces found in Sedgwick Manor. She has lived in Somerset Harbor her entire life and always seems to know the buzz around town. Ruth knew Maggie's aunt Evelyn very well, and Maggie can't help but wonder if Ruth might also know Evelyn's secrets.