Dead and Married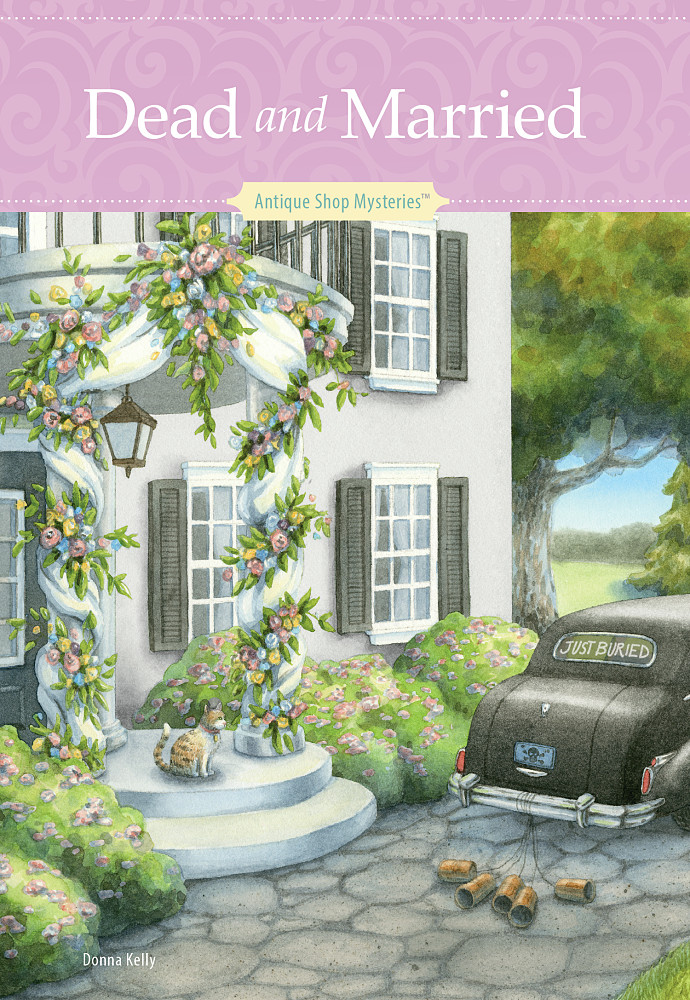 April showers are bringing wedding flowers to Somerset Harbor, Maine, where Maggie Watson is fully engaged in preparing Sedgwick Manor for her daughter, Emily's, wedding to Dr. Austin Prescott. As much as ever, Maggie is grateful for the help of her best friend and antiques shop manager, June McGillis, whose favors range from cheerful pep talks to helping haul oversize wedding decor.


Everything's coming up roses until a close acquaintance of June's winds up dead. Artist Nick Orman's murder casts a dark veil over what should be a joyous time, and the situation escalates from grim to downright disastrous when June is arrested for the horrifying crime. Maggie knows there's no way June was involved in Nick's death, so she adds "exonerate best friend" to her to-do list for the week. Can she free June and still find the energy to navigate the rocky terrain of event planning?


As if June's incarceration weren't upsetting enough, Maggie also encounters trouble on the home front when, alarmed by some secretive behavior from Austin and his parents, Emily goes from blushing bride to worrywart. Will Emily alter her plans for meeting Austin at the altar, or can the couple untie the knots of uncertainty around their union?


Assisted by her handsome beau, James Bennett, and her beloved friends in the Somerset Harbor Historical Society, Maggie vows that everything will go off without a hitch. In order to prove her dear friend is innocent, Maggie must unmask a murderer - all the while handling the nuptial-related crises piling up like wedding gifts. If she isn't successful, "'til death do us part" could take on a more ominous meaning than she could have ever imagined.


Will Maggie's loved ones get their fairy-tale ending, or will it be happily never after for the residents of Somerset Harbor?
The Characters
Maggie Watson
Maggie Watson is 44 years old. She has lived in the beautiful town of Bennington, Vermont, most of her life with her husband, Richard, who was a successful professor of archeology at a nearby university. Together, they built a loving home and raised their daughter, Emily. And then, three years ago, Richard suddenly died. Maggie had thought they'd spend the rest of their lives growing old together in their cozy New England cottage. But with Richard's passing, Maggie's life changed in ways she never anticipated. And now with Emily off at college, Maggie still isn't sure quite how she fits into this new, lonely phase of her life.

Then, when she unexpectedly inherits Sedgwick Manor -- her aunt's 19th-century colonial mansion -- and the adjacent Carriage House Antiques shop, she wonders if this is the change she needs to move forward with her life. So, on a chilly day in mid-September, Maggie and her equally curious cat, Snickers, head to the small seaside village of Somerset Harbor, Maine, and begin an adventure that will change their lives.
June McGillis
June has run the Carriage House Antiques shop for over 10 years and was a close friend and confidant of Maggie's late aunt. She's outgoing and witty, and she has a natural talent for decorating with antique furnishings. Maggie loves June's enthusiastic spirit and caring nature, warming up to her immediately. It's no surprise that June soon becomes Maggie's best friend and "partner in crime" as they dig into the mysteries of Sedgwick Manor.
Emily Watson
Maggie's daughter is warm and friendly with a big, bright smile. She's always been close to her mother -- even more so since her father died three years ago. But now she has left Maggie in order to study nursing at St. Joseph's College in Maine. Maggie understands that Emily needs space to spread her wings and become the independent, responsible young woman she raised her to be, but she still misses her daughter.
Ruth Harper
An avid quilter, Ruth is the president of the Somerset Harbor Historical Society. She extends a warm welcome to Maggie and invites her into this small group of friendly women. Maggie takes an immediate liking to her. Ruth offers to help Maggie solve the mysteries of the antique pieces found in Sedgwick Manor. She has lived in Somerset Harbor her entire life and always seems to know the buzz around town. Ruth knew Maggie's aunt Evelyn very well, and Maggie can't help but wonder if Ruth might also know Evelyn's secrets.