Danger in Spades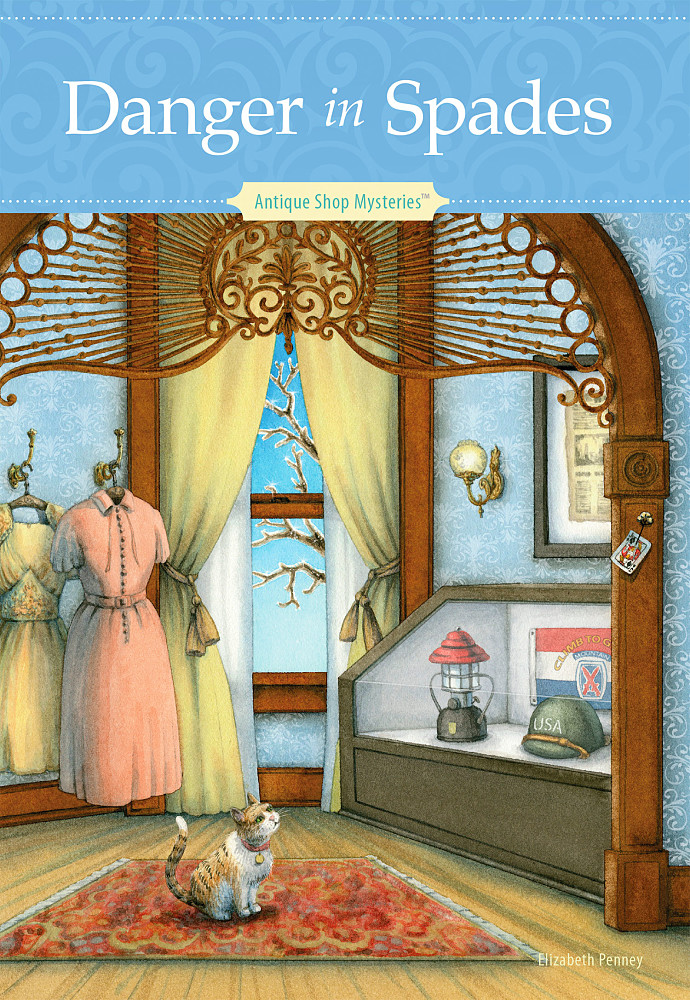 March is charging into Somerset Harbor, Maine, like a lion, but Maggie Watson and her friends in the historical society aren't retreating from the howling wind and treacherous ice storms. They're closing ranks to throw a 1940s-themed birthday bash for Dr. William King, one of the only remaining World War II veterans in town, and the four-star event is doubling as a fundraiser for the local homeless population.


However, party planning takes a disheartening turn when historical society president Ruth Harper drops a bombshell: A long-hidden letter, written in German and dated March 1943, indicates her aunt may have offered sanctuary to enemy spies at her farm. Could Somerset Harbor sweetheart Lillian Spade, heralded for her wartime patriotism, have been secretly harboring the enemy?


Kindly old William King just might hold the key to Lillian's suspicious affairs--but the retired doctor is embattled by problems of his own, including a loose-cannon son. Soon, Maggie is on the frontlines of the King family's dark drama. William's grandson, Chris, calls her in as reinforcements to help track down his father, Ray, who went AWOL from a mental health facility years before. As Maggie seeks intel on Ray's whereabouts, it becomes obvious that someone out there thinks the past should stay buried, and they're pulling rank to ensure that it does.


With the birthday party approaching on the double, Maggie is fighting an uphill battle to get answers for both Ruth and the King family. What happened between Lillian and the Germans at the Spade farm all those years ago? Where is Ray, and why did the man desert his family? And will the person sabotaging Maggie's attempts to find Chris's father call a cease fire before the consequences turn deadly?


All's fair in love, war, and solving mysteries, but this clear and present danger might be one that even Maggie should surrender to--lest she end up with fatal marching orders.
The Characters
Maggie Watson
Maggie Watson is 44 years old. She has lived in the beautiful town of Bennington, Vermont, most of her life with her husband, Richard, who was a successful professor of archeology at a nearby university. Together, they built a loving home and raised their daughter, Emily. And then, three years ago, Richard suddenly died. Maggie had thought they'd spend the rest of their lives growing old together in their cozy New England cottage. But with Richard's passing, Maggie's life changed in ways she never anticipated. And now with Emily off at college, Maggie still isn't sure quite how she fits into this new, lonely phase of her life.

Then, when she unexpectedly inherits Sedgwick Manor -- her aunt's 19th-century colonial mansion -- and the adjacent Carriage House Antiques shop, she wonders if this is the change she needs to move forward with her life. So, on a chilly day in mid-September, Maggie and her equally curious cat, Snickers, head to the small seaside village of Somerset Harbor, Maine, and begin an adventure that will change their lives.
June McGillis
June has run the Carriage House Antiques shop for over 10 years and was a close friend and confidant of Maggie's late aunt. She's outgoing and witty, and she has a natural talent for decorating with antique furnishings. Maggie loves June's enthusiastic spirit and caring nature, warming up to her immediately. It's no surprise that June soon becomes Maggie's best friend and "partner in crime" as they dig into the mysteries of Sedgwick Manor.
Emily Watson
Maggie's daughter is warm and friendly with a big, bright smile. She's always been close to her mother -- even more so since her father died three years ago. But now she has left Maggie in order to study nursing at St. Joseph's College in Maine. Maggie understands that Emily needs space to spread her wings and become the independent, responsible young woman she raised her to be, but she still misses her daughter.
Ruth Harper
An avid quilter, Ruth is the president of the Somerset Harbor Historical Society. She extends a warm welcome to Maggie and invites her into this small group of friendly women. Maggie takes an immediate liking to her. Ruth offers to help Maggie solve the mysteries of the antique pieces found in Sedgwick Manor. She has lived in Somerset Harbor her entire life and always seems to know the buzz around town. Ruth knew Maggie's aunt Evelyn very well, and Maggie can't help but wonder if Ruth might also know Evelyn's secrets.