Humbug Hijinks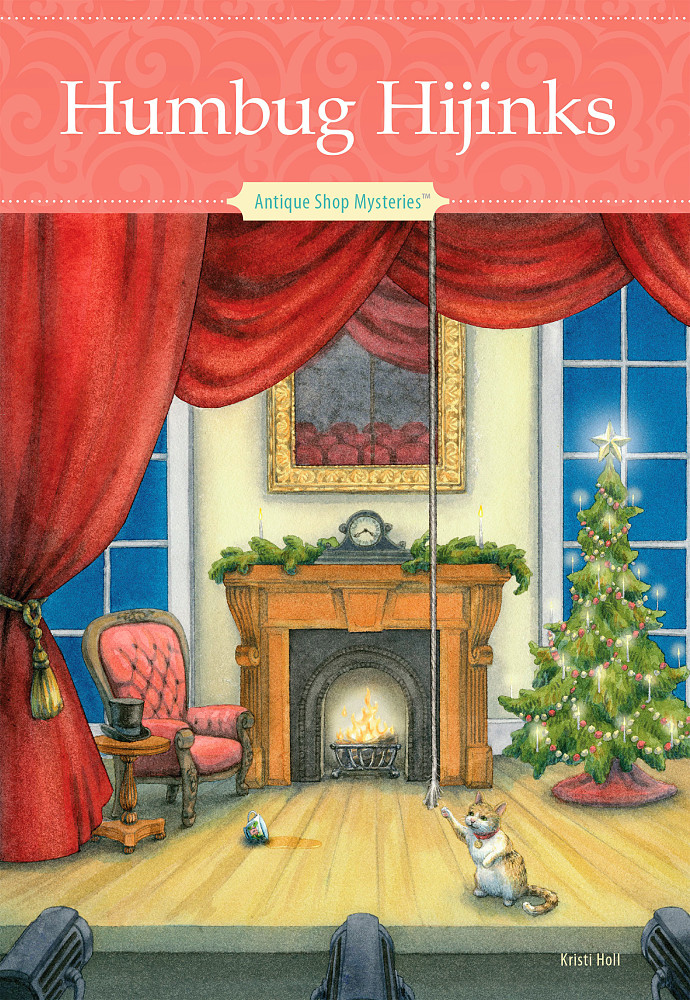 Christmas bells are ringing in Somerset Harbor, Maine, where Maggie Watson and her friends are putting on a local production of A Christmas Carol, but the mood inside the town's recently restored playhouse is anything but merry and bright. The youngsters in the cast are running amok, tensions are fired up between the pompous leading man and the blustery director, and a handful of morale-crushing events have everyone in the play saying, "Bah humbug."


Thanks to her role as a backstage helper, Maggie observes all of this high drama from her place behind the curtain. When flubbed lines, lost good luck charms and pre-performance butterflies give way to more sinister incidents, however, it becomes clear to her that someone will stop at nothing to derail the production before the curtain goes up on opening night.


Further threatening Maggie's festive mood are matters of the heart, and she must come to terms with her past, her present and her future, all while trying to uncover the villain waiting in the wings to destroy everything she and the rest of the town have been working toward for the entire holiday season.


Despite the injured actors, ghostly sightings and troubling discoveries throughout the old theater, the director insists that the show must go on. Can Maggie and her good friends in the historical society discover the key player behind these increasingly frightful incidents before somebody breaks a leg for real - or much worse? If she doesn't stop the mysterious troublemaker in time, it could be curtains for one of Somerset Harbor's most notable residents.
The Characters
Maggie Watson
Maggie Watson is 44 years old. She has lived in the beautiful town of Bennington, Vermont, most of her life with her husband, Richard, who was a successful professor of archeology at a nearby university. Together, they built a loving home and raised their daughter, Emily. And then, three years ago, Richard suddenly died. Maggie had thought they'd spend the rest of their lives growing old together in their cozy New England cottage. But with Richard's passing, Maggie's life changed in ways she never anticipated. And now with Emily off at college, Maggie still isn't sure quite how she fits into this new, lonely phase of her life.

Then, when she unexpectedly inherits Sedgwick Manor -- her aunt's 19th-century colonial mansion -- and the adjacent Carriage House Antiques shop, she wonders if this is the change she needs to move forward with her life. So, on a chilly day in mid-September, Maggie and her equally curious cat, Snickers, head to the small seaside village of Somerset Harbor, Maine, and begin an adventure that will change their lives.
June McGillis
June has run the Carriage House Antiques shop for over 10 years and was a close friend and confidant of Maggie's late aunt. She's outgoing and witty, and she has a natural talent for decorating with antique furnishings. Maggie loves June's enthusiastic spirit and caring nature, warming up to her immediately. It's no surprise that June soon becomes Maggie's best friend and "partner in crime" as they dig into the mysteries of Sedgwick Manor.
Emily Watson
Maggie's daughter is warm and friendly with a big, bright smile. She's always been close to her mother -- even more so since her father died three years ago. But now she has left Maggie in order to study nursing at St. Joseph's College in Maine. Maggie understands that Emily needs space to spread her wings and become the independent, responsible young woman she raised her to be, but she still misses her daughter.
Ruth Harper
An avid quilter, Ruth is the president of the Somerset Harbor Historical Society. She extends a warm welcome to Maggie and invites her into this small group of friendly women. Maggie takes an immediate liking to her. Ruth offers to help Maggie solve the mysteries of the antique pieces found in Sedgwick Manor. She has lived in Somerset Harbor her entire life and always seems to know the buzz around town. Ruth knew Maggie's aunt Evelyn very well, and Maggie can't help but wonder if Ruth might also know Evelyn's secrets.