The Map in the Attic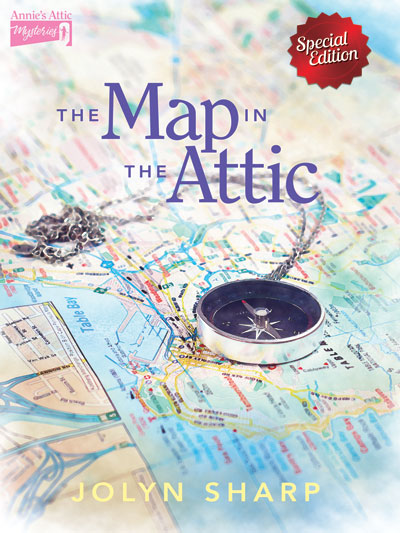 As flames devoured David Coyne's family home in Stony Point, Maine, Annie Dawson slept soundly, catching up on a much-needed break from the tiring and seemingly endless chore of cleaning out the contents of the attic in Grey Gables, the family house she had inherited from her grandmother. It was a daunting task that tested her patience.

But the next morning, when she opened a box marked "For yard sale" and found a vintage, clown-shaped cookie jar stuffed with a large piece of embroidered linen, her curiosity was piqued. This is something to show the girls in the Hook and NeedleClub, she thought as she pondered the strange design and meticulous handiwork.

When Annie shows it to Mary Beth, the proprietor of the local needlecraft shop, little do they realize that there may be a connection between the terrible house fire and the vintage piece of embroidery stuffed into the ceramic cookie jar.

Annie's friends in the Hook and Needle Club believe it is a stitched map of the coastline. As they help Annie track down the provenance of the piece, they uncover a swath of Stony Point history that has been long buried. And as with all secrets, these discoveries can uncover stories about activities that some Stony Point citizens would prefer not be revealed. Danger seems to stalk Annie as she helps the Coyne family settle into temporary quarters. Could the strange embroidered map have something to do with it?
The Characters
Alice MacFarlane
A childhood friend of Annie's, Alice has lived in Stony Point all her life. She is divorced and lives next door to Grey Gables in the small but cozy carriage house that used to be the gatekeeper's house for the mansion on the hill. Annie is delighted to reconnect with her long-lost friend.
Annie Dawson
Annie has lived in Brookfield, Texas, for the last 28 years but grew up in Stony Point, Maine. At 49, she is still attractive with her gray-blond hair, but since her husband, Wayne, died of a heart attack last year, her green eyes have lost their sparkle. She doesn't know quite how she fits into this new, but lonely, phase of her life. So she contents herself with her crochet projects and her garden. Still, however, her life lacks focus and meaning.
LeeAnn Sorensen
Annie's daughter LeeAnn lives in Dallas, Texas and has an independent nature. She and her husband, Herb, have 5-year-old twins, John and Joanna. LeeAnn is worried about her mother's well-being but keeps in touch on a regular basis.
Mary Beth Brock
Mary Beth is the owner of the local yarn shop, A Stitch in Time, in the center of town. She has lived in Stony Point her whole life, has never been married and seems to be the self-appointed town mother. It's nearly impossible to keep a secret around her since she knows absolutely everything going on in town.