The Key in the Attic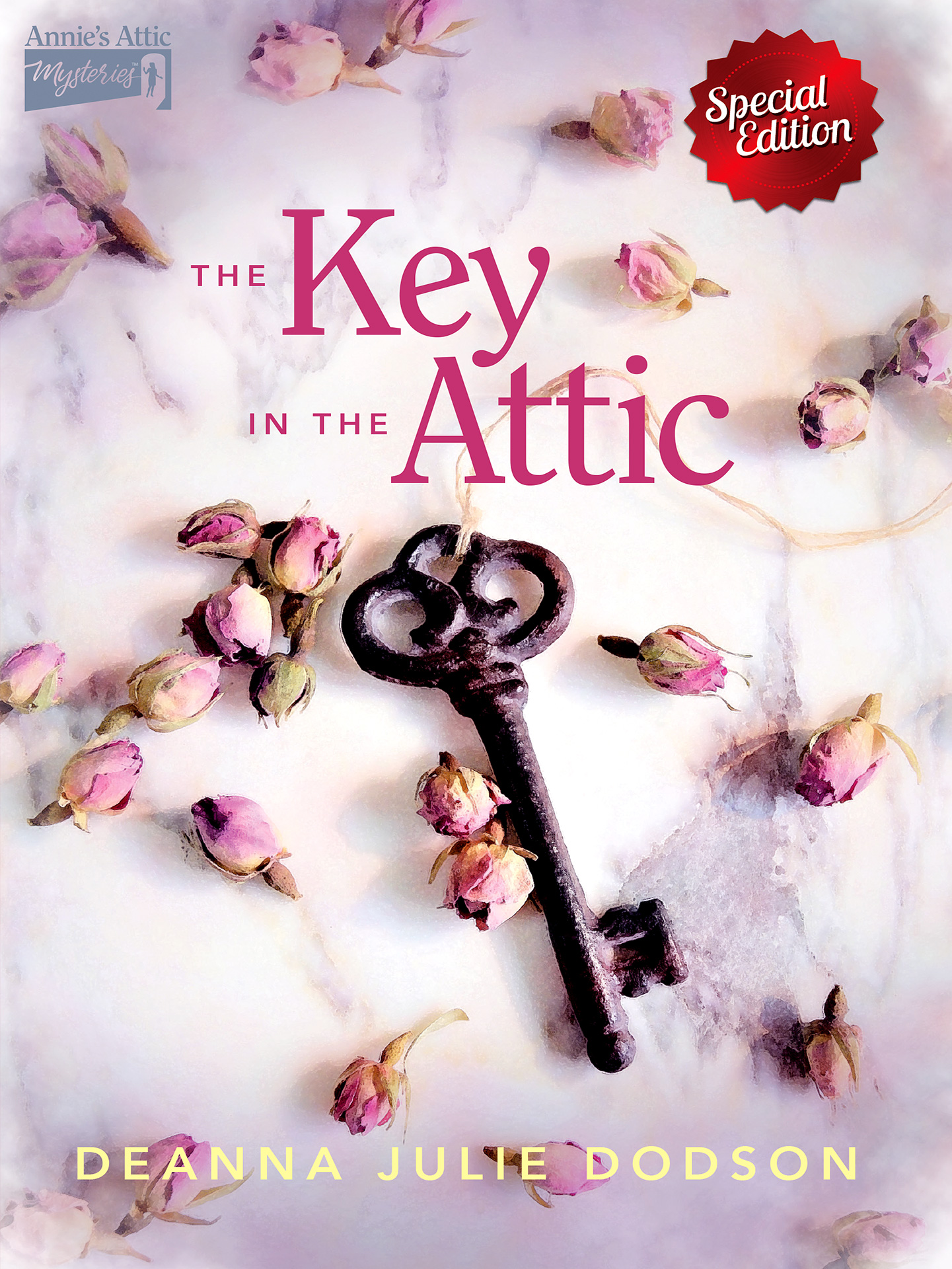 A Stitch in Time, the home of the Hook and Needle Club, is in trouble! It is threatened by "progress" in the form of a fast-food restaurant planned for the middle of Stony Point's quaint downtown landscape.

Annie Dawson and her troupe of needle-crafters are running out of ideas to help the shop's owner, Mary Beth Brock, fend off the wolf at the door. Her only hope to stay open is to buy the building within a month—a solution that will, indeed, take a miracle.

Mary Beth has sold an exquisite mid-19th century desk passed down from her great-great-grandmother to stave off what increasingly looks like the inevitable. But even the sale of everything she owns wouldn't pay the asking price for the building where her beloved shop resides.

Mary Beth's problems seem to have a solution when Annie finds a key in a broken vase in the attic of Grey Gables, the Victorian home she inherited from her grandmother, Betsy Holden. The key is linked to an antique table and a beautiful mantel clock also owned by Mary Beth.

Annie finds clues that send her and her Hook and Needle Club friends on an adventure that takes them back to the Civil War and an ill-fated love between Mary Beth's great-great-grandmother and a young soldier.

When the owner of an antique store shows up with an insistent desire to purchase Mary Beth's other heirlooms—and when her home is then burgled—Annie and her best friend, Alice MacFarlane, begin to suspect that their mystery may be tied into more than a coded love letter from the 1860s.

Join Annie and the Hook and Needle Club gang as they once again find themselves immersed in a mystery that begins in the attic of Grey Gables. Will it conclude with the closing of A Stitch in Time?


The Characters
Alice MacFarlane
A childhood friend of Annie's, Alice has lived in Stony Point all her life. She is divorced and lives next door to Grey Gables in the small but cozy carriage house that used to be the gatekeeper's house for the mansion on the hill. Annie is delighted to reconnect with her long-lost friend.
Annie Dawson
Annie has lived in Brookfield, Texas, for the last 28 years but grew up in Stony Point, Maine. At 49, she is still attractive with her gray-blond hair, but since her husband, Wayne, died of a heart attack last year, her green eyes have lost their sparkle. She doesn't know quite how she fits into this new, but lonely, phase of her life. So she contents herself with her crochet projects and her garden. Still, however, her life lacks focus and meaning.
LeeAnn Sorensen
Annie's daughter LeeAnn lives in Dallas, Texas and has an independent nature. She and her husband, Herb, have 5-year-old twins, John and Joanna. LeeAnn is worried about her mother's well-being but keeps in touch on a regular basis.
Mary Beth Brock
Mary Beth is the owner of the local yarn shop, A Stitch in Time, in the center of town. She has lived in Stony Point her whole life, has never been married and seems to be the self-appointed town mother. It's nearly impossible to keep a secret around her since she knows absolutely everything going on in town.