Rag Doll in the Attic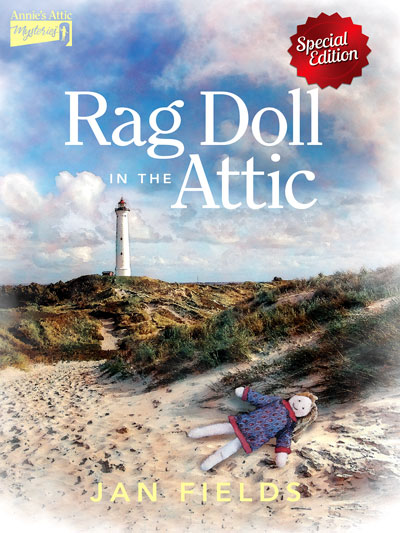 Annie Dawson's recurring nightmare haunts her, as does the mystery of the rag doll she finds in the attic of her home, Grey Gables. The little doll, accented with the childish embroidery of a small bird on its tiny apron becomes the focus of a mystery unraveling in the small coastal town of Stony Point, Maine.

Annie is driven to understand her dreams, calling to her from the echoes of time. Who are the little girls braving a wild New England storm, challenging an age-old curse in a harrowing journey to Butler's Lighthouse? How are they tied to Grey Gables, first her grandmother's home and now her own?

Annie's heart tells her to return the little rag doll to its rightful owner, but to whom does it belong? And will the journey to solve the mystery of the rag doll in the attic also lead Annie to a final decision on whether or not she should remain in Stony Point? When Annie came to Stony Point, it was just to tidy up Grey Gables and the rest of her grandmother's estate—and perhaps to recover from the death of her beloved husband, Wayne. Her family back in Texas wants her to return. But the tapestry of her life in New England has richly blessed her with memories of childhood summers spent in the fishing village. She has slowly stitched a new life, filled with new friends and exciting new experiences.

Then ambling into the picture comes Jim Parker, the ruggedly handsome photographer who is researching New England lighthouse legends. Annie's best friend, Alice MacFarlane, is drawn to Parker and his adventurous spirit. Even if Annie elects to stay in Stony Point, will Alice unexpectedly move on to another chapter in her life?

Join Annie and Alice, along with the members of Stony Point's Hook and Needle Club, as they meet the mystery head-on. They—and you—will be shocked to find the answers to the mystery of the rag doll in the attic, and the key to Annie's nightmarish journeys up the gale-slicked road to Butler's Lighthouse.
The Characters
Alice MacFarlane
A childhood friend of Annie's, Alice has lived in Stony Point all her life. She is divorced and lives next door to Grey Gables in the small but cozy carriage house that used to be the gatekeeper's house for the mansion on the hill. Annie is delighted to reconnect with her long-lost friend.
Annie Dawson
Annie has lived in Brookfield, Texas, for the last 28 years but grew up in Stony Point, Maine. At 49, she is still attractive with her gray-blond hair, but since her husband, Wayne, died of a heart attack last year, her green eyes have lost their sparkle. She doesn't know quite how she fits into this new, but lonely, phase of her life. So she contents herself with her crochet projects and her garden. Still, however, her life lacks focus and meaning.
LeeAnn Sorensen
Annie's daughter LeeAnn lives in Dallas, Texas and has an independent nature. She and her husband, Herb, have 5-year-old twins, John and Joanna. LeeAnn is worried about her mother's well-being but keeps in touch on a regular basis.
Mary Beth Brock
Mary Beth is the owner of the local yarn shop, A Stitch in Time, in the center of town. She has lived in Stony Point her whole life, has never been married and seems to be the self-appointed town mother. It's nearly impossible to keep a secret around her since she knows absolutely everything going on in town.