The Deed In the Attic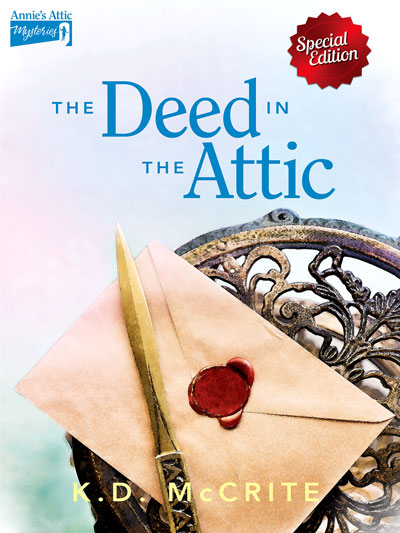 Annie Dawson is accustomed to dealing with old houses. She has spent nearly two years trying to patch up Grey Gables, the home of her beloved grandmother, Betsy Holden. Betsy left her entire estate to Annie, but she also died leaving a string of mysteries buried in the cavernous attic of Grey Gables. This secret, however, is more than Annie wants to deal with.

A trunk needed for storing her needlecraft supplies opens a door she comes to wish she had left locked away in the attic. Annie discovers a deed to an old home—Fairview—an estate that has fallen into decay and disrepair. Annie's despair begins with the knowledge that her grandmother hid ownership of the old home from her. Why? Were the ghosts rumored to haunt Fairview real? Or was there a sinister secret behind the mystery and Betsy's involvement?

At first, Annie keeps the secret of the deed in the attic—and her ownership of Fairview—from her friends in the Hook and Needle Club. But when the truth comes out, the club joins forces to help Annie get to the bottom of this latest in a long line of mysteries.
Their first task is a ghost-busting nighttime trek to Fairview. But it's away from the "haunted" house that the ghosts of the original owners of Fairview call out to Annie. How were they connected with her aging grandmother? Will Annie ever discover the key that will unlock the mystery?

Join Annie and her friends in the Hook and Needle Club as they track down the "ghoulies and ghosties and things that go bump in the night." It's always a wild ride when these crafty ladies get together!
The Characters
Alice MacFarlane
A childhood friend of Annie's, Alice has lived in Stony Point all her life. She is divorced and lives next door to Grey Gables in the small but cozy carriage house that used to be the gatekeeper's house for the mansion on the hill. Annie is delighted to reconnect with her long-lost friend.
Annie Dawson
Annie has lived in Brookfield, Texas, for the last 28 years but grew up in Stony Point, Maine. At 49, she is still attractive with her gray-blond hair, but since her husband, Wayne, died of a heart attack last year, her green eyes have lost their sparkle. She doesn't know quite how she fits into this new, but lonely, phase of her life. So she contents herself with her crochet projects and her garden. Still, however, her life lacks focus and meaning.
LeeAnn Sorensen
Annie's daughter LeeAnn lives in Dallas, Texas and has an independent nature. She and her husband, Herb, have 5-year-old twins, John and Joanna. LeeAnn is worried about her mother's well-being but keeps in touch on a regular basis.
Mary Beth Brock
Mary Beth is the owner of the local yarn shop, A Stitch in Time, in the center of town. She has lived in Stony Point her whole life, has never been married and seems to be the self-appointed town mother. It's nearly impossible to keep a secret around her since she knows absolutely everything going on in town.