Arsenic and Old Silk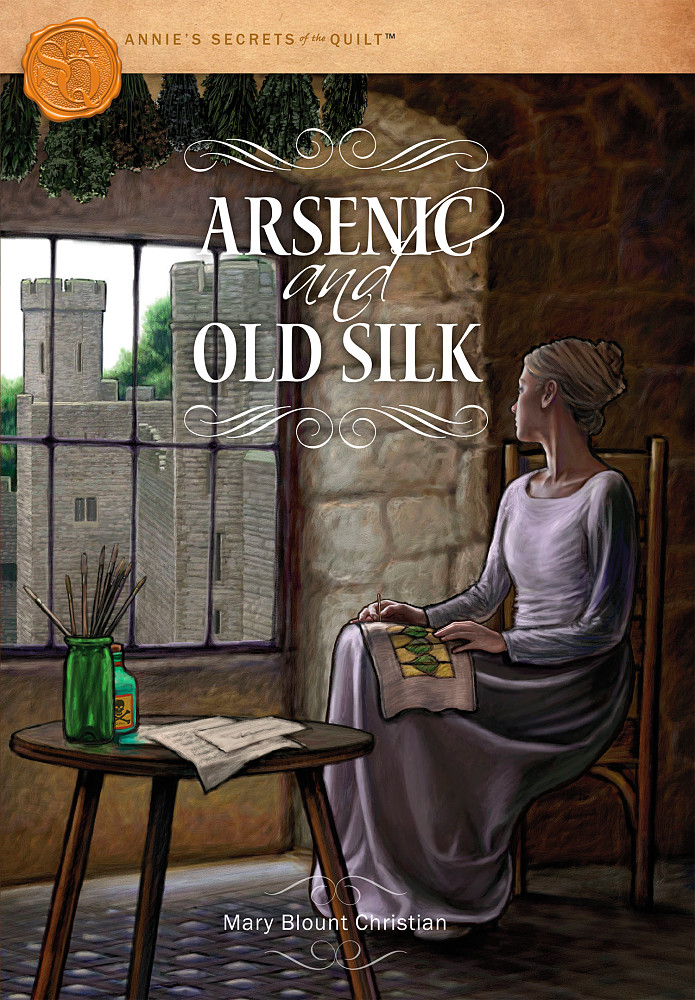 Sofia Parker is confused and more than a little scared. She is confused because the fifth square in her priceless heirloom quilt indicates that an ancestor, a Venetian girl named Maddalena Vitari, was a seamstress for the court of King Henry VIII of England. She is frightened because the driver of a mysterious SUV is stalking her and her family for some unknown reason.

The pale green swatch of fabric reminds Sofia of the early sprigs of spring, a sharp contrast to the bleak, late-October landscape around her home in Cabot Falls, Vermont. The accompanying entry in the diary bequeathed to her by her beloved grandmother, Elena Baresi, takes Sofia back to Windsor Castle in 1532. What's a nice Venetian girl like Maddalena doing in a place like this?

Maddalena is in love and wants to be married to a poor artist, Allessandro, but her rich merchant father will not hear of it. Maddalena is an artist at heart, but she is forced to exchange her brush for needle and thread when her father abandons her in England during a merchant sortie to sell fabrics to Henry's palace.

Back in present-day Vermont, what should be simple sorties to shop and school become harrowing as Sofia and her four children are harassed by the elusive stalker. Why is he so focused on the Parkers? Has the family somehow inched their way into the crosshairs of a malicious criminal?

There is no concrete evidence confirming Sofia's story, so the hands of the Cabot Falls police are tied. Sofia must put her best investigative skills forward to keep her family safe. Those same skills will be put to the test as she searches for the key to Maddalena's dilemma and a riveting mystery that is five centuries old.
The Characters
Sofia Parker
Sofia Parker is a stay-at-home mom with four children. She loves to paint and she really enjoys baking confectionery masterpieces on the side. One day she hopes to combine these two talents into a business of her own. But she lacks confidence, often feeling overshadowed by her two older sisters and father -- all three hold advanced degrees in the sciences.

But as Sofia loses herself in researching the compelling stories of her ancestors -- other female guardians of the same heirloom quilt -- she begins to feel a connection with her roots ... and is filled with a whole new confidence in her personal identity and creative potential.
Jim Parker
Jim Parker, Sofia's husband, is 42, tall, lean and has thick blond hair and blue eyes. He is a math teacher at Cabot Falls High School. He is also a kind man who loves his family and is supportive of Sofia's desire to use her creative talents and open her own business.
Elena "Nonna" Baresi
Elena is Sofia's late grandmother. Because Sofia's mother died when she was little, Elena was very much the maternal figure in the lives of her grandchildren. Elena surprised everyone by bequeathing the priceless heirloom trunk and quilt to Sofia. But Nonna never did anything without a reason. What old secrets did she hope Sofia would uncover?
Caterina Vasari
Caterina Vasari, 17, and her mother, Vedette, are seamstresses known for their fine smocking, embroidery and beadwork. Caterina is also an aspiring artist. They live together in a house on the village square of Ponte San Vincenti just outside of Florence.

Caterina tries to bear the brunt of the intricate stitching work because her mother has advanced rheumatism. They need both of their incomes to survive, and they especially need the income from the two gowns they have been commissioned to create for Lisabetta, the daughter of the esteemed Donati family.

Caterina is secretly in love with an apprentice winemaker at the Donati's family vineyard and hopes one day to marry him.

Caterina is a direct ancestor of Sofia.
Lisbetta Donati
Lisabetta is 16, well-bred, strikingly gorgeous ... and miserable, because her father is forcing her to marry a repulsive nobleman. Her true love is the handsome Gianni Medici ... and Lisabetta wishes she had the courage to defy her Father.
Bertrando Strozzi
Bertrando is Lisabetta's fiance. He's cruel, foul and more than twice her age. But he is also wealthy. Lisabetta's father is selling her into this marriage solely to shore up the family's dwindling finances.
Gianni Medici
Handsome and young, Gianni is the secret true love of Lisabetta Donati. He says he will do anything to be with her ... but does that include murder?