Paw & Order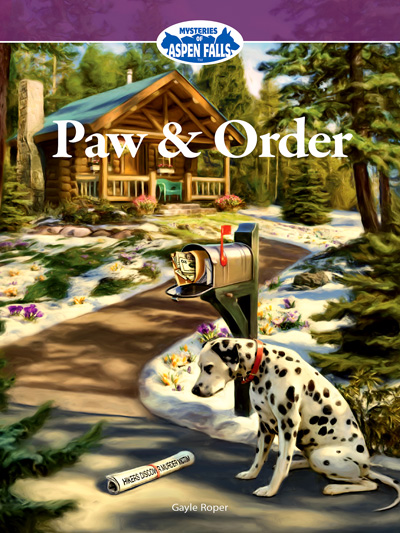 With warmer weather putting a spring in everyone's step, the citizens of Aspen Falls, Colorado, cheerfully greet the change of season in their picturesque mountain town. Veterinarian Ashley Hart thinks her biggest concern is breaking in her new boots in time for the Wild West Walkers' first hike of the year, but that outing takes a harrowing turn when Ashley spots a dead body in a snowy ravine.

The police are slow to identify the deceased, though they swiftly recognize foul play as the root cause of the stranger's death. Ashley and her closest companions, including perky pet groomer Holly Kipp and handsome park ranger Cole Hawke, wish they could do more to solve the mysterious man's murder, but they're soon distracted by a rash of other misdeeds befalling Aspen Falls. When a young woman goes missing and several locals reveal themselves as victims of online scammers, Ashley feels compelled to help put an end to the crime wave hitting her new hometown.

Hot on the trail of several villains hiding behind online personas, Ashley must walk a fine line between trusting new friends and deciphering their often-murky motivations. Although she's determined to track down the bad guys, one wrong step could put Ashley directly in the path of a killer—with fatal consequences.
The Characters
Dr. Ashley Hart D.V.M.
38-year-old veterinarian Dr. Ashley Hart is always up for a challenge. Smart, bighearted, and driven, she jumps at the chance to open her own practice in Aspen Falls. She's thrilled that the residents have chosen her to be their veterinarian, and she looks forward to the adventures she and her Dalmatian, Max, will have in their new home. What she doesn't expect, however, is the menagerie of mysteries that await them in the charming mountain town.
Holly Kipp
Independent and spunky, 32-year-old Holly Kipp grew up in Gilmore Creek, Colorado, a sleepy town located about an hour away from Aspen Falls. She's always loved animals and decided to marry her passion for pets with her desire to open her own pet grooming business. 3 Alarm Fur is a full-service pet salon located in the town's old firehouse, across the hall from Ashley's clinic, and Holly and Ashley hit it off immediately. Holly enjoys a good conspiracy theory and is always ready to lend a sleuthing hand. She is also a member of the Bookaru Book Club and she never misses a meeting if they're reading a mystery novel.
Melanie Lyons
Social butterfly and owner of the Mountain Goat Coffee Company, 50-year-old Melanie Lyons always seems to know the latest town gossip. Her coffee shop is located next door to the Happy Tails Veterinary Clinic and she befriends Ashley immediately, always eager to discuss her small herd of goats and two pet Barnevelder chickens, Butch and Cassidy.

With a degree in acting and a penchant for drama, Melanie sings in the church choir and often volunteers to be in the town's Old West reenactments and other festivals. But Ashley detects another kind of acting going on . . . Melanie lives next door to the horse farm where the trainer Bruce Peterson was found dead in a stall, and she seems to know more about it than she's telling.
Cole Hawke
38-year-old Cole Hawke is a U.S. Park Ranger in the White River National Forest. His friends would describe him as good-natured, dependable, and smart, and some would even say he's one of Aspen Falls most eligible bachelors. An avid cross-country skier and mountain biker, he loves the great outdoors and spends as much time in it as possible, both on the job and off. He's a member of the In CaHOOTS Bird Watchers club, and he often takes the unofficial lead on the hikes.

Cole is open to a serious romance but he hasn't found the right woman—until Ashley moves to town. She has a beautiful smile and a spark he can't resist, but he worries about her getting mixed up in the murder of local trainer, Bruce Peterson.
Bruce Peterson
A member of one of the town's oldest families, Bruce was a kind man, dedicated to his job, and one who genuinely cared about the well-being of the horses he worked with. He was loved by all—or so it seemed. But when Ashley discovers evidence that his death was no accident, a cloud of suspicion settles over the town of Aspen Falls. Who would want the talented horse trainer dead? As it turns out, Bruce had a few secrets of his own. Ashley must unleash the truth and catch a thoroughbred killer before the culprit sets his sights on her.