Justice Swerved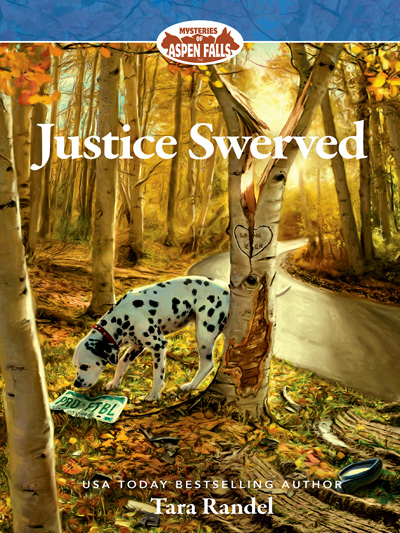 As the aspen leaves turn golden and the autumn air becomes crisp, Aspen Falls, Colorado, veterinarian Dr. Ashley Hart plans to team up with her friends to tackle a long list of fall activities in her adopted hometown. Her intentions get benched, however, when a beloved local celebrity, professional football player Darren Holt, becomes the target of a hit-and-run that puts him in a coma, and the police identify it as attempted foul play.

Ashley's boyfriend, Cole Hawke, and her friend and office manager, Ellen Hayes, both have close ties to the victim, compelling Ashley to help reveal the truth behind Darren's nearly fatal accident. Unlike the compassion and concern shown by Cole and Ellen, however, many of the folks within the running back's inner circle seem driven by selfish intentions—but are any of them capable of murder?

The deeper Ashley digs into Darren's past, present, and future, the more unsure she becomes of who truly has the man's best interest at heart. From money to love to revenge, any number of motives could be at play. As increasingly sinister events plague Ashley and her friends, it becomes clear that the clock is running out for her to solve this mystery, and Ashley must identify a killer before she or someone she loves falls victim to sudden death.
The Characters
Dr. Ashley Hart D.V.M.
38-year-old veterinarian Dr. Ashley Hart is always up for a challenge. Smart, bighearted, and driven, she jumps at the chance to open her own practice in Aspen Falls. She's thrilled that the residents have chosen her to be their veterinarian, and she looks forward to the adventures she and her Dalmatian, Max, will have in their new home. What she doesn't expect, however, is the menagerie of mysteries that await them in the charming mountain town.
Holly Kipp
Independent and spunky, 32-year-old Holly Kipp grew up in Gilmore Creek, Colorado, a sleepy town located about an hour away from Aspen Falls. She's always loved animals and decided to marry her passion for pets with her desire to open her own pet grooming business. 3 Alarm Fur is a full-service pet salon located in the town's old firehouse, across the hall from Ashley's clinic, and Holly and Ashley hit it off immediately. Holly enjoys a good conspiracy theory and is always ready to lend a sleuthing hand. She is also a member of the Bookaru Book Club and she never misses a meeting if they're reading a mystery novel.
Melanie Lyons
Social butterfly and owner of the Mountain Goat Coffee Company, 50-year-old Melanie Lyons always seems to know the latest town gossip. Her coffee shop is located next door to the Happy Tails Veterinary Clinic and she befriends Ashley immediately, always eager to discuss her small herd of goats and two pet Barnevelder chickens, Butch and Cassidy.

With a degree in acting and a penchant for drama, Melanie sings in the church choir and often volunteers to be in the town's Old West reenactments and other festivals. But Ashley detects another kind of acting going on . . . Melanie lives next door to the horse farm where the trainer Bruce Peterson was found dead in a stall, and she seems to know more about it than she's telling.
Cole Hawke
38-year-old Cole Hawke is a U.S. Park Ranger in the White River National Forest. His friends would describe him as good-natured, dependable, and smart, and some would even say he's one of Aspen Falls most eligible bachelors. An avid cross-country skier and mountain biker, he loves the great outdoors and spends as much time in it as possible, both on the job and off. He's a member of the In CaHOOTS Bird Watchers club, and he often takes the unofficial lead on the hikes.

Cole is open to a serious romance but he hasn't found the right woman—until Ashley moves to town. She has a beautiful smile and a spark he can't resist, but he worries about her getting mixed up in the murder of local trainer, Bruce Peterson.
Bruce Peterson
A member of one of the town's oldest families, Bruce was a kind man, dedicated to his job, and one who genuinely cared about the well-being of the horses he worked with. He was loved by all—or so it seemed. But when Ashley discovers evidence that his death was no accident, a cloud of suspicion settles over the town of Aspen Falls. Who would want the talented horse trainer dead? As it turns out, Bruce had a few secrets of his own. Ashley must unleash the truth and catch a thoroughbred killer before the culprit sets his sights on her.