Farmed Robbery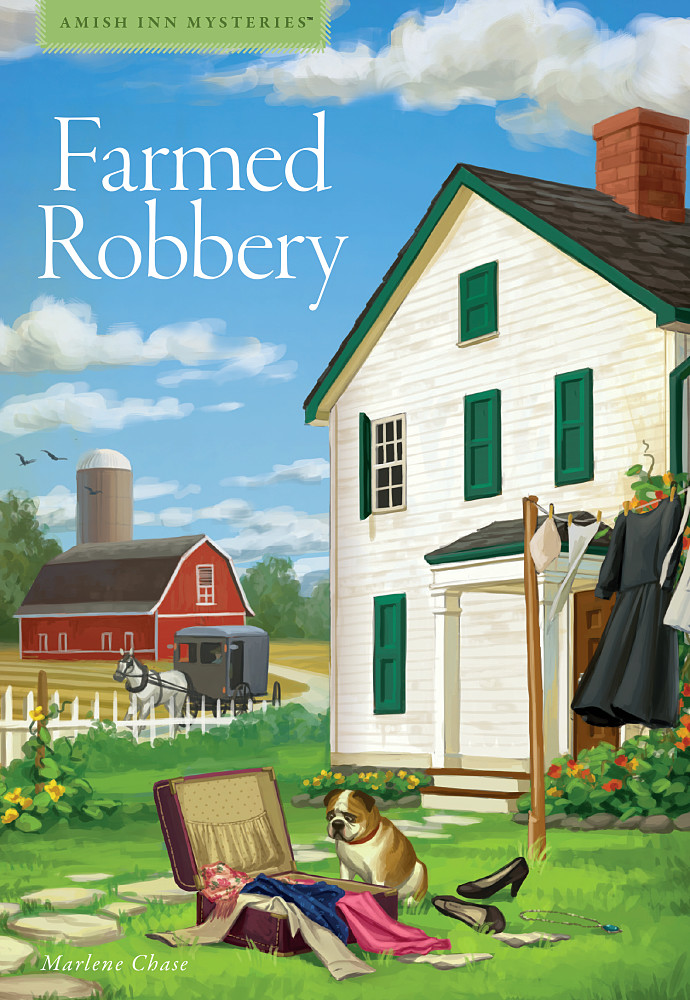 Liz Eckardt has just returned from an innkeepers' conference in Maine and, while she loves to travel far afield, she's happy to be back home in Pleasant Creek, Indiana, at the Olde Mansion Inn. Her dear friends and quilting partners, the Material Girls, have surprised her with a welcome home party, complete with coffee, treats from the Sweet Everything bakery, and even a snuggle from her lazy English bulldog, Beans. But when Liz opens her luggage to distribute the souvenirs she bought, her brow furrows. She brought home the wrong suitcase!


The name on the tag is one Liz knows. Reece Hoffman is the young woman she sat with on the plane. The model had said she was returning to her roots to visit her Amish grandmother, so Liz decides to take the bull by the horns and plow on to the nearby town Reece mentioned. But when she arrives, Reece's cousin informs her that their grandmother is away on an extended visit to an ailing relative, and that Reece herself is ill and can't be disturbed. When Liz is prevented from seeing her more than once, Liz can't help but wonder if something funny's going on at the farm.


Meanwhile, at the sewing shop, Material Girl Sadie is reap-roaring mad; someone has ripped off her beloved pink Jeep. She's harnessed her fury and will stop at nothing until the perpetrator is plunked into prison. While Liz keeps the reins on Sadie, she finds she has another row to hoe. Her guest, a consultant hired by the town, is casting seeds of doubt around Pleasant Creek. Seems she's making hay while the sun does - and doesn't - shine. Her odd hours wouldn't concern Liz so much, except that she's milking her new position for all it's worth and trying to soil the Olde Mansion Inn's reputation.


Liz and her friends will search high and low before they throw in the trowel on the crimes. But can they cultivate a solution before someone is planted six feet under?
The Characters
Liz Eckardt
Liz always loved and admired her mother, Abigail. She was an amazing, hard-working woman and role model. It is no surprise Liz inherited Abigail's determination and strong work ethic, earning Liz a successful career as one of Boston's most prominent attorneys. But even so, at 40 and with Abigail's recent death, Liz is running on empty.

When she inherits an old diary from Abigail's childhood after her mother's passing, Liz is stunned to read about the life Abigail had growing up in an Amish community. She'd never mentioned any of it to Liz. Ever. Why would her mother keep such a big secret?

Determined to find out what caused Abigail to abandon her Amish life at the age of seventeen, Liz leaves Boston and moves to her mother's hometown of Pleasant Creek, Ind. While she settles into the quaint and friendly community as the new owner of the Olde Mansion Inn, Liz is careful to keep her connection to the Amish a secret ... at least for now.

Will Liz's journey bring her the answers she longs for about her mysterious heritage ... or send her straight into harm's way?
Beans
Liz didn't realize when she bought the inn that she was also "inheriting" the resident lazy-yet-lovable English bulldog, Beans. She doesn't have the heart to give him away, so she adopts him into her new life. Although he spends most of his time sleeping by the front door, Beans still manages to get mixed up in the mysteries of Pleasant Creek.
Mary Ann Berne
Known for her delicious home-baked apple pies and impressive quilting skills, Mary Ann is one of Pleasant Creek's most loved citizens. She is also the proud co-owner of Sew Welcome, the fabric shop located on the first floor of the Olde Mansion Inn. Having lived in Pleasant Creek all her life, can Mary Ann help Liz learn more about their Amish neighbors and track down the true identity of her mysterious family?
Sadie Schwarzentruber
An accomplished and sometimes wildly creative quilter, Sadie co-owns Sew Welcome with Mary Ann. Shrewd, and salty-tongued, 70-year-old Sadie says exactly what she thinks, which sometimes lands her in hot water. Sadie takes a liking to Liz right away, often treating Liz like one of her own children. With a bit of a reputation for being a busybody, Sadie always seems to know everything going on in Pleasant Creek. It's nearly impossible to keep a secret around her, but Liz must be careful not to reveal her real reason for coming to Pleasant Creek until the time is right.
Jackson Cross
Jackson is the handsome mayor of Pleasant Creek who also owns Cross Furniture Co., a local business that employs many of the Amish men in the area to help handcraft high-end wood furniture. Jackson is well-liked in the community and stays very involved in everything that goes on in town. From the moment they meet, he is attracted to Liz, but senses there is more to her than meets the eye.