Designs to Die For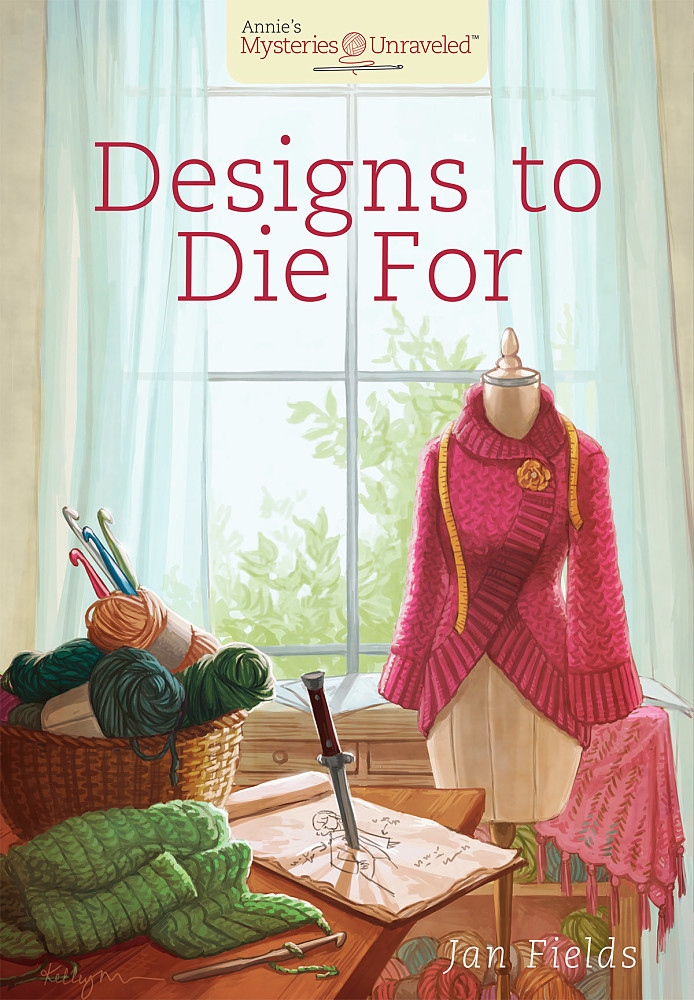 Kate Stevens moved lock, stock, and barrel from Maine to charming Sage Hills, Texas, hoping to become a household name in the world of crochet design. Instead she finds herself thrown into a gruesome murder investigation - and she is the prime suspect.

Betrugen Publishing in Fort Worth was supposed to be Kate's ticket to the big time. She cleverly parlayed her talents and a column in a popular crochet magazine into a book deal with the powerful publisher.

But just when her dreams seem to be within her grasp, her contract with Betrugen proves to be nothing but an underhanded scheme to steal her designs. To make matters worse, she decides to confront Stefan Betrugen directly about his deceitful tactics and stumbles upon a crime scene in his office.

Kate's unfortunate timing and obvious disdain for Betrugen land her at the top of the suspect list. Now she must clear her name, retrieve her designs, and rebuild her fledgling career as an author, and it all starts by smoking out the real killer.

As if matters weren't complicated enough, the handsome detective assigned to the murder case turns out to be Peter Matthews, an old flame. Peter warns Kate to stay clear of the investigation, but soon the flame turns to sparks as Kate wholeheartedly ignores his advice.

Her spunky neighbor, Vivi Lawrence, and the owner of Once Upon a Yarn needlework shop, Paige Bryant, rally to Kate's side during the crisis. Her friends first help Kate get settled in her new home, and then together they set out to shake up the Lone Star landscape in hopes that a murderer will fall out.
The Characters
Kate Stevens
Single mother. Accomplished crochet designer. Murder suspect!

At 42 years old, Kate would have never expected to be described as any of these. But sometimes life has a funny way of taking you down the path least expected. The one thing that has remained constant in Kate's life is her amazing ability to turn imagined crochet designs into beautiful creations that others can enjoy.

It's Kate's God-given talent that landed her an amazing book deal featuring her crochet designs ... but will it end up being one huge mistake?
Vivi Lawrence
Known as the neighborhood serial killer -- of plants, that is -- Vivi is full of energy and excitement, and is always happy to share one of her mom's delicious home-cooked meals with Kate. While she may be a few years younger than Kate and not quite as skilled at crocheting, Vivi proves to be a tried-and-true friend who is happy to lend a hand in getting to the bottom of Kate's latest dilemma.
Peter Matthews
One of Fort Worth's finest detectives, Peter's handsome dark blue eyes can sparkle with mischief at times. The epitome of a Western lawman with his tall frame and wide shoulders, Peter is a welcome face as Kate works to clear her name in her book publisher's sudden death. For his part, Peter is captivated by Kate's smile and wants to be more than just a friend.
Paige Bryant
The owner of Once Upon a Yarn, a needlecraft shop in Fort Worth, Paige is full of life and wisdom. She likes to stock her shop with a mix of traditional and trendy needle arts that are as beautiful as her colorful personality. Delighted to welcome Kate into her cozy crafters' boutique, Paige at times finds herself stepping away from the counter to help Kate with her latest mystery.
Adam Vargas
A longtime friend of Paige Bryant and her husband, Adam provides Kate with practical advice to guide her career and helps fill the void left by Kate's father who died during her childhood. Adam has known his share of grief as well. Widowed two years ago, Adam learned crochet from his late wife, Julia, during her final illness. The craft provides constant comfort for him.
Vanessa Stevens
The old adage says, "like mother, like daughter," and Vanessa has definitely inherited Kate's keen eye for crochet design. But right now Vanessa prefers to wear her mother's designs than create her own. She's more focused on enjoying and exploring life as a freshman at Regency College in Fort Worth with an occasional stopover to see how Mom is settling into her new home in Sage Hills.
Roger Munderlay
With a pleasant smile and laugh lines around his eyes, Roger is Kate's good-natured contact at Creative Inspirations Publishing. Their popular new magazine, Hook and Needle Artistry, featured Kate on the cover with an exclusive story inside the first issue. Now, Kate has a regular column in this well-liked craft magazine.