Settling Auld Scores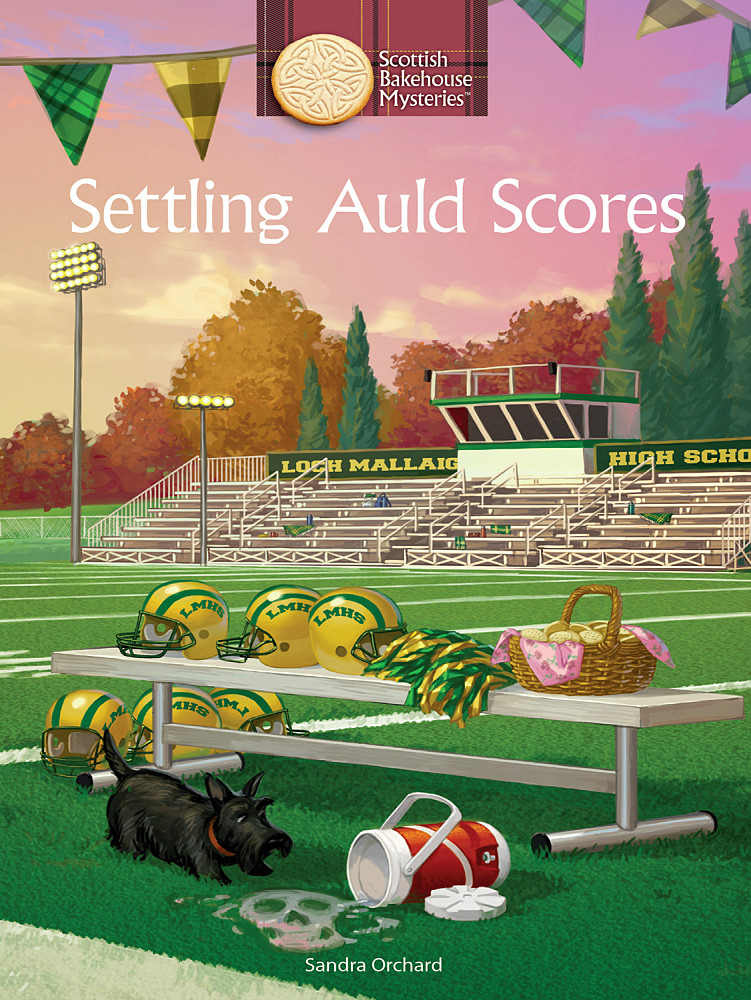 As Bread on Arrival's head baker, Laura Donovan is used to scoring touchdowns in the kitchen, especially when she teams up with her best friends and business partners, Molly Ferris and Carol MacCallan. However, when it comes to parenting, unmarried Laura is a true rookie. While her brother and his wife are out of the country, Laura has agreed to host her teenage nephew, Henry, an up-and-coming football star now playing for the Loch Mallaig High Loons. Laura suddenly finds herself on defense as the safety of Henry and his teammates is tested by a persistent prankster, and Laura worries that her nephew is the main target.

When the team's uniforms are doused with homemade itching powder at an important game, everyone tells Laura she's fretting too much over a harmless prank. Still, with the Loons on the road to the state tournament and high school drama at peak levels, any number of people could want to see the team fumble their chances to be crowned champions. From vindictive rival coaches and jilted former players to lovelorn teens intent on revenge, Laura's roster of suspects seems endless.

As the pranks continue, becoming more dangerous at every turn, Laura fears that a truly deadly incident could be next. She must take the offensive prankster out of the game before the clock runs out—or else someone could face sudden death.
The Characters
Molly Ferris
Able to turn her clients' visions into spectacular realities, Molly has always taken pride in her work as the lead event planner for Chic Events Chicago (CEC). Even after the unexpected death of her husband 10 years ago, Molly's creative thinking and energetic attitude helped her succeed at CEC and in raising their daughter, Chloe. Now that Chloe is grown and living in Milwaukee, Molly is working on a new vision—away from the big city and the drastically changing responsibilities of her job. Molly sees herself enjoying a fresh start in Loch Mallaig, Michigan!
Molly didn't pick Loch Mallaig by chance. The little Upper Peninsula town with deep Scottish roots is where she enjoyed family vacations from her youth ... and got to know a local boy her age, Fergus MacGregor. With fond memories of their friendship—and a bashful blush when she thinks about her first crush—Molly can't help but wonder if he's still in the area.
Even more so, Molly can't wait to reconnect with her old college roommates—and new business partners—Laura and Carol! The ladies are also moving to Loch Mallaig to join Molly in opening the Bread on Arrival bakehouse. While converting the town's old funeral home into a lively bakery, the trio discovers clues hinting toward the unsavory demise of the Loch Mallaig's former mayor.
Laura Donovan
Growing up in Harvey, Michigan, Laura knows what small town life in the Upper Peninsula is like. But her hunger for knowledge about nutrition and culinary arts led Laura to Newkirk College in Grand Rapids after high school. There she cooked up a tried-and-true friendship with Molly and Carol in the cramped yet cozy college apartment they shared. When Laura's flair for food landed her in some of the finest restaurant kitchens around the world, Molly and Carol couldn't have been happier for their friend!


After years of late nights and stress working as a chef in New York City, opening a quaint little bakery in Loch Mallaig is just what she needs. The cherry on top … her two college besties will be right by her side as partners in the Bread on Arrival bakehouse!
Carol MacCallan
Recently retired from a successful career as a teacher in Pittsburgh, Carol is ready for a change of pace, a change in scenery, and a chance to pick up her passion for baking—especially treats that reflect her family's Scottish heritage. With her adoring husband, Harvey, by her side and their bags packed, the couple is moving to Loch Mallaig, Michigan. To sweeten the deal, Carol and Harvey's daughter, son-in-law, and two grandkids also live in this tranquil Upper Peninsula town.
But the true icing on the cake is the fact Carol's favorite college roommates, Molly and Laura, are also relocating to Loch Mallaig! Carol is ready to whisk old memories together with new ones as the trio opens the Bread on Arrival bakehouse. But will the mysteries of the town and the danger they find make Molly, Laura, and Carol's dreams fall flat like a sad chocolate soufflé?
Fergus MacGregor
Born, raised, and now carrying on the family legacy as owner of Castleglen in Loch Mallaig, Fergus knows all the "who's, what's, and whereabouts" this northwoods town has to offer. Vacationers who play and stay at his golf resort and lodge find Fergus' quick wit and easy smile quite charming. Fergus is also adored by his fellow residents for his participation in the town's annual Scottish games and even playing the bagpipes as a member of The Piping Yoopers.
Now that Molly—Fergus' first crush and his first kiss—is returning to Loch Mallaig for the first time since they were 17 years old, will the pair rekindle their old friendship as neighbors … and possibly something more?
Hamish Bruce
Gruff on the outside but a softy way down deep, Hamish is a big help to Molly, Laura, and Carol. He is an excellent handyman! And despite his cranky disposition, Hamish does a great job assisting with other tasks and duties around Bread on Arrival. Molly, Laura, and Carol agree Hamish is a good man to have in their corner … especially when trying to solve a local mystery they've gotten mixed up in.
Angus
Always up for a scratch behind the ears and a treat, Molly's lovable 7-year-old Scottish terrier, Angus, is often found napping in front of the Bread on Arrival fireplace. His mischievous side keeps the bakehouse staff on their toes. And his good sense about people and great nose tend to come in handy at unexpected times.