Two for The Books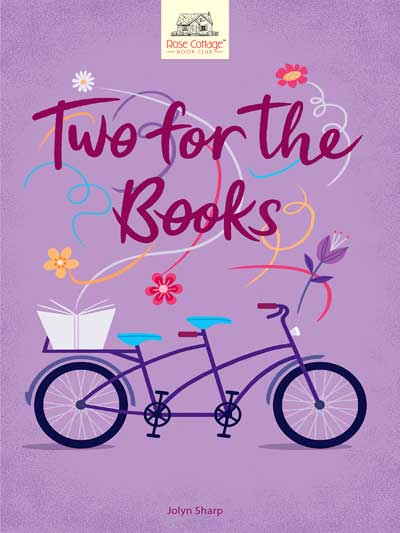 Summertime getaways to Nantucket top the list of celebrity and sunseeker alike, and this summer is no exception. Bookshop owner Meagan Poe welcomes the island's many visitors with the Summer of Mystery author reading series. But just as it's about to kick off, a mystery of another sort strikes.

Two vacationers are the talk of the town. Known for traveling around on a tandem bicycle, they mostly keep to themselves. Yet Meagan soon befriends the pair and discovers that Mari, a young mother older than she looks, has secrets that haunt her.

Meanwhile, a new customer raises alarm bells for Meagan. He pokes his nose into her business and makes a habit of questioning her friends. When Luke, the attorney next door slowly stealing Meagan's heart, casually suggests the man might want to start a bookstore, Meagan worries about the fate of Rose Cottage Books.

While juggling her work life and her love life, real estate agent Avery Sheridan faces a blast from her past when previous clients want to sell a house they flipped. Avery is certain the husband-and-wife team has ruined the house with their renovations. But if she wants to sell the home, she must work past her personal convictions and see the good in all things new.

As for beauty columnist Piper Watts, she embarks on fresh assignments that scratch her investigative journalism itch, including age-defying lotion that dupes the elderly and temporary tattoos that dodge removal.

Once again, to work through their challenges, the book club members turn to each other. Together they share the good, the bad, and the hilarious, one story at a time.
The Characters
Meagan Poe
One year ago, 34-year-old librarian Meagan Poe followed her dream of opening her own bookshop on beautiful Nantucket island and she couldn't be happier with her decision. Her outgoing personality, positive attitude, and knack for knowing just the right book to recommend to curious readers helps her easily connect with her customers. But as she settles into her new surroundings and role as the owner of Rose Cottage Books, she realizes she lost something in the move—her close circle of friends. She starts a book club, hoping to connect with like-minded people, and through this shared love of books she meets three amazing women who soon feel like old friends. Together they navigate life's ups and downs, marriage, love, careers, and more. Through it all they learn to embrace the unexpected, live each day to the fullest, and find humor in life's adventures.


When she meets Nantucket's newest resident, handsome and single attorney Luke Harris, Meagan also learns that opening her heart to the possibility of love again might not be such a bad thing.


Olivia James
33-year-old family nurse practitioner Olivia James brings a calming, encouraging warmth to the book club. Her enthusiasm for medicine and her love of friends and family make her an ideal companion in times of need. She and her husband Kyle fully embrace island life and all it offers them—including its occasional twists, turns, and dashes of mystery.


Avery Sheridan
Avery Sheridan, single real estate expert and social butterfly, enjoys sharing her bubbly personality with everyone she meets. She never hesitates to help Meagan and the other book club members when they need her. Her positive attitude and infectious nature make her a reliable member of the book club. She attends meetings as often as she can, and when she can't, she's sure to have a good reason for her absence. In her free time, she loves listening to the ocean waves outside her house and spending time with her cat, Beatrix, and daughter, Katie.


Piper Watts
60-year-old book club member Piper Watts is learning to adjust to her role as a beauty columnist after spending most of her journalism career as an investigative reporter. Her company's been bought out and she's been relegated to what she calls "beauty product guinea pig." She tests everything from eyelash enhancers to shapewear, rather than the hard-hitting stories she's researched for years. With the help of the book club, Piper must decide how to cope with her unexpected career change and live in the moment.


Luke Harris
Single attorney Luke Harris is looking forward to making a fresh start in Nantucket. When he moves into his new office in the building next door to Rose Cottage Books, he meets Meagan and is immediately captivated by her beautiful smile and quick wit. His typical reading preference is anything related to history and the Constitution, but he decides there's no harm in expanding his reading preferences—especially if it means getting to know the intriguing bookshop owner better.


Nell Poe
Having been a resident of Nantucket for decades, Nell Poe provides a guiding light and a comforting voice in her granddaughter Meagan's life on the island. Meagan looks up to Nell and relies on her kindness and wisdom. The busy 77-year-old enjoys spending time with her granddaughter, reading book club novels, serving as a member of various committees, and solving the occasional mystery. Her presence at Rose Cottage Books delights all who meet her.


Hash Brown
Meagan's sidekick and the unofficial ambassador of Rose Cottage Books, Hash Brown welcomes everyone he sees with a perky doggy grin and a wag of his stubby tail. The French bulldog is well known around the bookshop, enjoying belly rubs, resting in his shark bed, and spreading joy and happiness whenever he goes. He's Meagan's constant companion and a real favorite with locals and visitors of all ages.