Threads of Deceit Club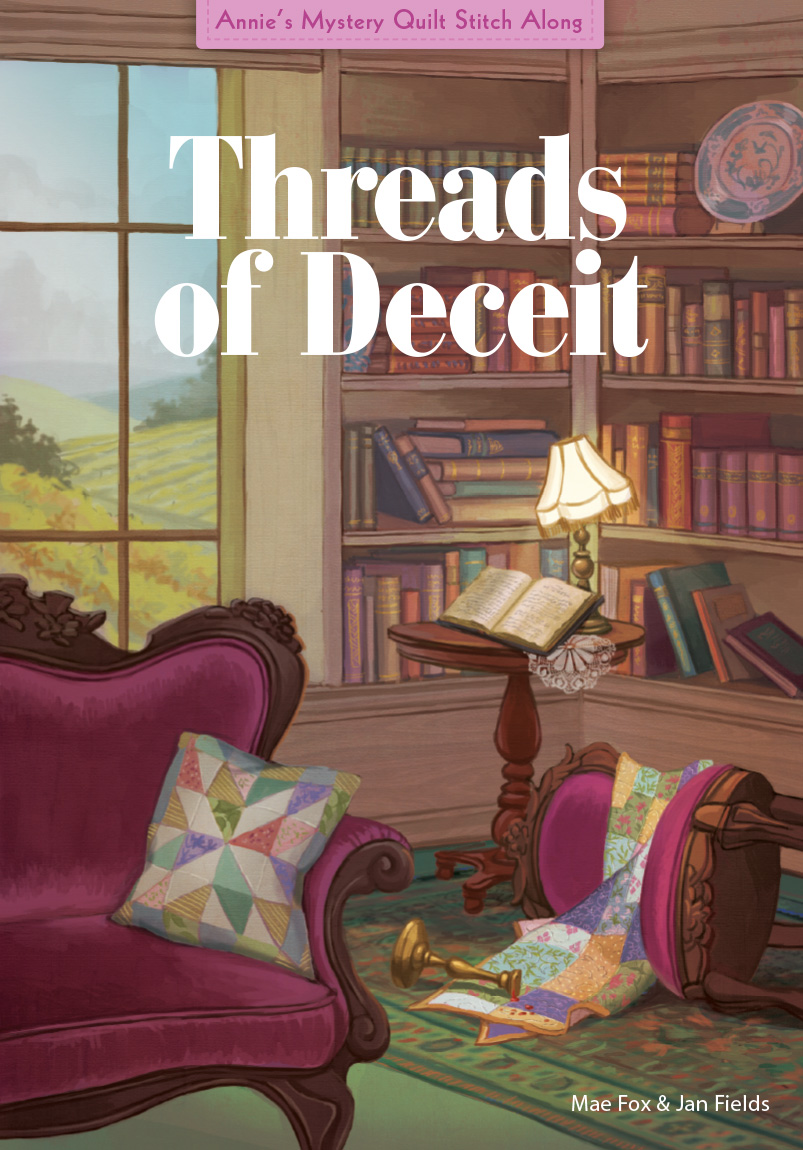 12 chapters in this Club
Starting a new life can be a real killer.
Former antiquities bounty hunter, Julie Ellis, is on the run, trying to stay one stiletto step ahead of her perilous past. She accepts a position as manager of the Quilt Haus Inn in Missouri wine country, thinking it the perfect place to keep a low profile and start on a new, less dangerous career path. It is—until the ruggedly handsome Daniel Franklin walks through the front door and asks for a room.
Daniel claims to be a historian overseeing the recovery operation of a famous sunken ship that he believes to be buried, of all places, in a nearby farm field. Though Julie finds his story odd at best, news of the "treasure ship" spreads like wildfire through the small town of Straussberg, and Julie and her guests are soon caught up in the melee. The discovery of a dead body at the dig site makes it clear that someone else believes in Daniel's theory too and doesn't want the ship or its secrets unearthed. Never one to sit on the sidelines, Julie does a little digging around of her own, trying to unravel the mystery.
When frightening things start to happen at the inn, Julie can't help but wonder … is the killer hiding under her own roof?
READ IT. STITCH IT. SOLVE THE MYSTERY!
Join other mystery-loving quilters and solve a murder mystery—one block at a time!
READ IT
Each month members receive one chapter of this thrilling cozy mystery e-book, along with one related quilt block pattern. Both provide clues as the plot unfolds, and the race to solve "whodunit" is on!
STITCH IT
Sew one block each month, share your thoughts about the story, meet like-minded quilters, and post pictures of your completed blocks.
SOLVE THE MYSTERY
At the end of the year, the crafty killer will be revealed and you will have a beautiful story quilt.
The Characters
Julie Ellis
Given her past career as an "antiquities recovery expert" who stole back stolen art to return to its rightful owners, Julie Ellis is used to plenty of danger and excitement. However, she doesn't expect to find either of those things at the cozy Quilt Haus Inn located in Straussberg, Missouri. She moves to the small town and accepts a manager position at the inn, hoping to keep a low profile after crossing one too many bad guys. But she can't resist the mystery that follows historian George Benning into the inn. Will Julie's addiction to adventure blow her cover?
Hannah Marks
Hannah Marks is used to Julie's antics after a decade as her assistant. Calm, cautious, and organized, Hannah works hard to keep Julie grounded. She is delighted to be out of harm's way and settled in as the cook of a lovely inn in the peaceful Midwest. But she should know by now that danger tends to follow wherever Julie goes.
George Benning
Geologist George Benning is always up for helping his best friend, Daniel Franklin, solve a historical mystery. He never expected that trait to put him in the crosshairs of a murderer. But clearly, someone is so determined to make sure the buried shipwreck stays buried that they're willing to kill. Can Julie and Daniel figure out who—before it's too late?
Daniel Franklin
With his love for adventure and rugged good looks, Daniel Franklin resembles an action hero more than a scholar, but he definitely has the brains to back up his calling. When he puts his mind to something, he succeeds. So nothing will stop him from finding the buried shipwreck with its secret treasure, figuring out who killed his best friend, or getting closer to the beautiful and mysterious manager of the Quilt Haus Inn, who seems determined to keep him at arm's length.