Deadliest in Show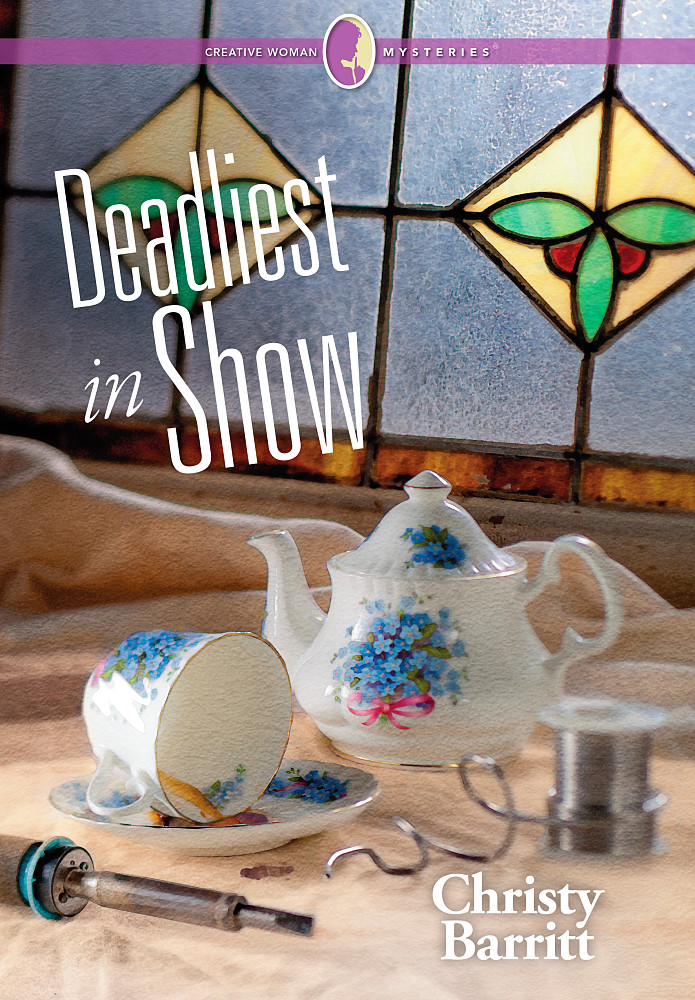 Some of the most talented artisans in the entire region have made their way to Apple Grove, Oregon, for the town's prestigious art and craft show, and the competition is fierce. Shannon McClain, the Scottish-born owner of the Paisley Craft Market, makes the cut and is selected as one of the distinguished crafters invited to the show.
Shannon is immediately drawn to stained glass artist, Sunny Davis, whose booth is adjacent to Shannon's. Little does Shannon know that in just a few hours Sunny will be dead and she will be drawn once again into a grisly murder investigation.
The show also presents a dilemma to Shannon. Her jewelry has caught the eye of a jewelry mogul from Chicago, and he wants her to take a position as designer with his company. Shannon's love of jewelry designing tempts her to make the move. But what about her family, her friends, and the life she has built in Apple Grove? Will fame and fortune lure her away?
Before any life-altering decisions can be made, Shannon must turn her attention to the task at hand--the murder of her newfound friend, Sunny. The discovery of cryptic notes that help in her investigation also lead her into harm's way, and soon Shannon finds herself in hot water.
Will Shannon discover the identity of the murderer and see that justice is served? Or will the murderer receive the honor for Deadliest in Show?
The Characters
Shannon McClain
Shannon is an avid beader -- running her own custom jewelry business. She thrives on expressing her talents through her one-of-a-kind creations. She is headstrong and can be stubborn at times. But she's best known for her sensitivity to the feelings and needs of others, and for her beautiful smile. Widowed at only 37, she draws strength and inspiration from her two teenage children, but worries about their future. She knows she needs to move on with her life ... but she never expected anything like this mysterious inheritance!
Michael Stone
A striking and personable 42-year-old, Michael is 6 feet 2 inches, with straight black hair and striking blue eyes. He owns an elite security consulting firm with many long-reaching connections to nearly all levels of industry and politics. He is strongly attracted to Shannon from the moment he meets her, but unwilling to reveal his secrets, which raises a barrier between them. Death has followed people he's loved, having lost his wife as a result of his dangerous career -- and he is unwilling to trust his heart again. This will change with Shannon, though he tries to hold her at a distance for a long time.
Morgan Lombardi
Morgan is the manager of the craft market and quite the expert at card making and stamping. She is most unhappy to have Shannon on the scene as her new boss but she hides it well. What dark secret lurks behind her friendly façade?
Alec McClain
Alec has his father's calm, thoughtful nature. He is a good son and very supportive of his mother's quest to learn the truth about her past. When he's not out with his friends, or studying for his classes, he enjoys fishing, something his father taught him to do years earlier.
Lara McClain
Lara has inherited her mother's flashpoint temper. But she also inherited her mother's creative talents and is an expert crocheter. Lara possesses a rare talent for noticing things others miss -- seen as well as unseen. This makes her a great asset to her mother throughout the series as Shannon is drawn into the mysteries of Apple Grove.
Deborah Waters
Deborah was Shannon's grandmother's cook and confidant for more than 30 years. She becomes a comforting presence in Shannon's life, helping her adjust to life in America. Deborah is thrilled that Shannon has inherited the crafts mall. An avid quilter herself, she and Shannon find much to talk about.